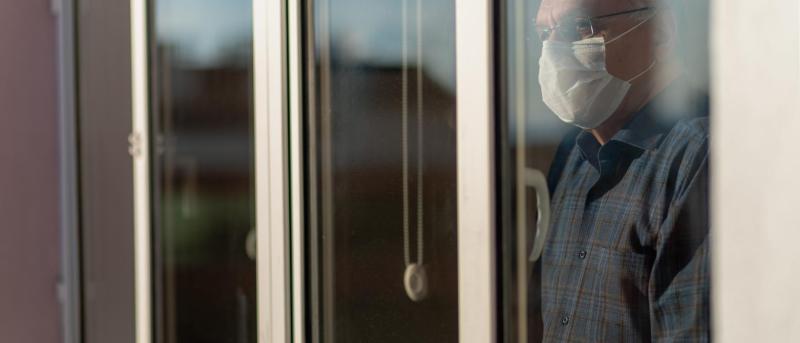 Addressing Ageism in the Time of COVID-19
Yasmin Amini and Nicole Levy examine various strains of ageism and constructive ways to engage older adults during times of global crisis.
At 72, George likes to walk his terrier Max and follow the latest political news. When New York Governor Andrew Cuomo signed an executive order requiring New York's "most vulnerable populations" to stay at home during the COVID-19 pandemic, George declined a neighbor's offer to buy groceries on his behalf. While George's age and coronary heart disease elevate his risk of severe complications from the virus, he couldn't imagine changing his lifestyle or asking for help.
Chances are you have a neighbor or parent like George, and you have good reason to be worried about him: the fatality rate of COVID-19 is highest in older adults, who account for eight out of ten COVID-related deaths reported in the U.S., according to the CDC. The increased prevalence of chronic disease, such as diabetes and hypertension, and changes in the immune system with age explain the disease's heightened severity and lethality among adults 65 years and older. 
So why might George risk his life for a trip to the supermarket and why might his neighbor be so frustrated if he did? Unconsciously, George may be resisting and his neighbor may be perpetuating ageism, "a systematic stereotyping of and discrimination against people because they are old" in the words of Columbia's own Robert N. Butler. Ageism manifests in individual attitudes, institutional practices, and cultural norms, and its integration in the fabric of our society has become patently clear during the COVID-19 pandemic.
Individual commentators and organizations have already called attention to the pervasive effect of ageism on older adults' ability to access care, medical resources, information, food, and companionship during this public health emergency. For example, the recent compensatory shift to telemedicine excludes roughly half of the adults over age 65 in the U.S. who report lacking access to home and broadband services. In Italy, where 23 percent of the population is 65 or older, some hospitals have used chronological age-based cutoffs to ration ventilators. Obstructions of human rights like this one compound the detrimental impact that age discrimination is known to have on cardiovascular health, economic stability, cognitive performance, mental health, and longevity. 
Three strains of ageism—hostile, neglectful, and benevolent—have affected older adults' physical and mental wellbeing and minimized the skills, social capital, and experience they can contribute to our society during this pandemic.
1. Hostile ageism, the most overt among these strains, manifests in such forms as physical, financial and verbal abuse, and the perception of older adults as a drain on societal resources. Exemplifying such ageism is the stigmatizing COVID-19 alias "boomer remover," transmitted across social media platforms. Older adults may unconsciously internalize such discriminatory thinking, perhaps explaining why 69-year-old Texas Lt. Governor Dan Patrick would claim that older Americans are willing to sacrifice themselves to save the economy for their grandchildren.
2. Neglectful ageism is a variation of elder neglect that trivializes the value of older adults. It emerged in public indifference to the risks of contracting COVID-19 and delayed government action. Under the initial perception of COVID-19 as a disease primarily affecting older and immunocompromised persons, many healthy younger adults initially ignored recommendations to socially isolate and protect their older relatives. In a press briefing in March, World Health Organization director-general Tedros Adhanom Ghebreyesus took unnamed nations to task for failing to treat the death of older adults as a "serious issue" and exhibiting signs of "moral decay." 
3. Benevolent ageism, with a compassionate but paternalistic mindset, brackets older adults together as one uniformly frail and vulnerable population requiring protection. This mindset may infringe on an individual's sense of self-efficacy when forcibly imposed. We have seen this strain of ageism exposed in stories of adult children venting their frustration with parents who refuse to stay home, as well as no-visitation policies at long-term care facilities. These policies disproportionately affect the wellbeing of older adults with cognitive impairments, who often rely on family caregivers to relieve their agitation and make critical decisions on their behalf. 
Naming, defining, and providing examples of the three strains of age discrimination are the first steps public health practitioners, health care workers, and social service providers can take toward mitigating the spread of ageism in the age of COVID-19. We call on these fields to seize an opportunity to reframe widespread negative attitudes and misconceptions about aging while equipping older adults with the critical information, cognitive stimulation, social engagement, and food they need, as grocery deliveries alone will fail to address the harmful age discrimination that the Georges in our lives experience.
Efforts to assist older adults during this crisis should ideally: (1) provide formal and informal services that bolster older adults' native resiliency and creativity, such as engaging online resources that foster lifelong abilities to learn new skills; (2) frame calls for donations as funding that will support communities, rather than provide "relief" for older persons who are "unable to help themselves"; (3) recognize that pandemic corollaries like increased isolation will not impact older adults uniformly; and (4) advertising opportunities for diverse older adults to help others.
In disaster response efforts, older adults can contribute such important assets as experience, skills, financial resources, social capital, and personal strength.
As the number of COVID-19 deaths mount in the U.S., older adults are serving in medical reserve corps, establishing Facebook groups to orchestrate community help, and supporting local businesses from home. For people of all ages, taking actions like staying at home, sharing accurate information, and calling socially isolated friends and family members may maintain our collective wellbeing by reinforcing perceptions of meaning in life and agency. Across generations, we must remember that we are all in this emergency together, and we will survive by both giving and receiving any type of support we can.
---
Resources on aging for older adults and their families are available here:
Yasmin Amini and Nicole Levy are 2020 MPH candidates in the Department of Sociomedical Sciences. Yasmin received a BS in Biology and a BA in Anthropology from UNC Chapel Hill. She is conducting research on Alzheimer's at Weill Cornell Medicine and works as a consultant on aging at the United Nations. 
Nicole received a BA in English from Yale University. She is a graduate intern at the New York Academy of Medicine where she contributes to their work in healthy aging. 
If you are interested in contributing to Mailman Student Voices, please send a three-to-five sentence pitch outlining your chosen topic to mailmancomm@columbia.edu.