DrPH: Population & Family Health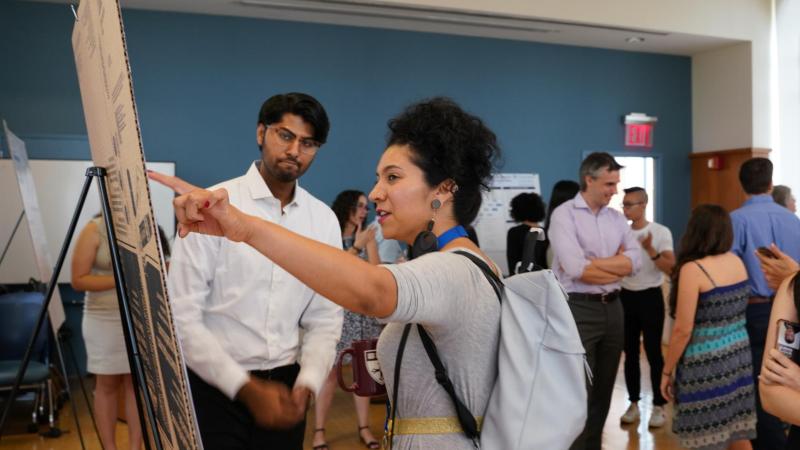 The Department of Population and Family Health is not accepting applications for entry into the DrPH in Leadership in Global Health and Humanitarian Systems for the 2024-2025 academic year. 
Since 2012, the Heilbrunn Department of Population and Family Health has offered a DrPH in Leadership in Global Health and Humanitarian Systems. This innovative program combines on-site formal classes, remote learning, and field-based research to prepare graduates with the skills, knowledge, and drive they need to take on leadership roles in the fields of global health and humanitarian response. Students gain strong research and measurement capacities and the context they need to practically apply them to the on-the-ground realities of humanitarian aid.
Drawing extensively on the expertise and field engagement of professors from the program on Forced Migration and Health and other faculty working in the field of global health and humanitarian systems, the curriculum places a particular focus on themes of policy, protection, and evaluation.
The overall objectives of the DrPH program are to:
Provide advanced research skills to address public health issues in low income, unstable, and inequitable environments globally;
Reflect a practice-based focus with a focus on program measurement and evaluation;
Develop critical, innovative thinking rooted in best practices and rigorous research;
Equip students for advanced leadership and management roles reflecting a strong understanding of systems approaches;
Strengthen cross-national connections and networks amongst faculty and a diverse student body; and
Prepare students to advocate for sustainable public health goals within governments, non-governmental organizations, and academic institutions.
Applicant Profile
The program is intended for leaders and future leaders in public health looking for a flexible career combining high-level leadership, management, and research skills. It is aimed at public health professionals who are invested in applied science and seek to utilize a systems approach to research, program management, and policy development in practice-based settings in developing and crisis-affected contexts. Graduates are equipped  with the advanced skills in evaluation, organizational management, and technical expertise needed to advance professionally. The program allows students to maintain careers and leadership positions within their current organization and/or home country during their course of study.
Entrants to the DrPH program typically hold an MPH, MSW, MD, or similar advanced degree that has introduced them to concepts of statistics, healthcare management, social sciences, and population-based sciences, and have several years of professional experience in the fields of global health and humanitarian systems.
Admission Requirements
Applicants must meet the following admissions criteria:
Three to five years of post-graduate experience in global health, development, humanitarian work, or a related area, in a substantial management or leadership role;
A prior master's or doctoral degree (not necessarily in public health);
Grade Point Average (GPA) of at least 3.5 in prior graduate study, or equivalent at institution of graduate study;
GREs, MCATs, and other standardized tests are optional; 
Strong analytical writing and quantitative abilities as demonstrated through coursework, work experience, and standardized test scores;
Demonstrated leadership potential;
Motivation to obtain senior-level positions within organizations committed to global public health;
For international students, a TOEFL (100 minimum score) or IELTS test score.  
In addition to the requirements listed above, all students must submit an official transcript showing courses and grades from each prior institution through the SOPHAS portal. Applicants must also submit a statement of academic purpose, a writing sample, and three letters of evaluation from academic and/or work sources.
Through the SOPHAS application portal, students are required to submit a personal statement of purpose of no more than 500 words. The personal statement should convey a clear understanding of the public health field and how the student hopes to work within the field. In the statement, the student must address the following: (a) Interests in the field of leadership within global health or humanitarian systems; (b) strengths and attraction of the HDPFH DrPH program; (c) previous global health or humanitarian experience; and (d) alignment of the DrPH degree with long-term career goals.
Students are expected to have demonstrated competencies in the core public health areas, as specified for MPH graduates by the CEPH, the core accreditation body for schools of public health, prior to beginning their DrPH studies. Students may fulfill similar coursework at CEPH-accredited outside institutions and submit transcripts and syllabi for review to ensure compatible competencies were met or fulfill coursework at Columbia. As described in the following section, students who do not have relevant, CEPH-accredited courses from a prior degree, are required to complete these prior to admission into the program.  If foundational core competency courses are taken during enrollment in the DrPH program, these credits are not counted towards the required credit load for the doctorate.
Candidates are expected to demonstrate a track-record of employment that indicates their capacity to access relevant work contexts to fulfill the work-based and ILE requirements of the program.
Learn More
View competencies, course requirements, sample schedules, and more in our Academics section. 
Current Students
For detailed information about this program, view your student handbook.