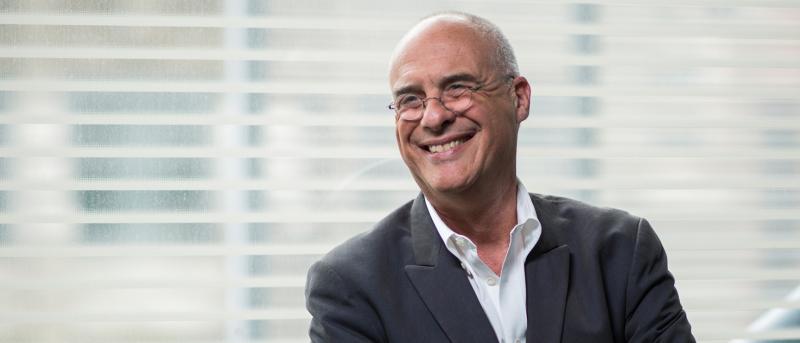 Recipe for Health: Mark Bittman Comes to Mailman
The well-known writer, pundit, and defender of sustainable food systems is joining the faculty of Health Policy and Management to consider how agricultural practices and dietary choices affect population health
This Thanksgiving more than ever, Americans will endeavor to steer clear of political controversy at the table and seek common ground on safe topics like the relative merits of kale and cabbage. But as Mark Bittman, the well-known writer and advocate for sustainable food systems and incoming member of the Mailman School faculty, makes clear: in one way or another, all food is mixed together with a heaping tablespoon of politics.
Through his New York Times column, Bittman helped shift the national conversation on food from cooking and eating—he is the author of a best-selling series of cookbooks—to the political and social forces behind our diet. On the paper's op-ed page, he argued that food choices on every level shape our health as individuals, communities, and a planet, from obesity to climate change.
After spending some of the last two years at a vegan cooking start-up and as a lecturer at the University of California Berkeley School of Journalism, Bittman is excited about his new home in public health. "There isn't an important issue in the world that you can't link to public health," he says. "Climate change, food, agriculture, income inequality: Every issue that I care deeply about is united by public health."
As part of the Health Policy and Management faculty, Bittman will teach and advise graduate students—including members of the group Food Policy and Obesity Prevention (FPOP)—and complement the research efforts of the School's Obesity Prevention Initiative as well as a new series of courses on food at Columbia College co-led by Heather Greenlee, assistant professor of Epidemiology.
Bittman also plans a regular lecture series tentatively titled Food @ Columbia. On January 25, he and Claire Wang, associate professor of Health Policy and Management, will present a lecture on obesity at the Dean's Grand Rounds.
Real Food
Bittman got to know Wang, co-director of the School's Obesity Prevention Initiative, and the Mailman School at a 2012 panel discussion on the potential for the federal Supplemental Nutrition Assistance Program, a.k.a. food stamps, to curb obesity through restricting the purchase of sweetened drinks. The idea is a no-brainer, he says.
"Soda is not food," says Bittman. "It provides the opposite of nutrition and contributes to ill health. The longer we wait to restrict soda, especially to children, the longer we're dooming generation after generation to bad diet and bad health outcomes."
And on this front, there is encouraging news. Almost lost in the drama around the presidential election was the passage of soda tax initiatives in Boulder, Colorado, and three California cities—Albany, Oakland, and San Francisco. They join Berkeley and Philadelphia, where taxes are helping contribute to 30-year lows in soda consumption nationwide. "We're seeing some progress," admits Bittman. "But soda companies will fight as hard as they can to keep these taxes from being more widespread."
A crucial next step, he says would be to limit the advertising of junk food to children. "Our minds are addled because we ate breakfast cereals pushed by Tony the Tiger and Toucan Sam," he offers sarcastically. According to Bittman, "The goal of every community now should be to make real food available to every single resident, regardless of their income or anything else. Simultaneously, we should try to combat the rapacious marketing of junk food to children.
"There are two forms of malnutrition: not enough food and not enough good food," he says. "Fifty million Americans or more are food insecure because they aren't getting enough calories. An even greater number of Americans suffer from an over-intake of bad calories. We have the wherewithal to deal with both, but we need to make public health a priority."
Vegetables Matter
Through his work as a fellow with the Union of Concerned Scientists and correspondent on the Emmy Award-winning Showtime series "Years of Living Dangerously," Bittman relies on the science that connects the environment, climate, and the food we eat. He argues that one of the most important things we can do is eat less meat.
There's nothing wrong with the occasional steak, says Bittman, but most of us are eating animal products in a way that is both unsustainable and bad for our health. As much as 30 percent of the Earth's land surface is directly or indirectly devoted to raising the animals we eat—a figure that's predicted to double in the coming decades. At the same time, experts say to lower rates of disease, Americans must drastically cut their meat consumption.
 "We each need strategies to break free from the standard American diet," he says. But the scale of change needed can't be achieved by individual actions alone. To counter the likes of Coca-Cola and McDonalds, Bittman argues we need public health campaigns and legal agreements along the lines of the tobacco settlements. "The word of public health officials ought to overrule the word of marketers."
Looking ahead to Thanksgiving, Bittman sees hope in a holiday that celebrates the home-cooked meal. More Americans are cooking for themselves today than anytime in recent decades, he says. "When you cook at home, you have control over what you eat. As you assign that control to someone else, you lose track of just what it is you're eating. And that's a scary thing."