Rupak Shivakoti, PhD, MHS
Assistant Professor of Epidemiology
Faculty of the Department of Epidemiology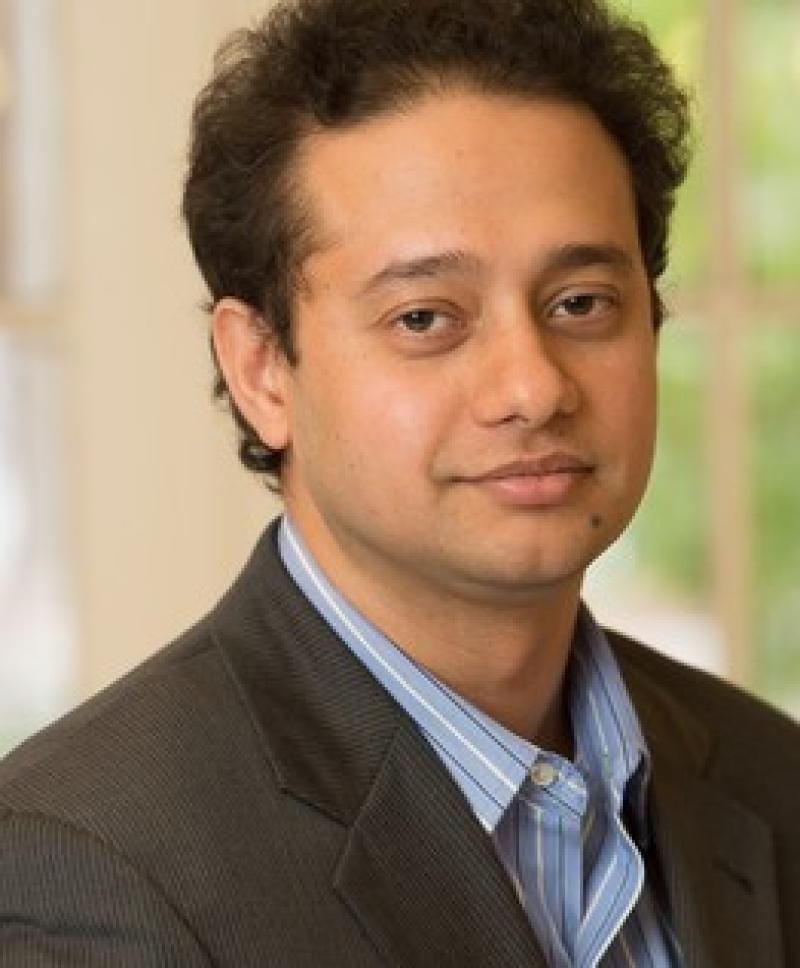 Overview
Dr. Shivakoti's research focuses on the role of immune and metabolic factors in health outcomes. Ongoing observational and interventional studies are assessing the impact of inflammation, nutrition and the microbiome in outcomes of HIV, TB and maternal-child health. With the increasing convergence of infectious and chronic diseases, these investigations of immune and metabolic factors have also been extended to cardio-metabolic disease outcomes (e.g. diabetes, obesity and cardiovascular disease). He is the PI of multiple NIH-funded projects related to these topics and conducted in diverse international settings, including India, South Africa and Uganda.
Academic Appointments
Assistant Professor of Epidemiology
Faculty of the Department of Epidemiology
Credentials & Experience
Education & Training
BA, 2007 DePauw University
PhD, 2013 Johns Hopkins Bloomberg School of Public Health
MHS, 2013 Johns Hopkins Bloomberg School of Public Health
Research
Research Interests
Child and Adolescent Health
Environmental Health
Food Policy and Obesity
Global Health
HIV/AIDS
Infectious diseases
Maternal and Reproductive Health
Selected Publications
Shivakoti R, Biggs ML, Djousse L, Durda PJ, Kizer J, Psaty B, Reiner A, Tracy RP, Siscovick D and Mukamal KJ. Intake and sources of dietary fiber, inflammation, and cardiovascular disease in older US adults. JAMA Network Open. 2022: 5(3):e225012.
Shivakoti R, Newman JW, Hanna LE, Queiroz ATL, Borkowski K, Gupte AN, Paradkar M, Satyamurthi P, Kulkarni V, Selva M, Pradhan N, Shivakumar SVBY, Natarajan S, Karunaianatham R, Gupte N, Thiruvengadam K, Fiehn O, Bharadwaj R, Kagal A, Gaikwad S, Sangle S, Golub JE, Andrade BB, Mave V, Gupta A, Padmapriyadarsini C. Host Lipidome and Tuberculosis Treatment Failure. European Respiratory Journal. 2022: 59(1):2004532.
Shafiq M, Mathad J, Naik S, Alexander M, Yadana S, Araujo-Pereira M, Kulkarni V, Deshpande P, Kumar NP, Babu S, Andrade BB, Leu CS, Khwaja S, Bhosale R, Kinikar A, Gupta A, Shivakoti R. Association of maternal inflammation during pregnancy with birth outcomes and infant growth among women with and without HIV in India. JAMA Network Open. 2021: 4(12):e2140584
Shivakoti R, Tuddenham S, Caulfield LE, Murphy C, Robinson C, Ravel J, Ghanem KG, Brotman RM. Dietary macronutrient intake and molecular-vaginosis: Role of fiber. Clinical Nutrition. 2020: S0261-5614.
Shivakoti R, Gupte N, Tripathy S, Poongulali S, Kanyama C, Berendes S, Cardoso SW, Santos BR, La Rosa A, Mwelase N, Pillay S, Samaneka W, Riviere C, Sugandhavesa P, Bollinger RC, Balagopal A, Semba RD, Christian P, Campbell TB, Gupta A; NWCS 319 and PEARLS Study Team. Inflammation and micronutrient biomarkers predict clinical HIV treatment failure and incident active TB in HIV-infected adults: a case-control study. BMC Medicine, 2018 Sep 24;16(1):161.
Shivakoti R, Gupte N, Kumar NP, Kulkarni V, Balasubramanian U, Bhosale R, Sambrey P, Kinikar A, Bharadwaj R, Patil S, Inamdar S, Suryavanshi N, Babu S, Bollinger RC, Gupta A. Intestinal Barrier Dysfunction and Microbial Translocation in Human Immunodeficiency Virus-Infected Pregnant Women Are Associated With Preterm Birth. Clinical Infectious Diseases, 2018 Sep 14;67(7):1103-1109.
Shivakoti R, Yang WT, Gupte N, Berendes S, Rosa AL, Cardoso SW, Mwelase N, Kanyama C, Pillay S, Samaneka W, Riviere C, Sugandhavesa P, Santos B, Poongulali S, Tripathy S, Bollinger RC, Currier JS, Tang AM, Semba RD, Christian P, Campbell TB, Gupta A; New Work Concept Sheet 319 and The Prospective Evaluation of Antiretrovirals in Resource-Limited Settings Study Team. Concurrent Anemia and Elevated C-Reactive Protein Predicts HIV Clinical Treatment Failure, Including Tuberculosis, After Antiretroviral Therapy Initiation. Clinical Infectious Diseases, 2015 Jul 1;61(1):102-10.
Global Health Activities
Maternal Inflammation, diet and gut microbiome in HIV, India: impact on Infant outcomes, India: Preterm birth (PTB) is one of the leading causes of childhood morbidity and mortality. HIV-infected pregnant women have a greater incidence of PTB and this population warrants further studies to determine the risk factors. Some risk factors such as low maternal CD4 count, high viral load, co-infections, co-morbidities and treatment regimen are associated with increased preterm birth, but whether and the extent to which inflammation, a risk factor for PTB in HIV-uninfected populations, affects adverse birth outcomes among HIV- infected women remains to be studied. In a cohort of HIV-infected and uninfected pregnant women from Pune, India, we are: 1) Examining the association between inflammation during pregnancy and incidence of adverse birth outcomes among HIV-infected pregnant women, and 2) Determine the relationship of a) dietary intake and b) gut microbiome with inflammation status among HIV-infected pregnant women. Given that diet and gut microbiome are two environmentally modifiable factors that can affect inflammation, the goal of the study is to identify mechanisms to reduce inflammation and improve infant outcomes in HIV-infected populations.
MIGH-T MO Study, South Africa: Children who are HIV-exposed uninfected (HEU), i.e. children who do not acquire HIV infection despite HIV infection in their mothers, have a higher risk of mortality, infectious morbidity, and growth deficits than children who are HIV-unexposed uninfected (HUU). We are conducting a randomized trial of an intervention which combines human milk oligosaccharides and probiotics in breast-fed HEU infants in South Africa. The aim is to determine whether this intervention can reduce the excess infectious morbidity and growth faltering risks observed in HEU infants.