Miriam Laugesen, PhD
Associate Professor of Health Policy and Management
On the web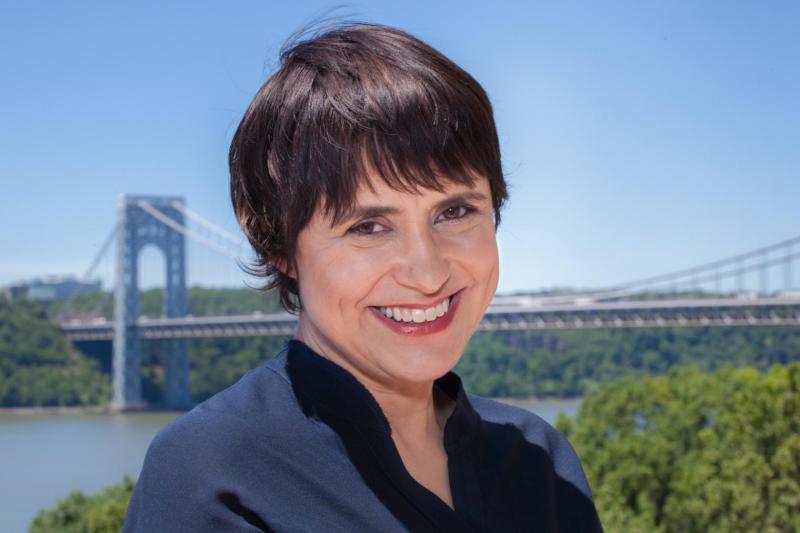 Overview
Miriam Laugesen is a political scientist and health policy researcher who studies healthcare prices, cost containment policies, the regulatory process, private equity in healthcare, and social and healthcare service integration.
She is the author of Fixing Medical Prices: How Physicians are Paid (Harvard University Press, 2016). The book goes to the heart of the U.S. medical pricing process, ""lifting the hood"" (Health Affairs) on a largely unknown, yet highly influential committee of medical organizations with an outsized influence on U.S. healthcare prices. Described as ""a superb book"" (Bulletin of the History of Medicine), and ""a beautiful book"" (Harold Pollack, University of Chicago), Fixing Medical Prices extended and solidified Laugesen's research agenda around Medicare physician payment policy and the contemporary role of medical organizations in health policy.
Laugesen is currently a Columbia University Provost Leadership Fellow, and was previously a Tow Foundation Faculty Scholar (2019-2021), an award for mid-career faculty that recognizes outstanding and innovative research and thought leadership. Her work on physician fees has raised awareness of healthcare pricing issues among the medical profession, policymakers, scholars, and journalists. In particular she has highlighted how U.S. physician fees are substantially higher than in other countries, although notably, (in her work with Sherry Glied), most procedural and surgical services show larger price differentials than primary care services. Past work has addressed state and local public health policies in the U.S. and New Zealand, public opinion, children's health insurance coverage expansions, and state health insurance benefit regulation.
Laugesen is extending her work on physician payment to other countries, in a book manuscript on medical pricing (France, Japan, and Germany) with colleagues from Columbia, Rutgers and NYU. The first paper from the project was published in November 2020 in Health Affairs. She is also developing another book project focusing on the role of private equity in the healthcare sector. The book will be co-authored with Colleen Grogan at the University of Chicago.
Laugesen teaches HPM courses in policy and political analysis. She teaches in the first-year MPH students leadership core and in Mailman's ""Integration of Science and Practice"" required course. She is the faculty lead for two Mailman certificates, the Certificate in Health Policy Analysis (HPM students), and the Certificate in Health Policy and Practice (students in other departments).
Laugesen plays an active role in national scholarly associations and editorial boards. She is past President of the Health Politics and Policy Section of the American Political Science Association, and she previously served on the AcademyHealth Education Council, which advises the AcademyHealth Board on training and health services research workforce issues. Laugesen is the Book Review Editor for the Journal of Health Politics, Policy and Law.
Laugesen completed postdoctoral training at RAND/University of California, Los Angeles in health services research.
Academic Appointments
Associate Professor of Health Policy and Management
Administrative Titles
Certificate Lead for Health Policy Certificates, Department of Health Policy and Management
Faculty, Obesity Prevention Initiative
Affiliated Faculty, Master of Science in Bioethics Program
Advisory Board, Center for Health Policy
Director, Faculty Lead
Credentials & Experience
Education & Training
BA, 1992 (First Class Honors) Victoria University of Wellington
1992 Harvard University Health Policy PhD Program (non-degree program)
MA, 1993 Washington University in St. Louis
PhD, 2000 University of Melbourne
Committees, Societies, Councils
Editorial Boards
Health Economics, Policy and Law
Journal of Health Politics, Policy and Law
Journal of Health Services Research and Policy
Honors & Awards
Gold Award, Legislative/Government Article, Association of American Society of Healthcare Publication Editors, with Kim Isett and David Cloud
Leonard S. Robins Best Paper Award 2014, American Political Science Association, Section on Health Politics and Policy. For best health politics paper presented at the 2013 Annual Meeting
Robert Wood Johnson Investigator Award in Health Policy Research, 2009
Fulbright Graduate Scholar, 1992
Research
A problem well stated is a problem half-solved. (Charles Kettering)
Selected Publications
Gusmano, M.K., Laugesen, M., Rodwin, V.G. and Brown, L.D., 2020. Getting The Price Right: How Some Countries Control Spending In A Fee-For-Service System: Study examines mechanisms commonly used by some countries to set and update health care prices. Health Affairs, 39(11), pp.1867-1874.
Laugesen, Miriam J. 2019. How the American Medical Association's Rent-Seeking Strategy Compensated for Its Loss of Members. Journal of Health Politics Policy and Law 44 (1): 67-85.
L Gross, Tal and Miriam J. Laugesen. 2018. ""The Price of Health Care: Why Is the United States an Outlier?"" Journal of Health Politics Policy and Law October 43 (5): 771-791.
Laugesen, Miriam J. 2018. Regarding ""Committee Representation and Medicare Reimbursements: An Examination of the Resource-Based Relative Value Scale"" Health Services Research 53(6): 4123-4131.
Laugesen, Miriam J. 2018. Do Other Countries Have a Better Mix of Generalists and Specialists? Journal of Health Politics Policy and Law 43 (5): 853-872.
Spivack, Steven B., Miriam J. Laugesen, Jonathan Oberlander. 2018. No Permanent Fix: MACRA, MIPS, and the Politics of Physician Payment Reform. Journal of Health Politics Policy and Law 43 (6): 1025-1040.
Laugesen, M.J. (2016) Fixing Medical Prices: How Physicians are Paid. Cambridge: Harvard University Press. http://www.hup.harvard.edu/catalog.php?isbn=9780674545168
Oberlander, J. and M.J. Laugesen. 2015. Leap of Faith: New Physician Payment System. New England Journal of Medicine 373 (13) September 24, 1185-1187.
Laugesen, M.J., R. Wada and E. Chen. 2012. In Setting Doctors' Medicare Fees, CMS Almost Always Accepts The Relative Value Update Committee Panel's Advice on Work Values Health Affairs 31 965-972.
Laugesen, M.J. and S.A. Glied 2011. Higher Fees Paid to US Physicians Drive Higher Spending for Physician Services Compared to Other Countries Health Affairs 30 1647-1656 2011
Global Health Activities
Fixing Medical Prices: Global Lessons (expected completion 2021), France, Germany, Japan: International Evidence from Better Health Systems (2016-): Accurate healthcare pricing of physician services is fundamental for creating the right incentives in a healthcare system. Our paper (2020) in Health Affairs provided an overview of the mechanisms other countries use to set prices. Our book manuscript addresses fee-for-service reimbursement, alternative payment models, and the use of incentive payments in a selected number of high-income countries to evaluate the advantages and disadvantages of different payment methods. The project also aims to identify strategies countries use to balance prices, utilization and expenditure suitable for adoption in the US by private and public payers. PI: Miriam Laugesen with Michael Gusmano (Rutgers), Lawrence Brown (Columbia), Victor Rodwin (NYU)
Insurance coverage and health care across borders (Completed), Mexico: Previously, most analyses of insurance coverage and healthcare across borders explored specific countries or regions. European analyses often focused on treatment for specialty or high-cost services. In contrast, the high cost of US healthcare and the lack of basic coverage motivates some people to travel to Mexico for routine health care services. With Professor Arturo Vargas-Bustamante (UCLA), Dr. Laugesen sought to develop a more universal conceptual framework that would ""travel"" across a variety of health care system types, and reflect differences in insurance coverage and health care costs. The authors presented the framework at a European Consortium for Political Research workshop in 2009, and the paper was published in Health Policy in 2010. Next, with colleagues from the University of Texas, Dr. Laugesen and Dr. Vargas Bustamante researched how Medicare could potentially cover US retirees living in Mexico at a lower cost than in the US, and how uninsured Mexican nationals in the US could receive coverage through public programs sponsored by Mexico, or through private insurance plans operating in California. This analysis was published in Revista Panamericana de Salud/Pan American Journal of Public Health (with M. Caban, & P. Rosenau) in 2012.
Democratic Governance and Health [book] (Completed 2012), New Zealand: Governments in many countries are interested in increasing public participation in health care policy decision-making. One option is to create elected health boards of citizen representatives serving specific geographic areas. New Zealand is the only country in the world where elected health boards are a core and enduring feature of the governance of its health system. Elected boards have survived health system reform attempts by governments on the left and right. One attempt in the 1990s succeeded--for a time-- hospitals were depoliticized and required to operate as profitable businesses. That effort ran aground, due to voter resistance (see Laugesen, ""Why Some Market Reforms Lack Legitimacy"" Journal of Health Politics, Policy and Law, 2005). Democratic Governance in Health, coauthored by Miriam J. Laugesen and Robin Gauld was published by Otago University Press in 2012. It critically surveys the origins and endurance of elected boards in New Zealand, drawing on original archival research as well as recent survey data. The authors dispassionately consider the boards in the context of changing priorities of a regionalized, quality-oriented health care system in New Zealand.
Urban Health Activities
Developing a New Terminology for Funding Social Services: With funding from the Robert Wood Johnson Foundation Systems for Action program, this project (Miriam Laugesen and Sara Abiola, co-PIs) is studying the feasibility of developing billing systems for reimbursing providers for social and health services in one system. Even if policymakers agree we need to address social determinants of health, aligning social and health services requires communication between a network of national payers and providers. As in the business sector, compatible information systems are key for alignment, and we need a common language that works across a variety of state and federal programs, as well as private payers.
Mainstreaming Public Health in the Bloomberg Administration: A Model for Reform?: Dr. Laugesen was a co-investigator on a project led by Professor Kim Isett on the expansion of public health policies under Mayor Bloomberg. The study was funded by the Robert Wood Johnson Foundation. The project addressed three key questions (1) how were widespread reforms passed and implemented, (2) have these policies been effective, and will they be sustained, and, (3) what lessons, if any, can other cities learn from Mayor Bloomberg's approaches in New York?