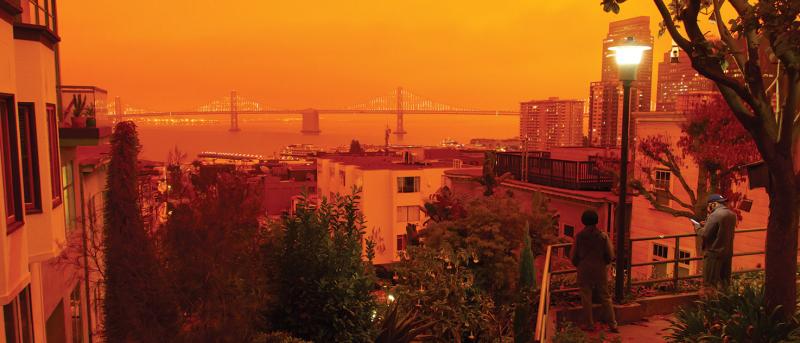 Wildfires Present a Growing Threat to Human Health
In recent weeks, unprecedented wildfires have burned millions of acres on the West Coast and pushed half a million people to evacuate their homes. At least 24 people have been killed in the blazes. Smoke and ash have blanketed urban centers, creating eerie apocalyptic vistas and causing air pollution concentrations to spike ten times or more—well above levels considered safe to breathe.
"We know air pollution is bad for health, but we are still in the early stages of understanding the many ways wildfires are contributing to unwanted health outcomes," says Joan Casey, an assistant professor of environmental health sciences who studies the impact of these disasters as they grow in intensity and frequency due to climate change.
In a study of the 2018 Carr Fire in Shasta County, California, Casey and collaborators documented increased pulmonary disease-related ED visits in the week of, week following, and two weeks following serious smoke events. An upcoming project will look at health outcomes among individuals diagnosed with Alzheimer's disease during Southern California wildfires from 2008 to 2020. The latter project will consider exposure to both wildfire-related particulate matter and psychosocial stress from evacuation and threatened evacuation. "This is an important study because the burden of Alzheimer's is growing and these individuals will likely have increased susceptibility to the ever-growing threat of wildfires," she says.
Casey believes research must examine more than just the acute effects of wildfires. Much less is understood about the long-term consequences of extreme air pollution events—especially how they exacerbate other health challenges. For example, one recent study in Montana found increased influenza rates in the winter following high levels of smoke exposure. Just as important is understanding the physical and psychological traumas related to wildfire evacuations, particularly for older adults and other vulnerable populations.
Rapidly rising concentrations of atmospheric greenhouse gas create hot and dry conditions in which wildfires thrive. The average West Coast wildfire season is three and a half months longer than it was a few decades back, and the number of annual large fires there has tripled—burning six times as many acres.  Over the last year, Australia battled its largest bushfire on record, while parts of the Arctic, the Amazon, and central Asia experienced unusually severe blazes.
"It's critical that we understand the multitude of ways these disasters are harmful so we can find ways to protect everyone, starting with the most vulnerable," says Casey.