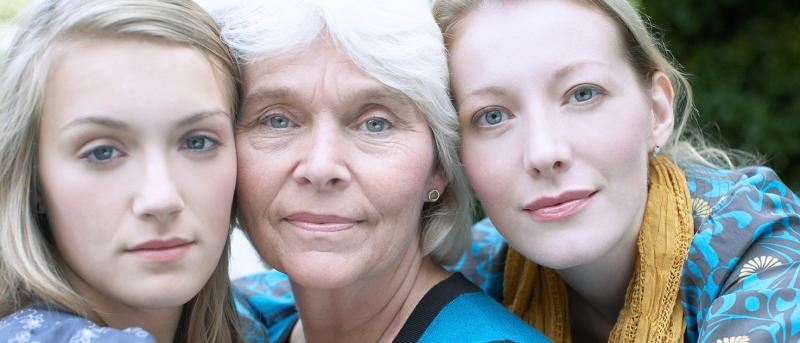 When Depression Spans Generations
The Mailman School's Myrna Weissman shares findings from a 30-year-study on intergenerational depression
In 2015, 3 million 12 to 17-year-olds had at least one depressive episode. Typical reasons cited include hormonal changes, bullying online and off, peer pressure—or all of the above. But new research suggests another possible explanation: depression that is passed down from one generation to the next. 
Young people with both a both a depressed parent and depressed grandparent had a three-fold increased risk of major depression, according to research from Myrna Weissman, Diane Goldman Kemper Family Professor of Epidemiology and Psychiatry.
Though the hereditary risk of depression between parents and their children is nothing new, this is the first time researchers have carefully interviewed three generations.
Weissman and her team published their findings in the September issue of JAMA Psychiatry. Over a 30-year-period, they followed a cohort of 251 young people averaging 18 years of age, plus their parents and grandparents, interviewing them up to six times. If a subject's grandparents had a history of major depressive disorder, that family would be characterized as high-risk. And if grandparents had no history of depression, the family would be considered low-risk.
"Obtaining family history has never been more important," Weissman says, "because it will identify those who are at highest risk for depression, and suggest opportunities of early interventions."
There are many excellent treatments for depression, including different medications and evidence-based psychotherapy. Their study and others have found that if you can treat the depressed mother to remission, then you can have some impact in reducing the symptoms in her children. Early and effective treatment for depression is important.
The key is to reduce the symptoms of depression, which include loss of interest or pleasure, problems with sleeping, eating, energy, concentration or self-image. And while almost every teen would seem to exhibit some of these qualities at some time in their life, the symptoms are often transient. The real tipping point is when the fog doesn't lift after two weeks.
According to the Center for Injury Epidemiology and Prevention, suicide rates have risen nearly 25 percent in the last 15 years, and is now the second leading cause of death among teens and adolescents. In their research, Weissman's team found an alarming rate of death from unnatural causes, including suicide in the high risk second generation, who were an average age of 48 years. These findings were reported in the October 2016 issue of the American Journal of Psychiatry. There was also an increase in suicidal ideation, the feeling that life is not worth living, in the third generation, who were, on average, age 18 when last interviewed. 
"Depression is a highly disabling illness," Weissman says, "with an early age of onset that impacts quality of life and physical health." For teenagers, depression affects their school performance, their educational choices, their future work, and in the long run, their overall health.
The finding in families at high risk for depression highlights the importance of prevention and early intervention.