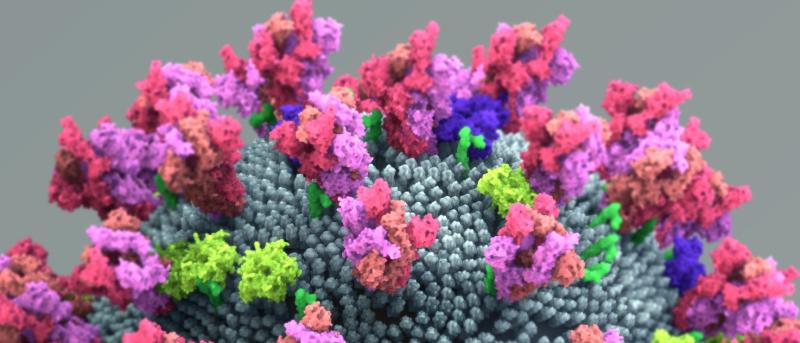 What Is Omicron and How Concerned Should We Be?
Nearly two years after the emergence of the virus that causes COVID-19, a variant of the virus called Omicron is raising concerns around the world. Transmission checked in with some of Columbia Mailman School's top experts in virology, emerging infectious diseases, epidemiology, and the global response to pandemics to answer questions about the variant, including its potential risks and what we can do to protect ourselves.
What is Omicron?
Omicron (pronounced ah·me·kraan) is the thirteenth variant of SARS-CoV-2, the coronavirus that causes COVID-19, named by the World Health Organization, using a Greek letter naming scheme. It is the fourth variant designated by the WHO as a "variant of concern" after Delta, which is currently responsible for most cases and deaths around the world. Delta, which is more than twice as contagious as earlier variants, supplanted previous variants in the summer of 2021. So far, scientists do not know whether Omicron is more or less contagious than Delta, but there is sufficient cause for concern.
Where does Omicron come from and Why did it emerge?
In early November, scientists in South Africa identified the variant in a patient with COVID-19 from Botswana, a country that borders South Africa. Subsequently, the variant was detected in South Africa. The identification of new variants is expected. Variants are a natural part of the virus lifecycle and arise as the result of errors (mutations) that take place when the virus copies its genetic code while replicating inside the cells of an infected person.
Why are public health officials concerned?
"While we don't know yet whether Omicron is more or less contagious than Delta, there are concerns that it may be more contagious because it is rapidly replacing Delta in South Africa," says W. Ian Lipkin, John Snow Professor of Epidemiology and director of the Center for Infection and Immunity. Another troubling sign: Omicron has many more mutations than earlier variants and these mutations are concentrated in a part of the virus that interacts with human cells—regions that are important for the efficacy of vaccines and treatments. 
Where is Omicron now and Where will it spread next?  
As of November 29, the Omicron variant has been detected in 15 countries. Due to incomplete surveillance and limited availability of virus sequencing around the world, the variant is likely more widespread and will likely be identified in many more countries, including the U.S. However, projecting the future spread of Omicron is not yet possible. "We won't be able to project its spread and impact until we have a better sense of its transmissibility, its ability to compete with other variants—Delta in particular—its ability to cause breakthrough and repeat infections, and the severity of disease caused by Omicron," says Jeffrey Shaman, a professor of environmental health sciences who is an expert in infectious disease modeling.
What are the biggest unanswered questions about the new variant and when will we get answers?
The most critical questions about the new variant are whether or not it is more infectious than the Delta variant, whether or not it is likely to cause more severe disease, and whether or not it will compromise the effectiveness of available vaccines or treatments. In laboratory studies, scientists are hard at work examining how well vaccines work against Omicron. Meanwhile, epidemiological studies will determine how infectious the variant is and whether it causes more severe illness. Preliminary answers will likely take a few weeks, according to Jessica Justman, senior director at ICAP at Columbia and associate professor of epidemiology. 
What precautions are being taken against Omicron and why?
Around the world, viral sequences are being examined for the presence of Omicron. Scientists are also working on a vaccine against the new variant, in case one is needed. Meanwhile, countries, including the U.S., have limited visitors from certain southern African countries to slow the arrival of the variant. Some say these restrictions unfairly target southern African countries when evidence already suggests the variant is circulating more widely. Stephen Morse, professor of epidemiology, says restrictions on travel from China in early 2020 did nothing to stop the spread of the virus in the U.S., which instead arrived via Europe. "Travel restrictions alone may buy some time, but I doubt will do much to stop it," he says.
what else can we do to protect ourselves?
The recommended measures to limit the spread of the virus continue to apply in the face of new variants. As more evidence evolves, experts say we might need to adjust our approaches, but for now, they say it is important to stay the course and use the protective tools we have. The best thing to do is get fully vaccinated, including a booster shot. Additional precautions include avoiding large gatherings, especially indoors, and wearing a mask when indoors, when not with immediate family or small social groups, as well as outdoors in a crowded setting. It is also important to stay home if not feeling well and get tested, as appropriate.
On a policy level, our experts call on improved availability of vaccines around the world, especially in low and middle-income countries, which lag behind wealthy countries in vaccine coverage. "There is an urgent need to produce more vaccine doses and support countries in their vaccination efforts," says Wafaa El-Sadr, Columbia University Professor and director of ICAP at Columbia. "COVID-19 is everywhere. We must stop transmission, which we know drives the evolution of new variants, and vaccines remain our best tool to stem new infections and the risk of new variants."