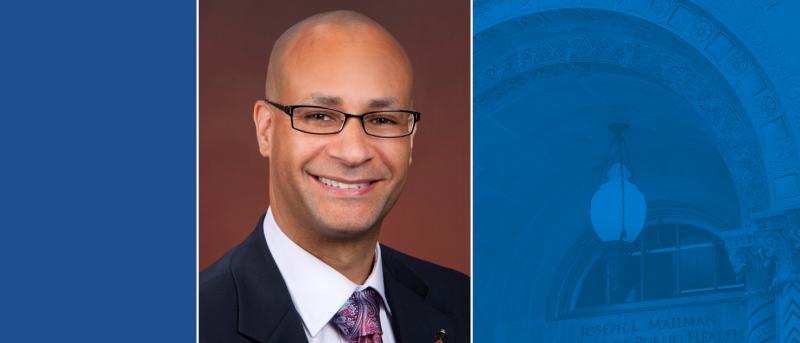 Vice Dean for Education Shares His Passion for Public Health Education
A lifelong New Yorker, Michael A. Joseph, Columbia Mailman School Vice Dean for Education, believes the Big Apple is an ideal place to learn public health by seeing how an urban environment shapes the health of millions. But Columbia Mailman is more than just a world-class school in a world-class city. Reflecting on his decision to join the faculty earlier this year, Joseph says he was moved by the School's strong commitment to health equity and social justice—a commitment he shares.
Since arriving in March, Joseph has worked to build on the School's educational successes and prepare students to take on the most pressing public health challenges of the coming decades. He seeks to bring public health to new audiences while embracing new technologies and ways to support academic success. Most of all, he wants students to discover the same enthusiasm and sense of purpose he found in the field. "Public health can change the way you see the world and your place in it," he says. "A good teacher opens your mind to new ideas and perspectives and ignites your passion for a subject."
Joseph's path from public health student to educator began in the early 90s at Brooklyn College while taking his first epidemiology course. In a twist of fate, his teacher was Gerald Oppenheimer, a CUNY professor who holds an adjunct appointment at Columbia Mailman. That introduction to epidemiology class launched Joseph's interest in public health. Then between his junior and senior years, he interned with the late Rachel G. Fruchter, an epidemiologist at SUNY Downstate, and worked with her to design a study of cervical cancer in immigrant women in Brooklyn. The experience opened his eyes to health disparities seen in immigrant communities of color like his own (Joseph's parents are immigrants from Guyana).
He went on to earn an MPH in Chronic Disease Epidemiology at the Yale School of Public Health and PhD in Epidemiologic Science at the University of Michigan, discovering an affinity for teaching along the way. Following postdoctoral training at Mount Sinai School of Medicine, he joined the faculty at SUNY Downstate, where he taught in a program emphasizing urban and immigrant health. He served in various leadership roles, including as vice chair of the Department of Epidemiology and Biostatistics and interim chair of the Department of Environmental and Occupational Health Sciences. Most recently, he was Vice Dean for Academic and Student Affairs. His research focuses on HIV/AIDS risk reduction in heterosexual Black men from Brooklyn.
Joseph earned a reputation for his outstanding teaching—especially for his ability to find ways to introduce public health to new audiences. He developed a workshop called "Biostatistics for Non-Biostatisticians" taught as a Learning Institute at the Annual Meeting of the American Public Health Association (APHA). The Black Young Professionals' Public Health Network, an organization he co-founded, also created public health professional development opportunities through the APHA meeting. Internationally, Joseph built biostatistics and epidemiology capacity and conducted training sessions in Zimbabwe, South Africa, Estonia, Ukraine, and Kazakhstan. Recognizing these efforts, in 2013, he received the prestigious SUNY Chancellor's Award for Excellence in Teaching. 
An Inclusive Vision
Throughout his career, Joseph has prioritized bringing public health education to students of color and other historically excluded groups. He was involved in undergraduate pipeline programs at the University of Michigan, Morehouse College, and SUNY Downstate, many of whose participants have pursued further education in public health (two graduates of those programs are today MPH students at Columbia Mailman). This summer, Joseph taught students enrolled in BEST, the most long-standing of Columbia Mailman's various pipeline programs. Looking ahead, he aims to forge partnerships with middle schools and high schools to create similar pipelines for students in these younger cohorts.
To expand the School's curricular offerings in line with the School's commitment to antiracism, the Office of Education is currently undertaking a curriculum mapping project to review every syllabus to diversify the expert voices students encounter. Beginning this fall, an anti-racist seminar series will tackle topics such as the history of white supremacy and violence and global perspectives on racism.
Looking ahead, Joseph envisions a suite of learning opportunities that target mid-career or senior professionals looking to update their skills or switch careers and retirees who want to invest in expanding their minds. The School is already reaching younger audiences through five-year BA-MPH programs in partnership with several colleges. Meanwhile, educational technologies are opening up opportunities for online learning.  
"From establishing new pipeline programs that attract Black, Hispanic, and first-generation college students to ensuring the public health workforce stays current through lifelong learning initiatives, the ubiquitous nature of public health provides us with ample opportunities to deliver innovative public health education to a diverse audience," Joseph says. 
Advice for Students
Asked to give some words of wisdom on how to succeed as a public health student, the Vice Dean for Education urges students to always give their best effort, whether it is a homework assignment, a classroom discussion, or practicum experience. "Your energy will take you places," he says. At the same time, successful students know how to seek the help they need, starting with finding the right mentor. "Don't make your decision based on the length of a CV or number of awards someone has received. Ask current students and alumni," he adds. "You want someone who is a good fit for your needs."
Most of all, Joseph encourages public health students to forge bonds with their classmates. These relationships will help them make the best of their time in school and well beyond. "They'll help you and cheer for you on your way up the ladder, and you'll do the same for them," he says.
---