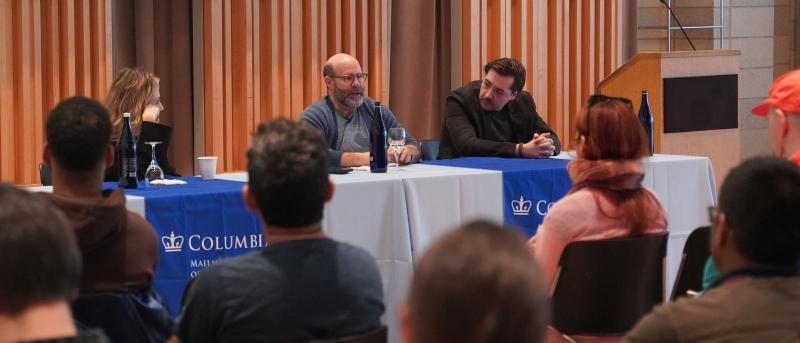 TV Series Dramatizes the Dangers of Climate Change
Filmmaker Scott Z. Burns introduces a new science-informed TV drama
On Monday, the IPCC, the UN intergovernmental climate body, released its latest report, providing the starkest warnings yet that the planet is about to cross the critical 1.5 centigrade threshold, although corrective action is still possible. A graphic accompanying the report illustrates the differential impact on successive generations, with humans born in 2020 on track to experience a "hotter and different world" by the time they reach middle and old age.
A day later in the Lerner Hall on the Columbia Morningside campus, filmmaker Scott Z. Burns introduced his timely new television series, Extrapolations—a sci-fi drama that imagines the impacts of climate change decades into the future. Michael Gandolfini, an actor in the series, and Bess Wohl, one of its writers, joined Burns in a lively discussion interspersed with the screening of short clips. Professor W. Ian Lipkin, director of the Center for Infection and Immunity (CII) and longtime Burns collaborator, gave introductory remarks.
Lipkin said he first connected with Burns in 2008 over a shared desire to make a movie to "educate people and move our culture toward considering the possibility of a pandemic," which was then understood as only a remote possibility. That concept became the 2011 pandemic thriller Contagion, written by Burns with Lipkin serving as a scientific advisor. The duo reunited in the Contagion-like early days of the pandemic to create a series of PSAs staring members of the film's cast, including Matt Damon, Kate Winslet, Laurence Fishburne, and Jennifer Ehle. Burns and Lipkin collaborated again in 2021 on the "Roll Up Your Sleeves" ad campaign to encourage eligible New Yorkers to get vaccinated. Lipkin also created COVID safety protocols for Extrapolations, filming for which took place during the height of the pandemic.
Burns said translating science into storytelling is important but difficult work. Extrapolations tackles climate change-related topics like mass migration, species loss, human health impacts, and the risks of geoengineering—all through the lens of human relationships, with characters portrayed by top Hollywood talents like Tobey Maguire, Sienna Miller, Meryl Streep, Edward Norton, Forest Whitaker, and others. The filmmaker consulted with climate scientists much in the way he worked with Lipkin on Contagion. While scientific verisimilitude is crucial, Burns said he took care not to burden viewers with technical detail, adding, "The biggest crime is the crime of boredom." The goal was to transcend the echo chamber of climate insiders. "If we've succeeded in widening the circle then we've done a good job," he said.
In the spirit of widening the circle, Burns and his Extrapolations collaborators are moving beyond the usual press promotion to give talks on college campuses, with Columbia as the first stop. Audiences are treated to a free pass to watch the series on Apple TV+. 
Climate change is far from a new subject for Burns. He recalled how he was in the audience for a slideshow presentation by Al Gore not long after the vice president won the popular vote but lost the presidency. At the filmmaker's urging, that slideshow became the 2006 Oscar-winning documentary An Inconvenient Truth, produced by Burns. In the film, Gore points to the policy changes needed to address the problem by the end of the century. In the intervening years, science has made it clear that bold action to cut carbon emissions is needed right away. Yet even as the public becomes increasingly aware of the urgency of the situation, Burns says Hollywood continues to set stories in a future unaffected by climate change, adding, "that world will not exist."