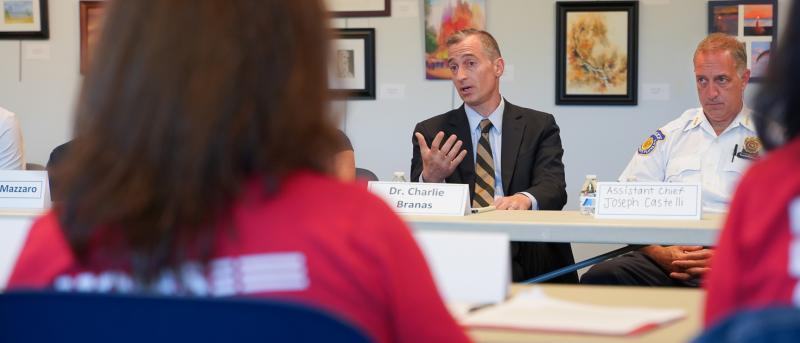 At the Table for Gun Violence Prevention
On the heels of deadly shootings in Gilroy, El Paso, and Dayton, Charlie Branas, chair of Epidemiology at Columbia University Mailman School of Public Health, took part in a roundtable discussion on gun violence prevention organized by Congresswoman Nita Lowey. Branas, a researcher who studies gun violence as a public health issue, shared his insights and responded to perspectives offered by others around the table, including survivors, relatives of victims, activists, local law enforcement, and students.
Congresswoman Lowey, chair of the House Appropriations Committee, supports legislation to ban assault weapons and online sale of ammunition and enhance background checks. In March, the Committee held its first hearing in more than 20 years on gun violence prevention research and included $50 million in the health spending bill, split between Centers for Disease Control and Prevention and the National Institutes of Health, to support firearm injury and mortality prevention research. This was the first time that funds for this purpose passed the House since Fiscal Year 1997. "It is crucial that we empower the public health community to confront the epidemic of gun violence head-on," said Rep. Lowey.
At the afternoon meeting in Greenburgh, New York, Branas spoke about a recent study he led that found elevated rates of mass shootings in states with more permissive gun laws and higher rates of gun ownership. Echoing a comment by an advocate who is also a survivor of the 2017 Las Vegas shooting, the professor said weapons can cross state lines, diminishing the potential of more restrictive states like New York to curb gun violence beyond the success they've already shown. "The spillover effect is something to be concerned about," he said.
Branas has researched gun violence for 25 years, contributing several seminal studies. His 2004 paper showing firearms pose a danger to both rural and urban Americans was cited in the landmark 2008 Supreme Court decision, District of Columbia v. Heller. Another study reported that people who carried guns were more than four times more likely to be shot than those who were unarmed—findings that made him a target of the National Rifle Association. More recently, research by Branas has reported on a cost-effective intervention to curb gun violence that works by restoring neglected buildings and lots.
While science can support policies to prevent violent shootings, funding has been scant. "[Gun violence] is a leading cause of death in the United States, yet it receives hundreds of times less funding than other leading causes of death," noted Branas, adding that the recent move to provide federal support for this research was encouraging—especially since so many important questions remain unanswered. "We have really only scratched the surface scientifically."