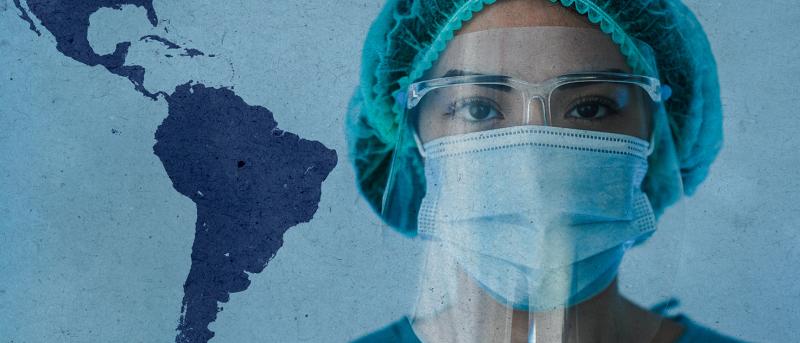 Survey Finds High Rates of Depression Among Latin American Health Care Providers
A multinational survey of healthcare providers in the Americas found high rates of depression and suicidal ideation in the wake of the COVID-19 pandemic. Less than one third of those who said they needed psychological care received it.
The COVID-19 HEalth caRe wOrkErs Study (HEROES) Regional Report from the Americas is available at the website of the Pan American Health Organization (PAHO), which co-led the study with Columbia University and the University of Chile. Ezra Susser, professor of epidemiology and psychiatry at Columbia Mailman School of Public Health and New York State Psychiatric Institute, Franco Mascayano, a PhD student of epidemiology at Columbia Mailman, and Ruben Alvarado, a professor at the University of Chile launched HEROES in 2020. Dozens of institutions collaborated across the globe: this report pertains to those in Latin America. 
A survey of 14,502 health care workers in 11 countries and territories (Argentina, Bolivia, Brazil, Chile, Colombia, Guatemala, Mexico, Peru, Puerto Rico, Uruguay, Venezuela) found that between 15 and 22 percent of health care workers presented symptoms that led to suspicion of a depressive episode, with Chile accounting for the highest rate. The figures for suicidal ideation ranged between 5 and 15 percent of respondents, with the highest rates in Chile and Bolivia. Data data collection was done between July 2020 and May 2021.
The most important risk factors included the need for emotional and economic support, concern about infecting family members, conflicts with family members of infected persons, and changes in usual job duties. The most important protective factors were trusting that the health care institution and the government could handle the pandemic, having children under 18, having the support of coworkers, and considering oneself a spiritual or religious person.
The HEROES report finds no evidence of specific mental health policies developed by Latin American governments in the participating countries. Policy analysis was carried out by the Ibero-American Network of Health Studies and Public Policies (RESPI), formed by members of HEROES and collaborators.
The report recommends the creation of healthcare policies for the mental health, particularly for health care workers, including caregivers. The authors write that early detection of mental illness is key, and support for health teams is needed within and beyond the workplace, including reducing barriers to access, such as privacy concerns.
The International Network of Mental Health Care Practices and Experiences (RIPEC-SM), currently comprised of representatives of universities, social organizations, State institutions, and trade unions is highlighting and sharing practices, experiences, and resources for mental health care online.
The report concludes: "Protecting the mental health of health teams should be an important component of countries' strategies for dealing with the post-pandemic period, in which health care providers will continue to play a key role in addressing delayed care and physical and psychosocial rehabilitation needs."