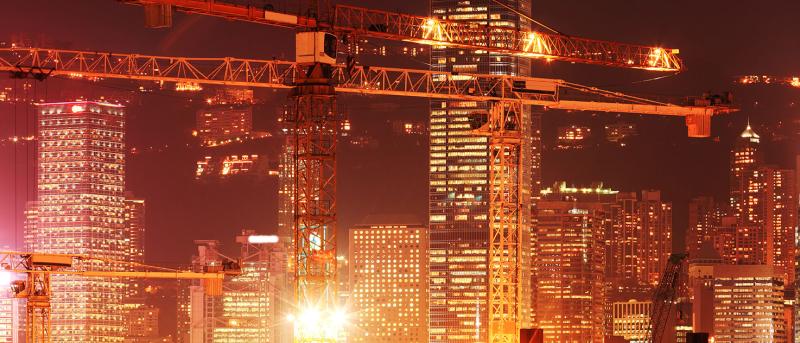 A Strong Foundation for Urban Health
A faculty brainstorming session identifies new opportunities for the Mailman School to improve the health of urban residents.
The world is rapidly urbanizing. And for good reason. Cities are powerful engines of opportunity, offering the chance to advance livelihoods and learning, participate in culture, and interact with people from diverse backgrounds. Cities are also the place where, as Mailman School Professor Lynn Freedman put it, "the health of populations is made and unmade."
Freedman and Gina Lovasi, co-directors of the School's Urban+Health Initiative, recently brought together close to 30 faculty, including many who study urban health, to brainstorm ideas and explore new avenues to align cities with health. Among attendees were scholars who study informal settlements in Brazil and Bangladesh, and design urban environments in China, and age-friendly amenities in New York City.
The Initiative, building from a series of seminars last year, aspires to leverage the School's strengths to raise its profile as a leader in urban health and create policy-relevant solutions in areas from housing and transportation to climate change and childhood development. The goal, said Freedman, is to articulate a bold vision for the future of cities while staying grounded in concrete issues their populations face today. Guiding principles of the effort include a desire to break down barriers between disciplines and sectors as well as a dedication to equity and access around the world.
There is growing interest in cities from all corners—not least of all, across Columbia University. In the past year, Dean Linda P. Fried met with her counterparts in the Schools of Architecture, Engineering, Law, and International and Public Affairs to discuss the creation of a consortium to promote interdisciplinary exchange on the topic. University President Lee Bollinger, too, is interested in innovative ways to learn about urban settings and the future of cities, especially those that capitalize on the nine Columbia Global Centers.
In Hess Commons at the brainstorming exercise, Mailman School faculty enumerated the countless way cities shape health: among them, our housing and food and air we breathe, the way we get around, employment and educational opportunities, the criminal justice system, disaster planning, and of course, access to healthcare. The strength of public health is its broad applicability, as well as an aptitude for forging partnerships with everyone from policymakers to community members.  
In particular, public health's ability to learn from communities makes the field stand apart. There is a long track record of faculty at the Mailman School working with urban communities to set research priorities and translate findings. For example, the ongoing Columbia Center for Children's Environmental Health Mothers and Newborns Study works in concert with community groups like We ACT. These research methods and relationships, faculty agreed, are a valuable asset.
"We privilege the experiences and voices of community-based organizations," said Diana Hernandez, assistant professor of Sociomedical Sciences. "That's what we do well."
A SWOT exercise identified more of the School's strengths: our New York City location and connection to a global University, for example; and our reputation for scientific rigor, impartiality, and educational excellence. The School also boasts specialized expertise, such as in methods to measure air pollution and an aptitude for calculating the return on investment of health interventions. These are balanced by challenges, including funding constraints that impede collaborations, as well as a limited ability to respond quickly due to a "cautious culture."
Discussion brimmed with opportunities from the educational—the creation of urban-oriented student practicums, case studies, and a full semester course—to potential partnership through the Columbia Global Centers and with the private sector. One potential model would fund faculty and staff to create a team agile enough to take on opportunities, adding specialized faculty expertise in an ad hoc fashion.
Above all, said Lovasi, assistant professor of Epidemiology, there is enormous potential for urban health based on a unique axiom: universal agreement around the virtues of health.  
"This exercise has brought out what we can do and what we hope to achieve," she said. "It highlights the values we have as a field toward wanting to make healthy cities inclusive to protect the health of all residents."