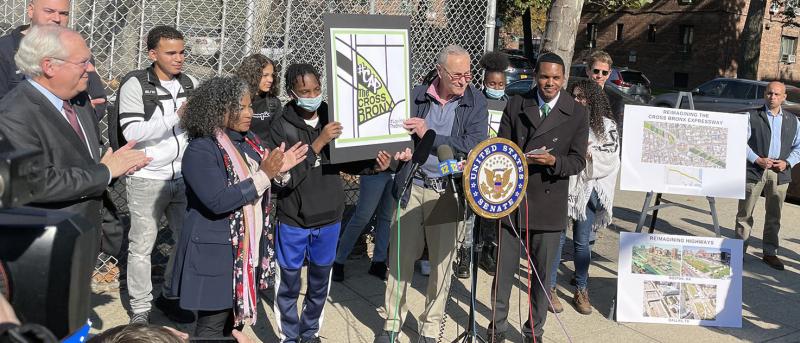 Senator Schumer Calls Cross Bronx Infrastructure Project Priority One
Community advocates, elected officials, and one Columbia Mailman School professor have worked for years to do something about the Cross Bronx Expressway, a major source of air pollution linked to high rates of asthma in nearby communities of color. Speaking at a press conference on Tuesday, Senator Chuck Schumer and Congressman Richie Torres promised that a massive project to mitigate the expressway's harms is now a top priority, as part of the new $1.2 trillion infrastructure bill awaiting President Biden's signature.
Sen. Schumer told reporters he spoke with Transportation Secretary Pete Buttigieg, who signaled his support for releasing funds to study specifics of the plan. The project would likely involve adding a deck on top of below-grade sections of the expressway, with filtered vents to scrub exhaust. Additional elements may include the addition of green space and noise barriers for sections that are not below grade. Funding will come from $7.5 billion in RAISE grants for infrastructure projects that undo environmental racism of the kind epitomized by the Cross Bronx Expressway. An additional $5 billion is allocated in the Build Back Better bill.
Over the last three years, Peter Muennig, professor of health policy and management, has built the case for the project. His cost-benefit research shows that it could cut in half asthma rates in adjacent neighborhoods and that the long-term health and economic benefits would far exceed the estimated $750 million cost of capping the expressway. This fall, he is co-teaching a class of public health and architecture students at Columbia GSAPP who are envisioning specifics of the project. Students at Fannie Lou Hamer High School and Albert Einstein School of Medicine—both in the Bronx—have worked on similar projects.
"Since the expressway opened, we've lost tens of thousands of lives as the result of exposure to air pollution from passing cars and trucks," Muennig told a scrum of reporters. "We now have a once-in-a-generation opportunity to suture the wound of a highway that cuts through the heart of Bronx communities. This project is going to mean a better future for everyone who lives here."  
Completed in 1972, the 6.5-mile Cross Bronx Expressway bisects the borough east to west, carrying 300 diesel trucks every hour, on average. The resulting air and noise pollution contribute to a bevy of health problems, from asthma to COVID-19, for the 220,000 people who live near the highway, most of whom are Black and Brown. Robert Caro's classic book, The Power Broker, tells the story of how "master builder" Robert Moses developed the highway, displacing thousands of residents and creating a fissure that led to declining conditions.
"This expressway built by Robert Moses is one of the greatest examples of environmental injustice, a legacy of environmental justice that is with us every day here in the Bronx," said Sen. Schumer, who added that undoing the injustice wrought by one of the country's busiest highways "makes this project way at the top of the list." 
The Infrastructure Investment and Jobs Act is also expected to bring money to New York City for public transportation, including subway system upgrades, as well as to finally realize the long-stalled Gateway Project to build rail tunnels under the Hudson River. It also includes billions for a national push toward electric vehicles. Schumer said the scale of the infrastructure funding hasn't been seen since at least the 1950s.
Other speakers at the Tuesday press event included Assembly Member Karine Reyes, New York City Transportation Commissioner Hank Gutman, City Council member-elect Marjorie Velazquez, and Nilka Martell, the founder and director of the community organization Loving the Bronx. Several students from Fannie Lou Hamer High School were also on hand.
Representative Richie Torres said he grew up near the expressway and links his childhood asthma to its emissions. "The prevalence of asthma in the South Bronx is no accident—it's a consequence of the Cross Bronx Expressway. Capping the Cross Bronx would mean preventing the polluting of our air and the poisoning of our children, and preventing the impoverishment of public health." 
Rep. Torres added: "Poverty is not only about the money we have in our pockets; it is about the environments in which we live; it is about the social determinants of health. We have a historical opportunity to confront the poverty of the air that our children breathe every day in the South Bronx."