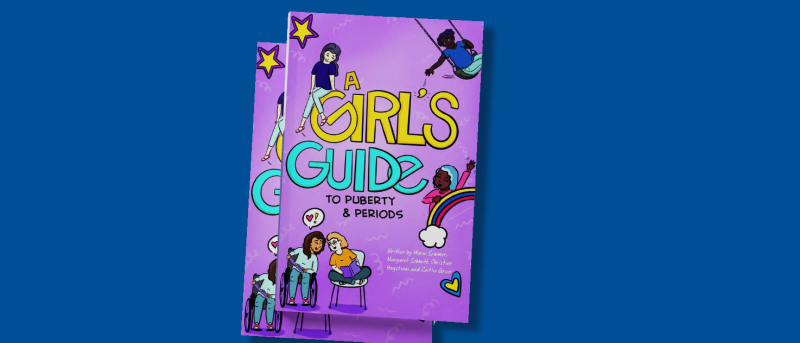 Researchers Publish Girl's Guide to Puberty and Periods
Three researchers and a former MPH student with the Columbia Mailman School's GATE (Gender, Adolescent Transitions, and Environment) Program just published a book titled, A Girl's Guide to Puberty and Periods. In a conversation with Transmission, Marni Sommer, Margaret Schmitt, Christine Hagstrom, and Caitlin Gruer spoke about their unique approach to writing the book, which incorporates the real-life stories of girls living across America about the first time they got their periods. 
Where did the initial idea for this book come from?
Sommer: I first had the idea of doing puberty books over 10 years ago when I was designing my doctoral research on menstruation and education to be done in Tanzania. When I was in the field doing data collection, it became very clear that girls needed information about their growing bodies. Parents and teachers were uncomfortable with the topic or shied away from teaching about it. Since then, I have published puberty books around the world, with over two million copies disseminated across 10 countries. Over the years, we began to realize that there were similar gaps in information and support that girls were receiving in the U.S. A book for girls in the U.S. was the next natural step. Our funding from Sid and Helaine Lerner enabled this to happen.
What sets this book apart from other books on this topic?
Gruer: There are many great puberty books available in the U.S.A., but most of them do not integrate the actual experiences of girls growing up across our large and culturally diverse country. American girls come from a range of cultural backgrounds and geographical areas, and so experience puberty and menstruation differently within their families, communities, and social networks. We wanted to develop puberty content that speaks to both the diversity and commonality of those experiences.
Schmitt: Our book was developed by engaging with adolescent girls across the country. We collected their insights through a participatory research study conducted in New York City, Chicago and Los Angeles. The research activities included girls sharing their first period stories and questions they had about growing up, along with their needs and challenges during puberty and menarche. We then used these personal narratives and experiences directly in the book. We also sought to capture the perspectives of teachers, coaches, school nurses, and others who engage with girls as they transition into early adulthood. Learning from this research has also been shared in a research article published in the International Journal of Youth and Adolescence.
Why a book?
Hagstrom: A book is a great way for young people to learn about their bodies in a private space, either alone or with a parent or caregiver. We have heard from many parents—and girls themselves—that they really like the idea of learning about puberty and periods in the form of a book they can read on their own time, and refer back to as their questions arise. 
Gruer: We felt strongly that the new book should appeal to girls who like to read and as well as those who don't, and so we tried to create a book that is very visual and not too text-heavy. Much of the book content came directly from adolescent girls, including a sampling of first-period stories that we collected from 25 U.S. states with the help of many Mailman MPH students. We then found a wonderful illustrator, Emily Scheffler, who transformed our written content into a bright, fun, graphic-novel-style book. We also worked to ensure that the artwork and stories depict a broad range of bodies, backgrounds, and lived experiences.
What kind of first-period stories are in the book?
Schmitt: We focused on stories that highlight a range of different growing-up experiences. They depict the highs, lows, and even humorous first encounters with girls' first periods. We also sought to include stories on the different types of family arrangements or support systems that may be available to a girl, whether it be their mothers, fathers, school counselors, grandmas, friends, or other adults in girls' lives that can help them navigate these new experiences. We really wanted any girl who picked up the book to have at least one of the stories resonate with her own experience and the world around her. [Read some of the first-period stories online.]
Where is the book available?
Sommer: The book is available for sale on Amazon and Ingram Spark at the price point for printing. We're building partnerships with girl-serving nonprofits across the country, who may find the book helpful to their programming. We will also be doing outreach to large library systems and begin to explore how we can have the books included in the libraries of school systems and/or in school puberty programming more directly. A Spanish version of the book will be available in spring 2022. We are also promoting the book using a series of short, animated puberty videos about puberty and periods that were developed with the generous support of the Hearst Foundation. It's a collective effort to support and empower girls at this stage of life!