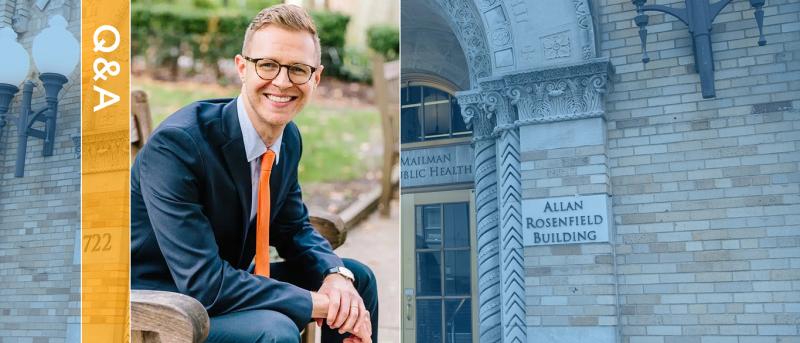 A Q&A With Sami Jarrah on Bridging Academia and Action
Earlier this year Sami Jarrah joined Columbia Public Health as Vice Dean for Finance and Administration. In this role, he is responsible for 3,500 employees in dozens of countries and an annual budget of about $400 million, overseeing facilities, finance, information technology, human resources, and more. Beyond budgets and operations, Jarrah, who comes from the world of local government, brings a passion for strengthening ties between academia and public policy to make a difference in the health and lives of everyday people. 
Before joining Columbia Mailman, Jarrah served as chief financial officer of the New York City Department of Health and Mental Hygiene. He guided the department's resources as it scaled up to support the city's COVID response and unprecedented vaccination campaign under the leadership of two health commissioners, including Ashwin Vasan, the current commissioner and a member of the Columbia Mailman faculty.
In a new role as Columbia Mailman's Executive Director for Public Partnerships, Jarrah is working to strengthen ties between public health academics and government officials. As a starting point, he created a partnership with the Big Cities Health Coalition, which represents the health departments of the 35 biggest U.S. cities and the more than 60 million people who live in those cities. "In the COVID era, we've seen how important the public sector is to public health," Jarrah says, "and likewise how the public sector needs the scientific expertise universities can offer."
One of Jarrah's public health passions is gun violence prevention, the topic of a dissertation he is writing toward a DrPH from the Johns Hopkins Bloomberg School of Public Health. His interest in the topic goes beyond academic arguments. As chief operating officer of the Philadelphia Department of Health, from 2016 to 2021, he pushed for gun control policies in the violence-plagued city, only to see his injury-prevention efforts stymied at the state level. Over the last three years, he spearheaded a lawsuit with the Public Interest Law Center on behalf of Philadelphia, Pittsburgh, several other cities, and a dozen gun violence victims against the Commonwealth of Pennsylvania. The lawsuit challenges the state's use of preemptive laws that prevent cities across the state from passing proven, popular gun safety laws. The lawsuit will be heard by the Pennsylvania Supreme Court later this month.
How did you get interested in public health?
Jarrah: I got into public health by accident. I was an English major as an undergrad. One of my first jobs was at an academic health center where I worked on grants. I found that grants involving public health researchers were the most fascinating. Compared to a lot of medical research, public health research was more focused on big societal problems and offered a greater return on investment. I then found my way to government where I worked in health departments in Portland, Oregon; Philadelphia; and New York City. I got an MPH at the University of Washington in Seattle with a focus on policy. Right now, I'm working toward a DrPH at Hopkins Bloomberg School.
Tell me about the connections you're forging between the School and the public sector.
Jarrah: Earlier this year we created a partnership with the Big Cities Health Coalition, which is made up of representatives from the health departments of the 35 biggest U.S. cities. We created the CFO Learning Series. It is an opportunity for dialogue between academia and health department CFOs by bringing relevant academic research to leaders of finance in public health departments so it can be made useable. For instance, the series offers tangible strategies to public sector CFOs as they navigate a world of budget cuts and elected officials who simultaneously count on public health's success but who politically resist it.
As one example, Heather Krasna [Associate Dean for Career Services and Professional Development] gave a presentation with Dr. JP Leider at the University of Minnesota School of Public Health about developing and protecting the public health workforce. Another discussion focused on partnerships between nonprofit community-based organizations and health departments.
Tell me about the work you're doing on gun violence prevention.
Jarrah: For many years, the Pennsylvania legislature has refused to pass any common-sense gun laws, despite their popularity. In Pennsylvania and around the country, local governments are constrained from passing the policies their people want to pass because of preemption—when a higher level of government takes away the ability or passes their own policies around health topics. This repeatedly comes up around guns.
In partnership with the Public Interest Law Center, the City of Philadelphia decided to sue the Commonwealth of Pennsylvania to demonstrate the legislature is violating the Pennsylvania constitution, which guarantees citizens safety and protection in their neighborhoods. Pittsburgh, Allentown, Lancaster, and several other cities joined the suit. We found individuals who were personally harmed by gun violence, and they joined the suit too.
There is strong evidence of the effectiveness of many gun policies. Unfortunately, Philadelphia, Pittsburgh, and many communities suffer more death and heartache because Harrisburg, the state's capital city, refuses to allow cities to meet their constitutional requirements. Many states have their own version of the Second Amendment, and it is often narrower in scope or interpreted more accurately than the federal courts have interpreted the U.S. Constitution. For that reason, there are many opportunities to pursue this strategy around the country if it works in Pennsylvania. It's exciting to see this work come to fruition. Saving lives is worth the effort.