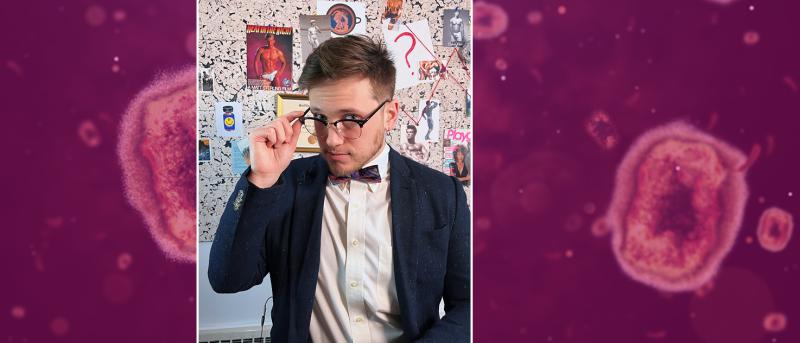 Q&A: One Doctoral Student's Experience on the Monkeypox Frontlines
Alex Borsa, a doctoral student in sociomedical sciences at Columbia Mailman, is helping spread accurate and up-to-date information about monkeypox—both through his own social networks and as a member of an advisory group convened by the New York City Department of Health and Mental Hygiene. Recently, he was quoted in a New York Times article about a stigmatizing TikTok video taken of a woman on a subway train with a skin condition that the video purported to be monkeypox (it wasn't).
His academic work focuses on gender, sexuality, and health. Earlier this year he published a paper in the journal Fertility and Sterility on private equity ownership of fertility clinics. He is also a member of the Gender Sci Lab at Harvard, which aims to bring feminist methods to the sciences of sex and gender. Borsa first got interested in public health as an undergraduate at Yale. For several years, he worked at NewYork-Presbyterian/Columbia as part of Project STAY, a health clinic for teens and young adults focused on STI prevention. Since 2019, he has pursued a PhD in sociomedical sciences, which he calls his "dream program."
(More information on monkeypox is available on the CDC website. If you live in New York City, visit the Department of Health monkeypox webpage for information on transmission and prevention, and to check your eligibility for vaccination, and make an appointment.)
Tell me how you've been involved in monkeypox outreach.
Monkeypox has been on my radar since initial reports of cases in Europe in early June. I was especially attuned because I'm both a public health researcher and a gay person and activist. The Department of Health [in New York] reached out to gay public health leaders for input, and I've been part of that group. We talk about issues ranging from vaccine access and equity, to gender and trans inclusion. Especially at the start, the vaccine rollout caused panic and confusion. If you tell a large group of people they need the vaccine without sufficient supply, it's going to go poorly. Initially, there were only 1,000 doses, and everyone was scrambling. I was lucky enough to secure a dose. Turns out, all you needed was to be a public health doctoral student to figure out how to get one!
I've been answering questions about monkeypox from people who find me through word of mouth or on social media. They ask me about treatment, vaccines, how to manage lesions, what their risk is, what the latest research says. People also send me updates or information to share with others. It's gratifying to be seen as someone who can help with this emerging threat in our community. I view it in the tradition of queer activist public health knowledge-making and community-building.
Talk about stigma and monkeypox.
The TikTok video featured in the New York Times story was shocking but also completely predictable. As Susan Sontag said, "illness is a metaphor," and people's responses to perceived illness can be very visceral. Sociomedical sciences has been at the forefront of articulating to research and activism how stigma is a fundamental cause of population health inequities. Fear of difference falls on people who are already vulnerable—even if they don't have monkeypox. At the same time, social media has been an important source of information and community mobilization, especially when there is little information from public health officials. A lot of gay men with monkeypox have gone to TikTok to post videos of themselves to show people what it looks like and how they've managed it.
You wrote a piece for Slate about shaming partygoers during COVID. Explain.
Since COVID, we've seen the idea of monitoring public health risk go mainstream. We've seen LGBT people call out other LGBT people for going to parties where people aren't wearing masks. To a lesser extent, the same thing is happening now with monkeypox. I wrote a Slate article critiquing the idea of a binary between heartless partygoers that have no consideration of other people versus losers who stay at home who have no claim to a life worth living. In reality, the folks who stay home leave home at some point. And many partygoers think about COVID too. The idea that you either should or shouldn't be going to parties isn't attentive to how queer people have been living sexual and social lives under pandemics for decades.
Is there a similar controversy around monkeypox messaging?
There is a debate around whether monkeypox is an STI. Technically, it's not, as transmission isn't exclusively sexual. That said, right now, over 90 percent of cases are in gay, bi, and men who have sex with men, and the majority of infections in New York City spread through sexual contact. Yet there's an anxiety about the sexual politics of monkeypox. There is concern about stigmatizing MSM. There is mixed messaging on whether this is a disease that affects everyone or a niche gay disease. It's not a gay disease, but it is affecting gay people. The most important thing is that the information is based on empirical research and is attentive to the social context and who is at risk. In that sense, whether it is labeled an STI isn't as important. It's good to spread the fact that reducing how many sexual partners you have will reduce your risk. The reluctance to spread that information because of the risk of stigmatizing LGBT people has not been helpful.