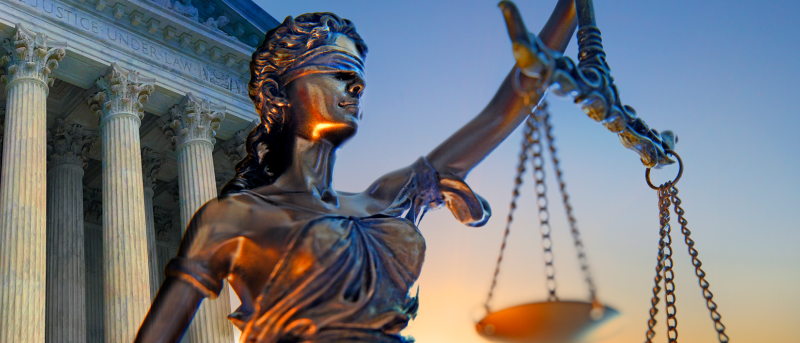 Public Health Leaders Urge SCOTUS to Uphold Roe v. Wade
A group of public health leaders, including Dean Linda P. Fried and Terry McGovern, chair of the Heilbrunn Department of Population and Family Health, are signatories to a letter calling on the U.S. Supreme Court to uphold Roe v. Wade. Not doing so, they write, "will have profound public health consequences."  
Public health leaders are urged to add their names to the letter, which follows the recent leak of a draft opinion that would overturn Roe.
The text of the letter follows:
Dear Supreme Court of the United States,
As public health professionals, we urge the Supreme Court of the United States (SCOTUS) to uphold Roe v. Wade. Overturning Roe v. Wade will have profound public health consequences. If SCOTUS allows states to ban abortions, abortions will not stop. Unsafe abortion will simply increase, harming more people—primarily Black women and girls.
If SCOTUS overturns Roe, people—mostly women and girls—will be hurt and some may even die in the U.S. from unsafe abortions. Despite public support for abortions and overwhelming evidence that access to legal, safe abortion services saves lives, policymakers opposed to bodily autonomy have pushed laws and regulations restricting or banning abortion, risking the sexual and reproductive health of millions. Forcing people to carry an unwanted pregnancy to term puts their physical and mental health at risk. The mortality rate associated with childbirth in the U.S. is 14 times higher than that of legal induced abortion. Each year, around 60,000 women in the U.S. experience severe maternal morbidity—significant short- or long-term health consequences from labor and delivery—and the rate is steadily increasing. Reversing Roe v. Wade will worsen these outcomes. Research suggests banning abortion in the U.S. could lead to a 21% increase in pregnancy-related deaths.
Legal abortion is safe, effective and an essential component of healthcare. In a comprehensive report, the National Academies of Science, Engineering, and Medicine stated that the "clinical evidence clearly shows that legal abortions in the U.S.—whether by medication, aspiration, D&E [dilation and evacuation], or induction—are safe and effective."
Removing access to legal abortion will set the U.S. even further back on maternal health outcomes and will exacerbate health disparities. Despite spending more on healthcare per capita than any other country, the U.S. has the highest maternal mortality rate of comparable countries – double the rate of most high-income countries. The CDC's 2020 data show a 36.8% increase in U.S. maternal mortality in just two years. Maternal health outcomes are the worst for women of color and people living in poverty—groups with the least access to reproductive healthcare. Women of color and uninsured women are significantly less likely to receive sexual and reproductive health services than white women and privately-insured women. Black women experience more maternal health complications than white women, are twice as likely to experience a life-threatening complication of pregnancy or delivery (a "near miss"), and are nearly three times more likely to die from pregnancy-related causes.
Reversing Roe will put women and girls who experience physical and sexual violence at further risk. Women who are denied abortions are more likely to have ongoing contact with a violent partner. Abuse can also increase a person's risk for an unintended pregnancy, just as unintended pregnancy can put a person at greater risk of abuse. Around one in four women in the U.S. experience intimate partner violence in their lifetimes, and some forms of this abuse, including sexual violence, place women at risk of unintended pregnancy. Denying any person an abortion keeps people in poverty, makes them less likely to pursue higher education, and puts their health at risk. For those experiencing intimate partner violence, these factors make it even more difficult to escape their abusers.
People living in states where abortion is likely to be highly restricted or banned if Roe is overturned will face increased barriers to accessing time-sensitive abortion care. Travel distance is a key determinant of abortion care access in the U.S. Many abortion patients are forced to travel across state lines, with one in five patients traveling over 50 miles one-way to an abortion facility. A reversal of Roe is predicted to increase average travel distance by 249 miles for residents of affected counties. Traveling out of state to receive an abortion can result in delays that force people to have the abortion later in pregnancy, thereby increasing risk of complications, or prevents them from obtaining an abortion altogether.
To the detriment of public health, if Roe is overturned many states will criminalize those who aid, access, or perform abortions. Eighteen states already have criminal laws that allow for prosecution of pregnant people or their healthcare providers. These laws will be enforceable if Roe falls. Criminalizing abortion could result in the use of increased police powers of investigation and surveillance and mass incarceration. The burden will not be evenly shared: Black Americans are incarcerated in state prisons at five times the rate of white Americans. This will invariably spill over into abortion-related prosecutions. Research shows Black women are more likely to be arrested, reported to authorities, and subjected to felony charges related to their pregnancies and pregnancy outcomes than white women.
As public health experts, we urge SCOTUS to consider science and public welfare in affirming the constitutional protection for abortion.
Sincerely,
Terry McGovern, JD, Harriett and Robert H. Heilbrunn Professor and Chair, Heilbrunn Department of Population and Family Health; Director, Global Health Justice and Governance Program, Columbia University Mailman School of Public Health
Linda P. Fried, MD, MPH, Dean and DeLamar Professor of Public Health; Senior Vice President, Columbia University Medical Center; Professor of Epidemiology and Medicine, Columbia University Mailman School of Public Health
Sonia Alemagno, PhD, Dean, College of Public Health, Kent State University
Bernadette Boden-Albala, MPH, DrPH, Director and Founding Dean, Program in Public Health; Professor, Department of Population Health and Disease Prevention and Department of Epidemiology, Susan and Henry Samueli College of Health Sciences, University of California, Irvine
Craig H Blakely, PhD, MPH, Professor and Dean, University of Louisville School of Public Health and Information Sciences
Thomas Chandler, PhD, MS, Professor and Dean, University of South Carolina
Marsha Davis, PhD, Dean, College of Public Health, University of Georgia
Ayman El-Mohandes, MBBCh, MD, MPH, Dean, City University of New York Graduate School of Public Health and Health Policy
Amy L. Fairchild, PhD, MPH, Dean and Professor, College of Public Health, The Ohio State University College
Sandro Galea, MD, MPH, DrPH, Dean, Boston University School of Public Health
Wayne H. Giles, MD, MS, Dean, University of Illinois at Chicago, School of Public Health
Perry N. Halkitis, PhD, MS, MPH, Dean and Professor of Biostatistics and Urban-Global Public Health, Rutgers School of Public Health
Cheryl Healton, DrPH, MPA, Dean, New York University School of Global Public Health
Michael C Lu, MD, MS, MPH, Dean, UC Berkeley School of Public Health
Boris Lushniak, MD, MPH, Dean and Professor, University of Maryland School of Public Health 
Ellen J. MacKenzie, PhD, Dean and Bloomberg Distinguished Professor, Johns Hopkins Bloomberg School of Public Health 
Rodrigo Reis, PhD, Interim Co-Dean, Washington University in St. Louis
Barbara K. Rimer, DrPH, MPH, Dean and Alumni Distinguished Professor, UNC Gillings School of Global Public Health 
Tetine Sentell, PhD, Interim Dean, Thompson School of Social Work & Public Health, University of Hawai'i at Mānoa 
Laura A. Siminoff, PhD, Dean and Laura H. Carnell Professor of Public Health, Temple University College of Public Health
Michelle A. Williams, ScD, Dean of the Faculty, Harvard TH Chan School of Public Health