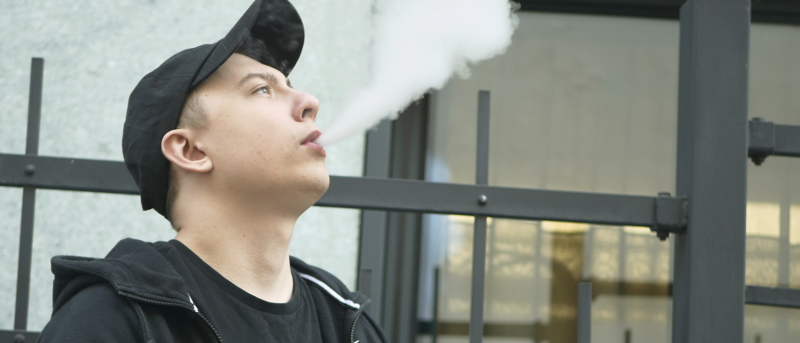 Public Health Examines E-Cigarettes
Last week, the U.S. Centers for Disease Control and Prevention reported 530 confirmed and probable cases of a mysterious lung ailment related to vaping. So far, eight people have died. The outbreak appears linked to ingredients in counterfeit, black-market, and home-mixed vape liquids, particularly those containing THC, the active ingredient in cannabis. Meanwhile, in response to the growing popularity of vaping by young people, New York State initiated a ban on flavored e-cigarettes, and the Trump administration announced plans to do the same.
Across the Columbia Mailman School of Public Health, scientists and scholars are engaged in research looking at the potential health risks of e-cigarettes, as well as contributing their perspectives on the use of the devices to help smokers quit using tobacco.
Uncovering the Risks
Ana Navas-Acien, professor of Environmental Health Sciences, was a co-author of a landmark 2018 report on e-cigarettes by the National Academies of Sciences, Engineering, and Medicine which found strong evidence that e-cigarette vape clouds contain metals. In a paper published earlier this year in the journal Environmental Research, Navas-Acien, senior author Markus Hilpert, and colleagues reported significant concentrations of a variety of hazardous metals in the heated aerosol produced by different types of e-cigarette devices, capturing a variety of ways the devices are used.
"E-cigarettes are relatively new and rapidly evolving," says Navas-Acien. "We need to continue to study these devices in all their complexity so we can understand the potential health risks."
Ongoing research by her colleagues, Markus Hilpert and Norman Kleiman is testing whether the metal coil or other components within the e-cigarette devices deliver toxic and potentially carcinogenic metals to the lungs and other organs. Their study employs a mouse model as well as a technique called neutron activation analysis which makes metals temporarily radioactive by bombarding them with neutrons. "Our preliminary findings suggest that a variety of metals can be detected in tissues, including those in the brain," Kleiman says. "These results raise serious concern for human health, especially in young vapers," adds Hilpert. 
Another potential health risk can be found in the e-liquids inside e-cigarettes—not least of all, their principal ingredient, nicotine. A 2014 article in the New England Journal of Medicine by Denise Kandel, professor of Sociomedical Sciences, and  her husband and research collaborator, Nobel laureate Eric Kandel, a University Professor and the Kavli Professor of Brian Science at Columbia, outlined the molecular basis for nicotine as a gateway drug in the context of the debates over legalized marijuana and e-cigarettes. "Whether e-cigarettes will prove to be a gateway to the use of combustible cigarettes and illicit drugs is uncertain, but it is clearly a possibility," they wrote.
Harm Reduction
While some Columbia Mailman faculty study the potential harms of e-cigarettes, others weigh the evidence for understanding the devices as a health risk or tool for harm reduction—perspectives often regarded as in conflict with one another. If nicotine is a gateway drug that trains the brain to be receptive to other drugs like marijuana and cocaine, in e-cigarettes, the drug can also act as an off-ramp from tobacco.
In an article in the American Journal of Public Health from earlier this year, Ronald Bayer, a public health ethicist and professor of Sociomedical Sciences, and co-authors argued that public health campaigns and policies to curb the use of e-cigarettes sometimes overstate their health risks, fostering misperceptions that may prevent smokers from using the devices to switch to a safer form of nicotine delivery. Keeping e-cigarettes away from children is important, but so too is their use by adults as a harm reduction tool. Research shows that as more adults quit smoking, greater numbers of youth stay away from tobacco. "Harm reduction that benefits current smokers does not simply throw youths under the bus," they wrote.
In a forthcoming book, Bayer and colleagues will compare the public health response to e-cigarettes in the U.S., U.K., and Australia. In general, Australia has enacted more restrictive regulations than the U.S., while the U.K. has done more to embrace the use of the devices for harm reduction.
The power of e-cigarettes to help smokers quit was confirmed in a 2017 study in the journal Addictive Behaviors by Daniel Giovenco, assistant professor of Sociomedical Sciences. His analysis of a national health survey of recent smokers found that daily e-cigarette users were three times more likely to have quit than those who had never used the devices.
In considering the New York ban on flavored e-cigarettes, Giovenco says some public health professionals are concerned about potential unintended consequences. While the ban is meant to curb vaping by young people who are attracted to flavors like mango and mint, the new rules might also discourage adult smokers who quit tobacco using flavored e-cigarettes and who now may return to smoking cigarettes. Or they might choose to buy unregulated flavored e-cigarettes from the black market, which could lead to similar health issues like the recent illnesses linked to vaping devices that deliver THC.
Another issue Giovenco has with the new ban is that it doesn't go far enough: while flavored e-cigarettes are banned in New York, flavored tobacco products like cigarillos and menthol cigarettes are not. "These products are popular among groups that are overburdened by the health consequences of smoking, particularly African Americans," says Giovenco, whose 2019 study in Nicotine & Tobacco Research explored neighborhood differences in the marketing of tobacco and e-cigarettes. "Banning flavors in a lower risk product while allowing them to flourish in products that are responsible for most of the death, disease, and disparities caused by tobacco would be an inappropriate and unethical course of action."