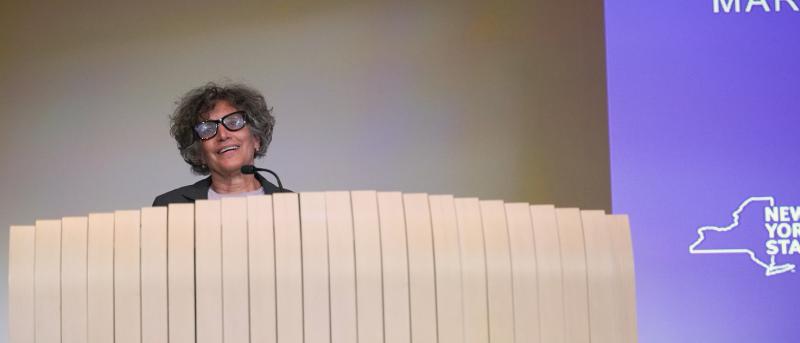 A Public Health Case for Reparations
Public health can and should be a forceful voice in the case for reparations to African-Americans for slavery because reparations would be a powerful tool toward the goal of eliminating Black-white health disparities and a path to better health for all, said Mary Bassett, New York State Health Commissioner, in a lecture at Alumni Auditorium on October 12. (Watch the video below.)
Organized by the Center for the History and Ethics of Public Health, the 2022 Isidore I. Benrubi Lecture took place during Public Health Equity Week. Prior to her current role, Bassett was a member of the faculty of the Harvard T.H. Chan School of Public Health and New York City Health Commissioner. She was the 2016 recipient of the Columbia Mailman School Frank A. Calderone Prize, the most prestigious award in public health.
Bassett began by noting that the decedents of enslaved people and indigenous people have had worse health outcomes than white Americans for centuries, beginning from the first tabulations during the colonial period and continuing up to today. Absent this racial health gap, she said, an estimated 8.8 million more African-Americans would be alive today.
Neighborhoods with the highest rates of health crises like HIV, drug overdose, childhood asthma, and diabetes are those that were historically redlined, depriving them of investment through racist federal home loan practices in the 1930s. While infant mortality in the U.S. has trended downward, the gap between Black and white infant mortality has only widened. As recently as the Omicron wave, stark disparities between Black and white Americans remain.
In one study, nearly 90 percent of COVID deaths in a group of adults ages 25 to 64 would not have occurred if the group had the same mortality rate as college-educated whites. Another study showed that eliminating the Black-white wealth gap would have reduced exposure to COVID among Black Americans resulting in less onward transmission, benefiting all Americans. Fewer ER visits, hospitalization, and premature deaths would also lower health-care costs.
"There is a price to pay for the history I have recounted," said Bassett. "And we're paying a price in premature death and excess mortality—a price that's being paid by the United States population across the board."
White Americans have 10 times the wealth of Black Americans, owing to nearly 250 years of uncompensated enslaved labor and subsequent racist policies like Jim Crow, redlining, and mass incarceration. These wealth differences largely accounted for higher mortality rates among middle-aged Black Americans, according to one study. Equalizing wealth would cut this gap in half. Adding income and education, these differences would be eliminated.
One proposal for reparations would pay $850,000 to every African-American descendant of enslaved people. Others would secure wealth through community land trusts or baby bonds. Congressional Bill HR40—named after the post-Civil War broken promise of "40 acres and mule"—acknowledges the necessity of reparations but is scant on details. Meanwhile, Evanston, Illinois, recently became the first U.S. city to provide its own program of reparations.
Bassett said public health has been slow to join the conversation on reparations. Going forward, the field's researchers and practitioners can play an important role by generating data and influencing the way reparations are conceptualized and rolled out, she said.
"I hope that by linking reparations to health, a resource for well-being and prosperity, we can broaden the rationale for a national reparations program," Basset concluded. "Reparations will not end racism, but I believe that [they] can bring us closer to the goal to which many of us in public health have committed our life's work—that is, to end racial health inequities."