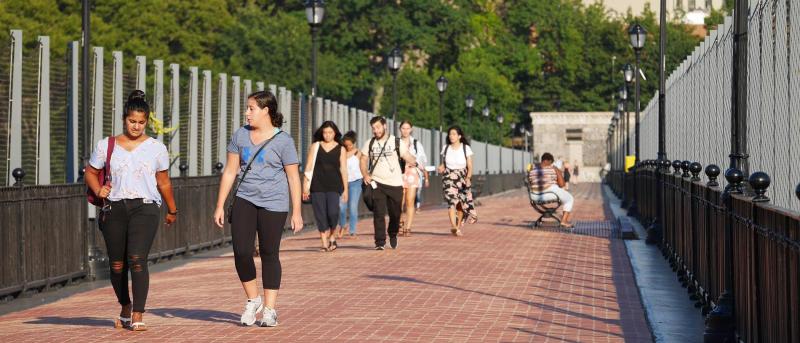 Promoting Community Health in Our Surrounding Communities
The Columbia Mailman Heilbrunn Department of Population and Family Health—"PopFam" for short—is known for its influential research and programmatic work globally and locally. It has been active in the Washington Heights community continuously since the precursor to the department was established by Allan Rosenfield, former Dean, in 1975. Today, there is a focus on sexual health and the prevention and management of obesity, two persistent challenges faced by the neighborhood's young people and families.
John Rausch, associate professor of Pediatrics and Population and Family Health, is engaged in multiple projects focused on obesity. New York City's rate of childhood obesity is around 40 percent, but in the School's local community "one study showed half of children were overweight or obese by age 5," Rausch says. The pandemic exacerbated this problem, with a decline in physical activity. Access to fresh fruits and vegetables—and food insecurity generally—is another layer of the problem. Rausch's research focuses on strategies for promoting universal, evidence-based lifestyle changes that focus on the prevention of obesity as well as its comorbidities, including insulin resistance and diabetes, fatty liver disease, hypertension, and dyslipidemias. He is developing methods to screen for and manage these conditions in busy clinical practices and in ways that are acceptable to the low-income, mostly Latino, families in the area, a population already at risk of health disparities.
Rausch works with CHALK (Choosing Healthy & Active Lifestyles for Kids), the NewYork-Presbyterian program that for almost two decades has focused on reducing childhood obesity in Northern Manhattan. Over the years, students and faculty from PopFam have helped with program evaluation and Rausch sees an opportunity for increased engagement in the community in the future. "The School has worked with CLOTH [Community League of the Heights, a community development organization serving Washington Heights, Inwood, and Hamilton Heights]," he says. Public health students have hands-on learning opportunities in these and other local organizations.
Lauren S. Chernick, a pediatric emergency medicine physician who has a master's in Biostatistics from Columbia Mailman School, found her way to PopFam as a student in 2008 through her mentor John Santelli, a professor and former PopFam department chair. "I learned to see emergency room patients through a public health lens, which is not necessarily taught in medical school," she recalls. Today, Chernick is putting those skills to use to improve the sexual health of adolescents who present for care to the emergency department. "Many teens don't have providers or trust providers or go for follow-up care," she says. "But they are open to learning in the ER. They're there for a long time. They're bored. They say, 'While I'm here, I'm all ears. Teach me.'"
Chernick is meeting the teens where they live, both by working in the community and by communicating digitally. "I design, test, and implement digital interventions to increase contraception use among adolescents and young adults to connect them to person-centered contraceptive counseling and decrease rates of sexually transmitted infections," she explains. Her digital tools include a text-messaging app for girls called Dr. Erica (which stands for ER Intervention to Improve Care of Adolescents) and a Dr. Eric app for young men. The messages are written in a style tailored to the Upper Manhattan community, right down to pictures that include the neighborhood's bodegas in the background. Her latest project is called STIckER, which is an app that connects ER patients with information about sexually transmitted infections and risk stratifies them for their need to be tested for oral, rectal, or urinary infections. Students also help with these projects, and Chernick also finds herself mentoring the subset of public health students who are interested in medicine and clinical work.
Sexual and reproductive health is also a focus of David Louis Bell, a pediatrician and professor of Pediatrics and Population and Family Health, who for 24 years has run the Young Men's Health Clinic in Washington Heights. The clinic offers screening for sexually transmitted infections, HIV prophylaxis, and confidential wellness visits for those ages 14 to 35. "The young men's clinic is a neutral space where young men can come regardless of their sexual orientation or behavior and they feel supported and will be treated with honor," says Bell, who also lives in the community. Last year, Bell was appointed associate dean of diversity, inclusion and belonging at Columbia Irving Medical Center. (Watch a video about the Young Men's Clinic here.)
Faculty members engaged in the community serve as role models for students, and so it was not surprising that when COVID-19 arose, students and faculty from Columbia Mailman School and across the Columbia University Irving Medical Center campus volunteered to become more involved with the local community. Marina Catallozzi, associate professor of Pediatrics and Population and Family Health, and Stephanie Grilo, assistant professor of Population and Family Health, were among the faculty and staff co-chairs guiding students who volunteered their expertise to support hospital workers, patients, and communities citywide through the COVID-19 Student Service Corps (CSSC). More than 600 Columbia Mailman students ultimately participated, and many worked with CLOTH or other organizations in the immediate environment of the School. "We had a health system that was stretched thin, a community that needed support, and students and faculty who wanted to help," says Grilo. "Over 30 projects were developed and run by faculty and students to support needs that were identified by the health system, students and faculty, and our larger community." After years of collaboration and trust-building with the community—much of it forged during the worst of the pandemic—Rausch notes, "People we have worked with come to us when they need something and the reverse."