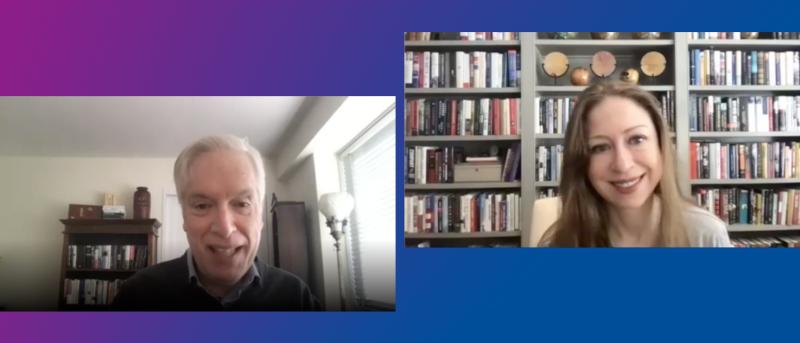 Professors Clinton and Sparer Appear on 'Unscripted' Interview Series
Professors Michael Sparer, chair of Health Policy and Management, and Chelsea Clinton, adjunct professor and instructor in Health Policy and Management, were each interviewed about social vulnerabilities heightened by the pandemic.
They appeared on Unscripted, an interview series organized by the East Coast Coalition for Tolerance and Non-Discrimination (ECC) and a Shanghai branch of Global Shapers. Born out of the World Economic Forum, Global Shapers is a network of young people working to address local, regional, and global challenges.
Bincheng Mao, founder of ECC, served as the moderator. As an awardee of Clinton Foundation's COVID-19 Student Action Fund, Bincheng launched "Equitable Health Care Access for Minorities" project, assisting more than 85,000 people with language barriers in seeking medical attention. Cynthia Chen, MPH '19, government affairs vice president at Pulnovo Medical (Wuxi) Co., Ltd, introduced Michael Sparer. 
Clinton highlighted the outsized impacts of the pandemic on women, especially women of color. In December, American women lost 156,000 jobs, while men gained 16,000. Equal pay and paid family leave go beyond "women's issues" because they can improve conditions for all. Conversely, issues like climate change and student loan debt can be seen through a feminist lens. She said: "We need to make policy decisions that are responsive to what the data says." (Watch the interview.)
Sparer spoke to how the pandemic has brought about a period of deep uncertainty with widening health disparities. On the topic of health coverage, he said the Affordable Care Act had reduced the number of uninsured  Americans but was far from perfect. Asked to respond to young people who want Medicare for All, he said there are many ways to provide universal coverage, including a mix of public and private. "The goal is universal coverage but not necessarily universal government coverage," he said. (Watch the interview.)