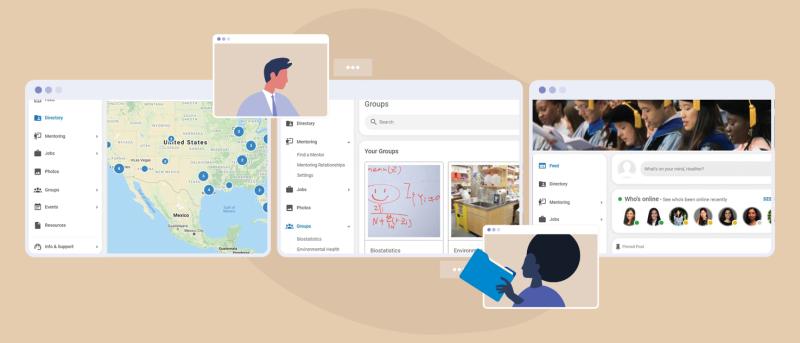 Networking Platform Connects Student Job Seekers with Alumni
A new online platform is making it easier for student and alumni job seekers to network their way to a successful career. Using Columbia Mailman Connect, alumni across the spectrum of public health and healthcare careers are making themselves available to students and fellow alumni with advice and inroads to help them put their best foot forward.
The pandemic has demonstrated the value of public health expertise, and the number of public health job listings is up over the pre-pandemic period. Getting a good job, however, often takes a helping hand from someone on the inside. And the new platform makes that process less scary. Unlike LinkedIn and other networking platforms, Columbia Mailman Connect only lists alumni interested in helping the School's community.
"Networking doesn't come naturally for everyone, but it is a crucial skill for anyone looking to have a rewarding career," says Heather Krasna, assistant dean of Career Services. "Columbia Mailman Connect is designed to be a welcoming place for anyone who finds the process awkward. Our goal is to take down the barriers to networking to help people get a foot in the door and pursue the career of their dreams."
Since formally launching in the fall, the platform has seen an average of 275 networking interactions per month, with activity trending upward. During the pandemic, Career Services has moved its robust job search offerings online, including resume and cover letter help, and virtual career fairs and mixers. In fact, many students say they prefer the virtual environment which allows for more intimate conversations than crowded in-person events.
As soon as users log-in to Columbia Mailman Connect, they can find alumni who are online and immediately initiate a video chat. They can search for alumni by department, geography, and affinity groups like the Black and Latinx Student Caucus and the Queer Health Taskforce.
The search feature is especially useful to international students who can find alumni who previously were international students and who have successfully found jobs in the United States. Or to simply get to know each other. "During the pandemic, we have students all over the world looking for ways to make connections with their fellow students and alumni living nearby," Krasna says.
Asking Questions, Offering Advice
Last summer, Belicia Tan, MHA '20, was exploring a career change. "I was looking to change career paths after doing consulting," Tan explains. She used Columbia Mailman Connect to reach out to Hana Dembe, MPH '14, to learn about her position at Flatiron Health. "Hana helped me understand the difference between a product manager and a product marketing manager." Dembe's answer proved useful as Tan transitioned to her current role as a community manager at Ladder, a career development platform.
On the other side of the equation, Nida Ali, MPH '18, got involved with Columbia Mailman Connect as a way to give back. As a student, Ali worked with Career Services to position herself for a job at GE Healthcare Consulting. Now, as a senior analyst and project manager at Goldman Sachs, she speaks with current students to help them launch their own careers.
To most employers, your department and the courses you take are less important than your work experience and the story you tell about yourself, Ali explains. She earned her degree in the Department of Sociomedical Sciences but she found her real interest was healthcare management. Coming into graduate school with no work experience, her most important move was securing an internship at the Peterson Center on Healthcare.
"I tell students to enjoy their time as graduate students and take the courses that interest them," Ali says. "You'll find your passion along the way. The most important thing is to take a chance and go for it. Don't choose not to apply for a job because you think an employer will reject you. You never know, you may be the best person for the job."