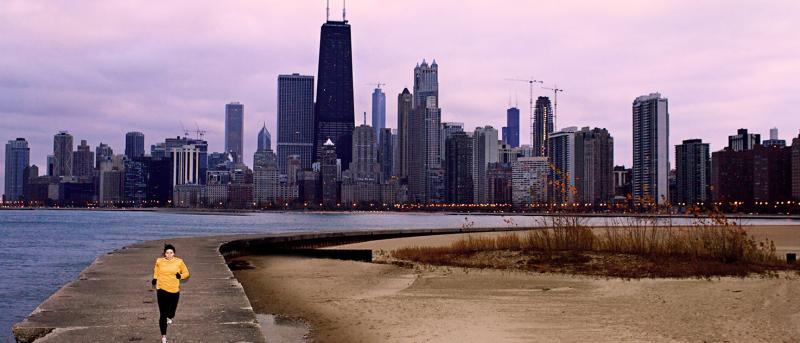 Mailman Demonstrates Big Shoulders at Chicago APHA Confab
New public health scholarship takes center stage at the annual meeting of the American Public Health Association, which gets underway on Saturday, October 31, in Chicago. "Health In All Policies," as the Association's 143rd outing is themed, offers a nod to the growing recognition that all sectors must have an active influence in shaping and promoting better health.
Among topics being presented by Mailman School faculty and students are health aspects of housing, marijuana, and incarceration, as well as the use of storytelling to foster discourse on health issues.
By any measure, the APHA meeting is enormous. More than 12,000 researchers from all over the world participate—everyone from senior academic figures to undergraduates with aspirations to enter the field. More than 1,000 individual lectures, discussion groups, and poster sessions explore new ideas on every topic in the public health universe while the Public Health Expo provides a space for major corporations, global nonprofits, and academic institutions eager to identify the next generation of scholars and welcome them to the profession. On the meeting's final day, undergraduates from area colleges are invited to sample emerging public health discourse and plot a course for entering the field themselves.
For the Mailman School, which will be represented by more than 40 individuals, the combination of scholarship and networking allows peers from other institutions to glimpse the pioneering work of our presenters. 
"The APHA meeting provides an opportunity to share how the 2x2 project informs the public health conversation through timely and effective communication of emerging science," says Dana March, assistant professor of Epidemiology. "My talk, 'Raising Stories and Voices in Health and Development' is part of a symposium addressing the importance of storytelling and digital narratives in health and campaign development."
With respect to the meeting's "Health In All Policies" thrust, several members of the Mailman School community will be presenting research that casts a critical eye on public policy and its capacity to reduce—or to exacerbate—health disparities. Looking specifically at Latino communities in the Bronx, Shakira Suglia, assistant professor of Epidemiology, will explore how low-income housing policies inform health outcomes. Claire Wang, associate professor of Health Policy and Management, will investigate the cost-effectiveness of government nutrition assistance programs on childhood obesity prevention. June Kim, a doctoral candidate in Epidemiology, will share his examination of a possible connection between medical marijuana laws and opioid overdose rates.
"I found a weak association between the number of years a medical marijuana law had been implemented and the amount of opioids dispensed," says Kim. "Overall, states with medical marijuana laws appeared to dispense as much—if not more—opioids than states without." 
In addition to this bevy of scientific presentations, the School will host a reception for alumni and friends on Monday, November 2, at the Hyatt Regency McCormick (RSVP here). Following remarks from Dean Linda P. Fried, alumni from academic, governmental, philanthropic, and clinical fields will mix and mingle with faculty and Mailman students, for many of whom the meeting will be one of their first moments of professional exposure.
Sharon Green, MPH '15, attending APHA for the first time, will share the work of the School's Incarceration Prevention Initiative and the newly formed Incarceration and Public Health Action Network (IPHAN) that brings together incarceration initiatives at schools and programs of public health around the country.
"We're eager for IPHAN's mission—the application of public health principles to the epidemic of incarceration in the United States—to gain visibility with peers at other institutions," says Green. "I'm excited to be among those representing this wide-reaching collaboration."
Mailman students nearing the end of their studies are invited to attend the Public Health Career Mart, where sector employers conduct on-site recruiting for available positions.
"Mailman students approaching the career marketplace get terrific feedback from their participation in the annual meeting," says Heather Krasna, director of the School's Office of Career Services. "We're on hand to provide guidance and support to master's and doctoral candidates, and alumni, who are testing the waters of career development surrounded by interesting opportunities."
A complete guide to all Mailman School presentations, posters, and events appears here.