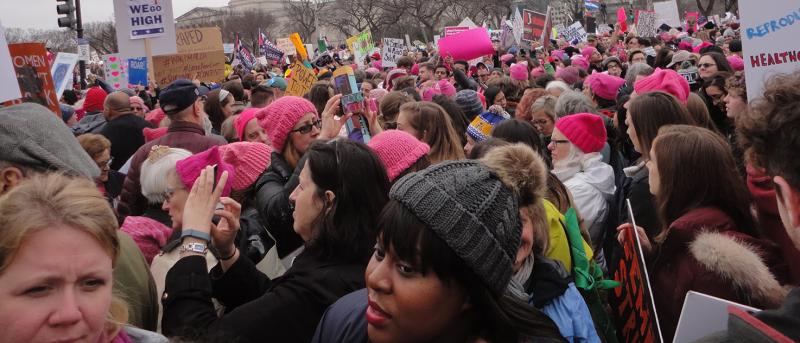 International Women's Day at the CUMC
On International Women's Day, many people will be supporting women's rights by joining A Day Without Women. Across America on March 8, women will be taking the day off from work, people of any gender will be wearing red and abstaining from shopping at large businesses that aren't owned by minorities or women. To recognize the contribution of women to the Columbia University Medical Center, MPH students in the Mailman School profiled women around the medical center.
---
Carolyn L. Westhoff, Professor of Epidemiology and Population and Family Health
In her 30 years at Columbia, Dr. Carolyn Westhoff, the Sarah Billinghurst Solomon Professor of Reproductive Health, Department of Obstetrics and Gynecology, has worked as a physician, advisor to the Planned Parenthood Federation, researcher, professor, and Editor in Chief of the journal
Contraception
. She also helped create the family planning division at CUMC.
"In the world of OBGYN, going back 30 to 40 years ago, there was really very little attention to contraception and abortion," she said in regard to how her clinical work began stimulating her research. "It was easy to see that I could have an impact by trying to fill the gaps in terms of education."
Westhoff's impact spans from the patients she serves to the population level. In the 90s, she began doing studies to create a patient-centered approach to the timing of contraception initiation. The Quick Start method that provides protection from unplanned pregnancy faster and more reliably is now recognized as the standard of care by the CDC and WHO, was sparked by her clinical experience with women.
"Taking care of women in the clinic made it obvious that [making them wait for the next menstrual period to initiate contraception] was a barrier for them. That observation motivated us to do the research that showed that the usual waiting was an unnecessary barrier. Our data showed that eliminating the wait was both safe and highly acceptable to women. And eliminating the wait reduces unwanted pregnancies."
Westhoff is spending International Women's Day caring for patients.
–Sarah Timmons, Population and Family Health, MPH '17
Nina J. Kulacki, Director of Academic Programs for Environmental Health Sciences
Beyond providing academic support to students and faculty, Nina Kulacki is the self-described "departmental big sister." Post-election, she's increased her efforts to create a safe space for faculty and students by organizing meetings for the community and acts as a sounding board for both faculty and student concerns.
Not only is Kulacki passionate helping students and being available to them academically, personally, and professionally, but she also adds, with a smirk: "I was a bouncer in a previous life, so utilizing my bouncer skills I tell people that if they ever feel unsafe to just text me and I'll happily walk them somewhere if that would help."
As a first-generation college student from a conservative family in Baltimore, she acknowledges the importance of educating herself and others. When the opportunity arises, she often challenges those with opposing views.
Kulacki is passionate about spreading awareness of environmental health through education and supporting her students to reach their full potential. "We, as a department, are not going to dissolve with the current climate, pun intended," she said. "It's about how we can remain positive and proactive." 
This International Women's Day, Kulacki will be reflecting on how she can further contribute her skills to her community, such as fostering a sense of safety in others in whatever way possible.
–Sarah Timmons
Luz Adriana Matiz-Zanoni, Associate Professor of Pediatrics at CUMC
Dr. Luz Adriana Matiz-Zanoni has served the Washington Heights community for nearly 15 years as Medical Director of the Center for Community Health Navigation. She says her immigrant background fuels her passion to work with communities that share her culture and language.
"I love giving back and reshaping and rethinking the way we do things," says Matiz-Zanoni. "It's not about only impacting one family. It's about changing the system of care. Ultimately, what drives me is to say that we don't accept the status quo. And I don't."
Matiz-Zanoni describes what it means to be a woman: motherhood and strength. "Even though I'm a career woman and a professional, I am probably proudest of being a mother," she says. "In order for women like myself, and many of my peers to balance all that out, you need some strength."
On International Women's Day, Matiz-Zanoni will be in her role as Medical Director leading the monthly community healthcare team meeting. Aside from proudly wearing red, she plans to incorporate a reflection on the awareness of being an all-female team of almost 40 women.
This team, "focuses on improving health and social determinants for families," she says. "Right now, it's a tough time for our families, for what they're feeling, so we want to make sure that we embody positivity and I think we can do that that day in our management structure."
–Sarah Timmons
Linda Aponte-Patel, Assistant Professor of Pediatrics at the Columbia University Medical Center
Dr. Aponte-Patel is an Associate Director of the Pediatric Residency Program and Chair of the Pediatric Residency Diversity Council. She immigrated to America from Colombia at the age of nine and spent the rest of her childhood in Queens before attending Brooklyn College for her undergraduate degree and SUNY Downstate Medical School for her MD.
Aponte-Patel wears many hats in her Associate Director role. She has created unique elective experiences for Pediatric residents, and coordinates all electives for residents as she provides guidance and mentorship for them. As Pediatric Diversity Council Chair, she has provided resources and support for underrepresented minorities in the Pediatric residency program, and has worked to implement Diversity Grand Rounds in the Department. Her work in the Pediatric Intensive Care Unit is split between the cardiac ICU and the surgical ICU.
She credits her brave parents for immigrating to America and sacrificing their lives in Columbia to give her the opportunity to rise to where she is today, and recognizes them as the inspiration behind all the amazing work that she does. Aponte-Patel takes great pride in balancing life as a "passionate and empathetic" physician and mother, and believes that supporting other women and raising her children are defining aspects of her womanhood.
Aponte-Patel empathizes with the parents of her patients because she is a mother. "When they're suffering the most I can totally get it...I tell them 'I am a mom, yes you can be upset…but I'm gonna be here to provide the best care that I can for your child. Know that I am completely invested in doing the best thing for your child."
She will be in the Pediatric ICU celebrating International Women's Day by wearing red and encouraging her fellows and residents to do so, as well as acknowledging women at the Chief of Service Rounds Conference that morning.
–Empress James, Sociomedical Sciences, MPH '18
Karina Cruz, Assistant Director of Sexual Violence Response at the CUMC Campus
Karina Cruz has been working to support women most of her life. Before joining the CUMC community, she worked at Wyckoff Heights Medical Center in their rape crisis center.
Cruz is passionate about helping and providing support for victims of violence. "I have witnessed friends, family and colleagues experience violence and seeing that personally–I always want to be that support."
As a mother of two boys, she expresses the importance of setting a strong example of equality for her sons. "I teach my two boys that we are equals and they are not stronger or better. We are all equals. I want them to be carriers of that message."
This International Women's day, Cruz will continue to stand up for women, promoting stories of women's success on social media, and sharing the stories with her sons. 
–Miranda Bernstein, Health Policy and Management, MPH '17
Sara Abiola, Assistant Professor of Health Policy and Management
Dr. Sara Abiola will be celebrating and encouraging the women in her life on International Women's Day. "It's important to bring women to the forefront and say 'You go girl–you did a great job, you did the best job.' We don't do that enough.'"
Abiola has strong feelings about female mentorship because she might not be a professor at Mailman without the support she received as an undergrad from a female teaching fellow at Yale University. The teaching fellow noticed Abiola's knack for writing legal memos and suggested she apply to law school. Abiola has since earned her JD and PhD at Harvard, writing her dissertation on the ways in which the law can have measurable health outcomes.
She teaches her students the effect of law and policy on public health, and how the law can be used to build healthier communities. "I think for many vulnerable populations, the law is all they have."
This Women's Day, Abiola stresses the importance of intersectional feminism when mentoring future leaders. "If you don't create a pipeline, things end with that person. We have to figure out who's next." 
–Miranda Bernstein
---
Student contributors are MPH candidates in the Sexuality, Sexual, and Reproductive Health Certificate Program or are a friend of the program.
If you would like to contribute to Mailman Student Voices, please send a three to five-sentence pitch outlining your topic to mailmancomm@columbia.edu.