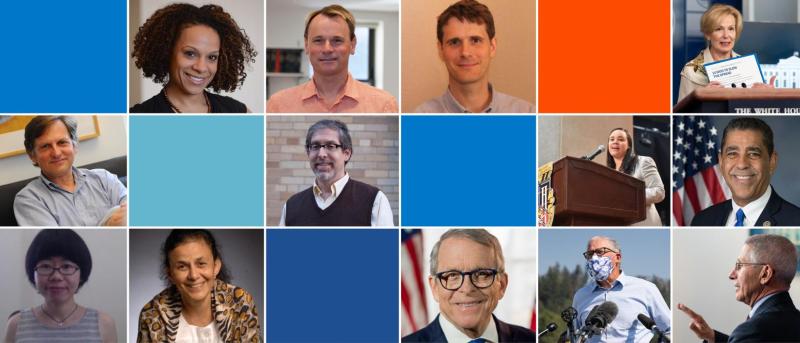 How Our Experts Are Helping Guide Policy on COVID-19
In early April, at one of his popular daily briefings, Governor Andrew Cuomo began by quipping that all the days seem to blend together before launching into a presentation on the rapid spread of COVID-19. He explained what the science was saying about the potential for hospitals to be
overwhelmed—evidence supporting the necessity of a lockdown. Among the science he cited were "frightening" projections by Columbia Mailman Professor
Jeffrey Shaman
's research group, noting "
that's the one that keeps me up at night
."
From the early days of the pandemic, the School's faculty have advised policymakers on how to respond to COVID-19. They have been in regular contact with officials at all levels of government, offering evidence-based advice on questions such as the potential spread of infections, when to open and close schools and businesses, and how to help those most vulnerable to the virus.
Advising Policymakers Across the Country
In March, members of the White House Taskforce on the Coronavirus reached out to Shaman, a professor of environmental health sciences and leading authority in infectious disease modeling, to project the national spread of COVID-19 infections. The Taskforce asked him to look at specific hypotheticals, such as what would happen if the country reopened for Easter. The "Columbia model" was mentioned at daily press briefings led by the President, Vice President, Deborah Birx, and Anthony Fauci.
(Trump would later
lambast research by the Shaman group
 finding
more than 30,000 lives would have been saved
if the country had acted to control the virus one week earlier.)
New York wasn't the only state interested in Columbia Mailman projections. Other states tapped into the raw data Shaman made freely available on Github. The professor also had one-on-one phone conversations with two state leaders from each party: Washington Governor Jay Inslee, a Democrat, and Ohio Governor Mike DeWine, a Republican. Shaman recalls DeWine had "a serious interest in the numerical details of the projections."
More than any other state, Shaman has been in regular contact with Vermont, which currently has the lowest per capita rate of coronavirus cases in the nation—due in large part to rules the state implemented in the spring. "They put together a nice plan," the professor notes. Shaman has helped guide California's COVID-19 plan, too, with guidance on questions like how to deploy resources and decisions, such as whether to open schools. But he admits he can't answer all their questions.
For instance, policymakers would like to know how much an increase in mask compliance would reduce transmission and infections. The data isn't available to know how much, but it's clear that masks are key to preventing infections.
The professor is also in touch with the U.S. Centers for Disease Control and Prevention, which incorporated his projections into their ensemble model that weaves together projections from several research groups. The United States Geological Survey and Army Corps of Engineers used Shaman's projections to guide their planning. Columbia projections were also posted by FiveThirtyEight and other academic research groups.
In New York City, Shaman is a member of an Economic Development Council advisory group, which has advised on questions like plans for testing and tracing. Currently, the group is in talks about how to make inexpensive rapid testing more widely available. He has also spoken with city councilmembers and participated in calls with the Department of Health with Wan Yang, who got her start at Columbia Mailman as a research scientist in Shaman's group.
Helping Shape Policy in New York City
Best known for her global work, during the pandemic Wafaa El-Sadr has been active advising policy in New York City, building on her experience working at the frontlines of public health in the Harlem community. The University Professor and ICAP director is one of about ten members of the Mayor's Scientific Advisory Group, and participates in regular calls with his leadership team to discuss topics like the latest data on the epidemic in New York City, testing strategies, and potential new treatments options. She is also part of the City's Community Advisory Group for the Test and Trace Program, which is working to expand
the city's capacity to conduct contract tracing for persons diagnosed with COVID-19.  
When she isn't advising the city, El-Sadr is busy developing detailed guidance for the Columbia community as a key member of the Columbia University COVID-19 Task Force. In a less official but no less influential capacity, El-Sadr is a member of the COVID-19 Working Group, an independent group of advocates, researchers, clinicians and policymakers—including several she has known for decades through HIV-related work. The group advocates for an effective response to the COVID-19 crisis in the United States. Their efforts have included calling for a public-health informed approach to housing homeless people, 
expand testing services, and a focus on securing the confidentiality of information solicited from individuals with 
COVID-19 and their contacts. "An accurate picture of the spread of the virus is dependent on effective contact tracing," she argues. 
"The system is totally dependent on trust."
Wan Yang, an infectious disease modeler in the Department of Epidemiology, has been working with the city's health department for COVID-19 response since the end of January, weeks before it arrived in the five boroughs. Early on, Yang took part in weekly (and sometimes daily) meetings with the city and generated twice-weekly projections of epidemic trajectory and healthcare demands based on city data. Her team has also made their projections available to the public since late March. In addition, Yang studies COVID-19 transmission dynamics and effectiveness of public health interventions in the city. Her analyses were published as articles in peer-reviewed journals or posted online (including their Github site). Recently, she is helping the city pinpoint transmission hotspots and model the impact of various intervention strategies including school closures. While COVID-19 is much worse in many parts of the country, Yang cautions against complacency, particularly as cold weather may speed the spread of infections.
Protecting Vulnerable Groups and Gatherings
In late April, Professors Diana Hernandez and Markus Hilpert testified before a special session of the New York City Council on COVID-19 disparities. They presented on social and environmental factors driving higher rates of infection in communities of color. Hernandez, who wrote a Daily News op-ed on these disparities, later participated in a bilingual virtual town hall hosted by Congressman Adriano Espaillat and State Assemblywoman Carmen N. De La Rosa who each represent Northern Manhattan.
"I explained why some communities are disproportionately impacted due to housing and workplace requirements. I emphasized people's right to sick leave, and gave practical advice on how to reduce the risk for infection," she says.
Hernandez, an associate professor of sociomedical sciences and an expert in the emerging field of energy insecurity, participated in the public comment period for a proposed New York state financial assistance package for low-income residents. She also wrote in support of New York City's COVID Heatwave Plan to distribute 74,000 air conditioners to senior and low-income public housing residents to create a comfortable environment so people could comfortably stay at home to prevent the spread of the coronavirus. Currently, Hernandez and Darby Jack, associate professor of environmental health sciences, are leading research to evaluate the benefits of the heatwave program. "The home has never been more important," she says.
In late January, Ian Lipkin, director of the Center for Infection and Immunity (CII) and famed virus hunter, spent a week in China advising the Chinese government and top scientists about its response to what was then a mysterious illness. He was in Guangzhou and Bejing and spoke with health officials who have worked on the outbreak in Wuhan. (He himself couldn't visit Wuhan due to U.S. travel restrictions.) Among those Lipkin met with was Zhong Nanshan, an epidemiologist and pulmonologist who discovered SARS in 2003 and was the lead advisor for the country's response to COVID-19. The two men worked together during the SARS outbreak.
In the time since, CII has developed state-of-the-art diagnostic methods and treatments, and is currently studying hygiene measures like ultraviolet light and disinfectants. Over the summer, Lipkin created health protocols for the August 17-20 Democratic National Convention. The result combined a scaled-back convention in Milwaukee and remote programming, in consideration of COVID-19 risks. He was also a member of the Testing Innovation Council convened by City Hall and the city's Economic Development Corporation, whose recommendations led to the creation of Pandemic Response Lab to scale-up the city's capacity to test for the coronavirus.
The Limits of Policy Guidance
While the nation's top scientists continue to advise officials across the country, there is no denying that COVID-19 has ravaged the U.S. in a way that dwarfs any other nation. One reason is that cities and states can only do so much in the absence of a coherent national plan. "The problem is a lack of federal response," says Jeffrey Shaman. The President and Congress have
powers far beyond any state—for instance, over the Strategic National Stockpile, which can supplement state and local supplies of masks and other key materials during public health emergencies.
Another challenge was that the United States hadn't faced a pandemic since 1918. "As a public, we were slow to believe it," Shaman explains. Asia has been more successful in fighting COVID-19, perhaps due to its prior experience with SARS. Meanwhile, our own national leadership downplayed or denied the seriousness of the pandemic despite every attempt by experts to explain the magnitude of the crisis and the steps needed to address it.
"We want to believe that evidence should inform policy," says Wafaa El-Sadr. "Sometimes that happens, and sometimes it doesn't for many reasons." Officials may see an evidence-based policy as inexpedient or costly or may eschew it due to political imperatives. "Even when the evidence is strong and communicated well, there is no guarantee it will be embraced and translated into policy … This is where advocacy becomes critical. You need to do more than generate the evidence. You need to create a constituency that demands that such a policy be embraced."