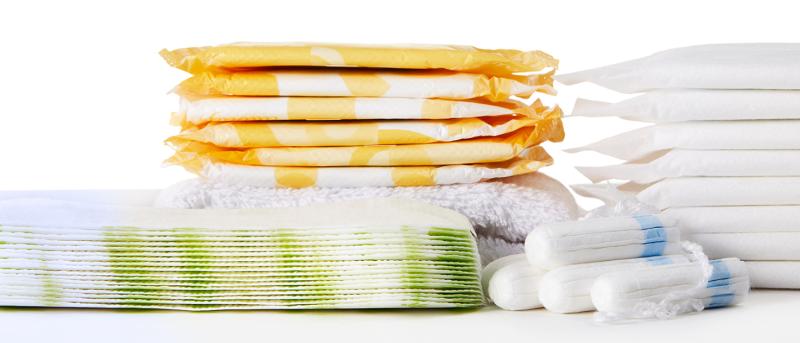 How I Testified in Support of Free Menstrual Products in Schools
On March 16, I sat in front of my laptop looking at the Zoom gallery of people on screen, just like I had done nearly every day for the past year. But this day was special. On that day, the Zoom boxes were filled with Oregon State Representatives and Senators and many others who were testifying in support of House Bill 3294, legislation to require public schools to provide menstrual products like pads and tampons at no cost. I wasn't on that Zoom call to watch: I was there to testify.
Just a few years ago, I would have never imagined myself speaking directly to legislators about my experience with menstruation and urging them to support policies to improve menstrual-related experiences. I used to think that my menstruation experience was something to keep hidden like my pads and tampons. But a decade-long delay in a menstrual-related disorder diagnosis forced me to learn that the persistent stigma around menstruation prevents the necessary dialogue that would otherwise grant access to research, information, services, care, and products pertaining to menstruation.
When it was my turn to speak, I introduced my testimony for House Bill 3294, saying, "I am here before you today as a constituent, as a student, as a working professional, and as someone who menstruates."
In my testimony, I went on to make the point that menstruation isn't something that we can opt-in or out of and that necessary period products can be a prohibitive cost to managing our menstrual-related health. I remember not being able to buy pads because our family only had enough to buy milk or to fill up the car tank. Sometimes, I would rely on toilet paper which wasn't sufficient, so I would leak through my pants during school, and then miss class time trying to clean the stain.
Back then I didn't know that there is a word to describe this experience: period poverty. Later, as a student at the Columbia Mailman School, I learned that period poverty is the lack of access to one or more of the following: sanitary products, menstrual hygiene education, toilets, handwashing facilities, and waste management. It was Dr. Marni Sommer's "Global Menstrual Movements" course that introduced me to the theories, terminology, and factors that influence menstrual experiences.
I learned from Dr. Sommer, one of the world's foremost public health experts on menstruation, that people living in poverty are most affected by lack of access to menstrual products, and I was not alone in this experience. On any given day, there are 800,000,000 people on the planet who are menstruating, of whom at least 500,000,000 lack adequate resources—basic supplies, facilities, information, and support—for managing their periods.
By testifying for this bill, I was also putting into practice one of the several advocacy strategies I learned from Dr. Wendy Chavkin in the Public Health Advocacy for Reproductive Health course.
So, I continued my testimony:
I don't get to choose to have my period. And this means that I must access the necessary products and services to manage through my menstrual cycles. But access does not transcend equally nor equitably across different levels of income, counties, ages, gender, and race. And access is the issue that House Bill 3294 begins to address.
The problem isn't only a lack of access to menstrual products. Many people also lack access to critical information about the menstrual experience. I explained:
Information about menstruation would have helped me understand that the pain and other symptoms I experienced during my period were not normal, that they were signs that I had two menstrual-related disorders, endometriosis, and polycystic ovarian syndrome. But I didn't know this until years later and after very traumatizing experiences with menstruation.
After nearly two hours of testimony by myself and others, the Oregon House of Education Committee voted. I am so happy to tell you they passed Oregon House Bill 3294 unanimously. The result moves the state one step closer to offering menstrual products to students at no cost. Advocates and legislators across the nation are pushing for similar pieces of legislation or amendments including Alabama (House Bill 88), Arkansas (House Bill 1611), California (Assembly Bill 367), and Washington (House Bill 1274).
I envision a place where period stigma is no longer the norm and where period myths and taboos are replaced with evidence-based information. The bill that I testified in support of, and many others like it, are paving a way for people to be fully equipped with the knowledge about menstruation and with resources to manage their periods in a healthy, safe, and dignified manner.
As public health professionals, we should strive to use our knowledge and experience to be agents of change and advocate for important issues. I chose to advocate for House Bill 3294 so that people who menstruate have the chance to live full and productive lives without the worries of accessing necessary menstrual products.
---
Francis Rojina, MPH '21, is from rural Malin, Oregon, and is the daughter of two loving immigrants from Mexico. She received her Bachelor of Arts in International Studies from Pepperdine University and currently works as a Diversity Coordinator at the Oregon Health Science University School of Nursing.