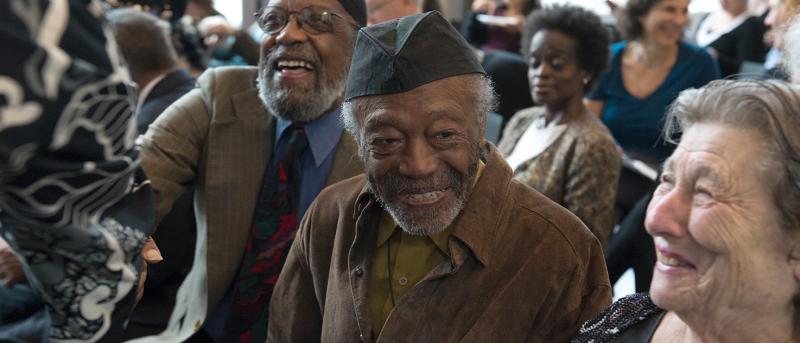 An Honest Look at Growing Old in New York
Exceeding Expectations, a project of the Columbia Aging Center, chronicles the ups and downs of urban octogenarians, shattering clichés about getting older
Two years ago, Sylvia Lask, then age 81, spent months in a Bronx hospital recovering from a painful burst abscess. Flipping the script of aging's inevitable decline, she became more active afterward, making regular trips to Albany to advocate on behalf of people with mental illness.
Another older New Yorker, Jacquie Murdock, is legally blind and facing a host of health challenges. Nevertheless, recognized for her sense of style and striking looks, she was selected, at age 82, to be a fashion model.
Lask and Murdock are among the 20 New Yorkers ages 81 and older profiled by Exceeding Expectations, a project of the Robert N. Butler Columbia Aging Center that challenges notions around what it means to grow old.
Participants met each other for the first time at Columbia's Journalism School in late October.
"Too often journalists do a terrible job reporting on this stage of life," Dorian Block, a journalist and co-lead on the project, said at the event. "They often portray older adults as pitiful, powerless, and static. And when not that, they're heroes: skydiving at age 100 or being asked to impart the single secret to long life. Our goal was to show the everyday lives of older people."
"As we move through our lives, we get more different from one another over time," added Ruth Finkelstein, interim co-director of the Columbia Aging Center who conceived the project with Block. "By the time we grow older, we're really, really individuated." Exceeding Expectations, Finkelstein added, aims to be true to all "the wondrous diversity of people who achieve old age."
At the start of the project, in 2014, Exceeding Expectations participants had lived at least 81 years, the average life expectancy for New Yorkers. Through visits over many months, Block and a team of photographers and students embedded in their lives, bearing witness to their subjects' ups and downs. The resulting stories, lavishly illustrated with photos and videos, appear on the project's website and in the work of media partners, including a six-part series in West Side Spirit and Our Town Uptown.
Among those profiled are Chandrakant Sheth, an Indian-American living in Sunnyside, Queens, who struggled with loneliness after his wife died; Manhattan residents George Blomme and Doug McClure, a longtime gay couple who want to get married; and Otto Neals, an African-American artist in Crown Heights, Brooklyn, grappling with what will happen to his artwork after he dies.
At the October event, Neals, who estimates his age between 84 and 86, said he continues to make art despite some health challenges. "Each day I'm in the studio chipping on stone or wood or painting." Hank Blum, age 88, also continues to work as a part-time optometrist in the Bronx. Being part of Exceeding Expectations put him in a reflective frame of mind. "It made me aware of my life. I'm proud of myself for what I've accomplished."
Seated alongside her fellow participants, Rosa Mendoza, whose Exceeding Expectations profile centers on her mourning process after the death of her husband, Julio, sang "Quiereme Mucho" in his honor. Some who knew the song joined in. (Click here to listen.)
Two in the Exceeding Expectations group died in the past year: Cyrille Romer, a great-grandmother and active member of her Upper East Side assisted living facility, and Luis Cajigas, a minor celebrity in East Harlem known for riding his adult-sized tricycle in the Puerto Rican Day Parade. Speaking at the event, Cajigas's daughter, Yvonne Julien, said participating in the project gave him a second wind. "He wanted to show that he could still party and dance and ride his tricycle."
At its core, Exceeding Expectations shows there is no single way to be an older person in New York City. Even so, Block and Finkelstein, joined by journalist Carol Hymowitz, drew some common threads from the group's experiences. By and large, they said, participants found New York City to be a good place to be an 80-something. Despite well-publicized problems, housing and transportation options were good. On the subject of resilience, when participants experienced a setback, they showed the way to bounce back was by connecting with others, knowing when to ask for help, and staying focused on a goal.
If there is one key to successful aging, it may be as simple as feeling good about getting older. Research supports this notion, finding that a positive outlook about aging can add years to your life. A study by David Weiss, assistant professor of Sociomedical Sciences in the Aging Center, found that people who believe aging is malleable—not a fixed experience or inevitable decline—have better health and outperform their peers on memory tests.
Although funding through the New York Community Trust has concluded, Block and Finkelstein pledge to continue to check in with Exceeding Expectations participants. The project's stories, which remain online, may also find another life as inspiration for aging researchers like Weiss. Says Block, "These stories can spark insights in people looking at datasets who don't have the privilege of spending long periods of time with people and asking them open-ended questions."
As the Exceeding Expectations stories attest, life in your 80s can take surprising turns, at times sad, at times joyous. "We need to stop writing older people off when they have a period of decline," said Finkelstein. "Sickness isn't failure, and wellness isn't success. They're both part of living at any age."
When she isn't advocating in Albany, Sylvia Lask, now age 83, is walking around her Bronx neighborhood, as can be seen in the video below. A Fitbit marks her progress from 1,000 steps to 5,000 steps, taken with the intent to stay active and engaged, for her family and for her community. Her mantra: "I can do it, I can do it, I can do it."