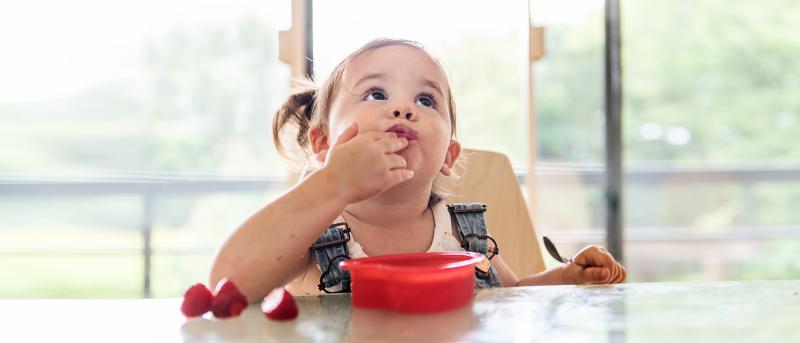 Healthy Weight Week: Columbia Mailman School's Initiatives on Obesity Prevention
The Mailman School of Public Health puts a special emphasis on obesity prevention. Faculty members work towards generating scientific knowledge and producing position papers and a vision for more effective strategies for obesity prevention.
The Columbia Center for Children's Environmental Health's Obesity Research Project is studying the effects of prenatal exposure to polycyclic aromatic hydrocarbons (PAH) in air on child growth trajectories and obesity risk through age 18.  The Center has been following a cohort of mothers and their children since the mother was in her third trimester of pregnancy and has collected measures of height and weight from the children throughout their childhood and adolescence.  At age 16 to 18 years 350 of the children are being MRI scanned to measure abdominal fat tissue, and are providing data on physical activity and hedonic heating patterns (e.g. food addiction, binge eating, emotional eating).  The research team hypothesizes that prenatal PAH exposures adversely affect the development of emotional self-regulation during childhood, which in turn adversely affects eating patterns and engagement in physical activity, placing the child at risk for obesity.  The Columbia Center for Children's Environmental Health is led by Frederica Perera, DrPH, PhD, professor of Environmental Health Sciences; and the Obesity Research Project is led by Andrew Rundle, DrPH, associate professor of Epidemiology.   
Schools Making Headway in Complying with the Smart Snack Guidelines
As part of the Healthy, Hunger-Free Kids Act, snacks, and desserts sold in K-12 schools as of the 2014-2015 school year are required to meet the ''Smart Snacks'' nutritional guidelines. Y. Claire Wang, MD, ScD, associate professor of Health Policy and Management, and colleagues selected 8 school districts in different regions of the U.S. to examine the nutritional quality of snacks and desserts procured by the school districts. Findings showed there was a general trend in lower caloric density and sugar density over a 3-year period, and schools are making headway in complying with the guidelines.
Other Research News: Obesity and Cancer
Heather Greenlee, PhD, ND, assistant professor of Epidemiology, and colleagues are examining the trends in obesity prevalence among cancer survivors in the U.S. in the past two decades and comparing trends with those of adults without a history of cancer. Findings published in the Journal of Clinical Oncology showed that obesity increased more rapidly among adult cancer survivors compared with the general population.
A study by Dr. Greenlee and co-investigators published in the Journal of the National Cancer Institute examined associations between body mass index and lifestyle factors with chemotherapy-induced peripheral neuropathy (CIPN) in the Pathways Study, a prospective cohort of women with invasive breast cancer. Obesity and low moderate-to-vigorous physical activity were associated with CIPN in breast cancer patients who received taxane treatment.
Using data from 22 clinical treatment trials, Dr. Greenlee and colleagues also examined the link between BMI and survival across multiple cancer types and stages.
Interdisciplinary Built Environment and Health Research Group
Mailman School researchers are evaluating the role that neighborhood businesses play in affecting individual dietary intake and physical activity patterns in preventing cardiovascular disease. Using 25 years of data, the researchers report on changes in neighborhoods in terms of the retail food environment and access to physical activity venues nationally, and evaluate the implications of those changes for population health. Read more about the interdisciplinary Built Environment and Health Research Group.
Neighborhood Social Environment Is Critical in Obesity Prevention
Dr. Andrew Rundle and colleagues are studying the link between the neighborhood social environment and obesity among both adults and children, highlighting the potential pathways and proposing interventions as an effective target for the prevention of obesity.
Charter Member of AIA Design and Health Research Consortium
The Mailman School of Public Health with Columbia's Graduate School of Architecture continues its relationship with the American Institute of Architects AIA), the AIA Foundation, and the Association of Collegiate Schools of Architecture. As a charter member of the AIA Design & Health Research Consortium, Mailman faculty helps facilitate research and build networks of researchers studying how urban design can support physically active lifestyles and affect public health.
Grand Rounds Features Y. Claire Wang and Mark Bittman: Achieving Public Health 3.0 through Food Policy
The Mailman School's January Grand Rounds will feature presentations by Dr. Y. Claire Wang, and Mark Bittman, author and lecturer in the Department of Health Policy and Management. Titled "Achieving Public Health 3.0 through Food Policy—A Broadening Vision of Food and Health," Wang and Bittman will lead a discussion on the multi-faceted solutions that are needed to improve food policy and prevent obesity.
The Mailman School's student group, Food Policy and Obesity Prevention (FPOP), is organizing events geared toward the Washington Heights community about what food policy is and what it means for the average American. The events will allow participants the opportunity to make connections between how policy informs health, including rates of obesity and obesity-related disease. Featured is a Q&A with Mark Bittman. FPOP will also be reinvigorating last year's SNAP challenge where participating students prepare their food for a week based on food stamp allotment. The aim is to spark a conversation about food assistance programs and why rates of obesity tend to be higher in lower-income communities.