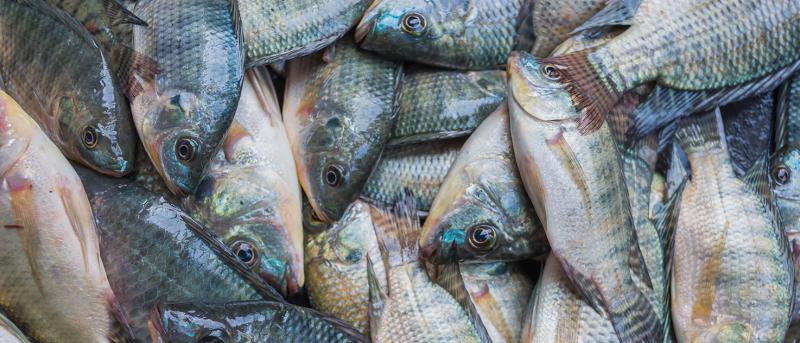 Food Security Research Singled Out for Excellence
Research identifying a novel virus behind massive die-offs of farmed tilapia has been recognized for outstanding scientific achievement and excellence by the Binational Agricultural Research and Development Fund (BARD), a funding program for applied research into agricultural problems jointly conducted by American and Israeli scientists. The research was led by scientists at the Center for Infection and Immunity (CII) at Columbia University Mailman School of Public Health, in partnership with colleagues at Tel Aviv University and Kimron Veterinary Institute.
The world's second most farmed fish, tilapia provides inexpensive dietary protein and is the basis of aquaculture employment in developing countries in Asia, Latin America, and the Middle East. Beginning in 2009, Israel saw precipitous declines in tilapia, with annual yields plummeting as much as 85 percent—highly unusual considering the fish is known to be relatively resistant to viral infections. Similar die-offs have occurred in Ecuador and Colombia.
A 2016 study in the journal mBio by CII director Ian Lipkin and the international research team identified the culprit—tilapia lake virus (TiLV)—and provided information to fight outbreaks. Subsequent to the TiLV discovery, the World Organization for Animal Health required member nations to report outbreaks. There is no cure and vaccines are still in development; however, diagnostic tests have improved control of disease, and new research suggests that selective breeding may produce resistant tilapia strains.
BARD selected their TiLV research as one of the top three most successful and impactful scientific projects in the environmental and social domains, amongst the 1,330 projects undertaken in the 40 years since the creation of the bilateral organization. An evaluation committee cited an impressive research approach that identified the virus and established the first diagnostic tool (Lipkin and Columbia University have a patent pending on the technology).
"The findings [by Lipkin and colleagues] were a stellar scientific breakthrough and have a tremendous impact on global food security, nutrition, and farmers' livelihoods," wrote BARD Executive Director Yoram Kapulnik in a congratulatory letter to Lipkin and his partners Avi Eldar and Eran Bacharach. "The accomplishments driven from this research reflect the remarkable vision, dedication and persistence of the joint Israel-U.S. team in pursuing and achieving ambitious scientific goals of tremendous value and the far-reaching implications for improved tilapia disease management and containment. In light of the above, we wish to recognize this research for its important social and environmental impact."
"At times of emerging pandemic diseases, this international collaboration provides a good example of how to join forces to identify emerging pathogens and to generate ways for  disease containment," says Bacharach, a professor at Tel Aviv University and first author of the 2016 mBio study.
While best known for identifying viruses behind human disease, the Center for Infection and Immunity, pinpointed the virus behind a disease that decimated salmon farms in Europe in 2010. They have done similar work with seals, sea lions, and Great Apes. 
"The [tilapia] work was a marriage of something old and something new. It entailed not only new sequencing methods but also classical molecular and biochemical assays that we had not used for decades," says Lipkin, who was senior author of the paper "We typically focus our efforts on human disease. However, Nischay Mishra, assistant professor, and I took this on because of the global importance of tilapia to food security."