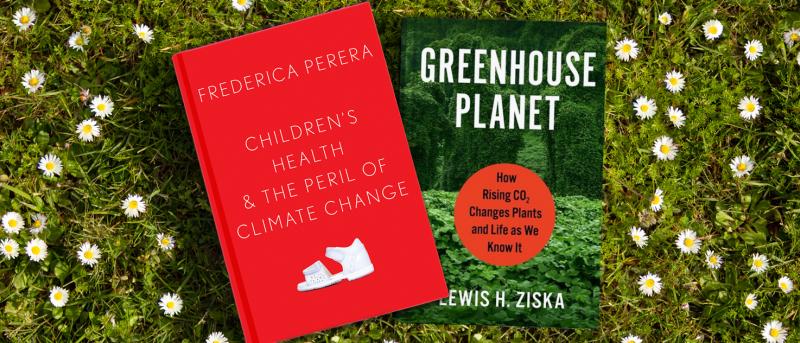 Faculty Books Examine the Health Risks of Climate Change
Each September for the last 14 years, policymakers, researchers, and activists have gathered for Climate Week NYC, a series of events to spur action on climate change timed to take place in conjunction with the annual session of the United Nations General Assembly. This year's theme is "Getting It Done."
This fall will also see the publication of a pair of books on the health impacts of climate change written by two Columbia Mailman School faculty in Environmental Health Sciences: Children's Heath and the Peril of Climate Change by Frederica Perera and Greenhouse Planet by Lew Ziska. Both books build on research carried out by their authors and present their arguments to be understandable to lay readers. Both books are also pleas for urgent policy action.
Children's Health and the Peril of Climate Change (Oxford University Press), out on October 18, investigates the climate crisis and the resulting health crisis for all children. The combustion of fossil fuel is the main human-made driver of climate change and toxic air pollution. Children are the most vulnerable and most affected. Almost every child on earth is exposed to at least one climate and environmental hazard, shock, or stressors such as extreme heat, severe weather, or drought; and 2 billion children breathe toxic air at levels exceeding standards set by the World Health Organization. Both threats are causing immediate and long-term physical and mental health effects. The book exposes the unique vulnerability of the developing child and the multiple and synergistic effects of climate change and air pollution on child health, especially for poor and marginalized children.
For more than 30 years, Perera, a professor of environmental health sciences and founding director of Columbia Center for Children's Environmental Health (CCCEH), has pioneered novel methods to link exposure to air pollution and toxic chemicals to developmental disorders and illness in children, with the goal of preventing those harms. Currently, she serves as director of translational research at CCCEH. Her most recent research paper highlights the potential health benefits of a policy to limit transportation emissions.
"The consequences of climate change are horrifying, especially for children. Yet we can find hope and inspiration in the growing power of environmental justice, spiritual, Indigenous leaders, and youth in fighting for climate action and climate justice," says Perera. "There are many solutions available right now for governments, businesses, and individuals. But bold action is needed now."
Greenhouse Planet (Columbia University Press), out on September 27, reveals the stakes of increased CO2 for plants, people, and ecosystems—from crop yields to seasonal allergies and from wildfires to biodiversity. The book describes the importance of plants for food, medicine, and culture and explores the complex ways higher CO2 concentrations alter the systems on which humanity relies. It also explains the science of how increased CO2 affects various plant species and addresses the politicization and disinformation surrounding these facts.
Ziska, associate professor of environmental health sciences, is a plant biologist who served for nearly 25 years as a scientist at the U.S. Department of Agriculture. In 2019, he resigned to protest interference by the Trump administration with his research into the effects of rising carbon dioxide on rice cultivation. His research has reported that climate change exacerbates allergy seasons, makes herbicides less effective and could drive a decline in pollen important for bees. He has also examined what strains of rice and wheat will be best suited for a changing climate.
"CO2 is plant food. But this shouldn't be misunderstood to be good news. The rise of carbon dioxide in the atmosphere means plants may grow faster, but will be less nutritious," says Ziska. "At the same time, rising CO2 makes poison ivy more poisonous, kudzu more prolific, cheatgrass more flammable. And this is only the beginning of the harm climate change is inflicting on the global food system. The solution: good science and leadership who listen."