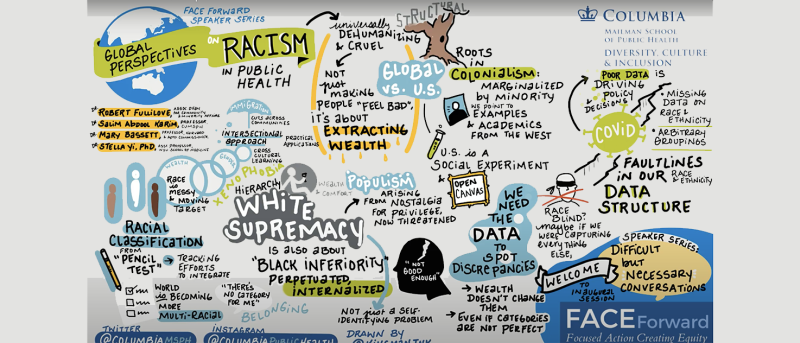 Face Forward Talk Shines Light on Structural Racism in a Global Context
The inaugural event in the Columbia Mailman School Face Forward Speaker Series touched on the specific features of global racism, as well as the biases, omissions, and inaccuracies that perpetuate health disparities.
The virtual event titled "Global Perspectives on Racism in Public Health" featured speakers Mary Bassett, incoming health commissioner for New York State, Salim Abdool Karim, a South Africa-based public health leader and Columbia Mailman professor of epidemiology, and Stella Yi, professor of Population Health at NYU School of Medicine. Bob Fullilove, Associate Dean for Community and Minority Affairs, moderated. Dean Linda P. Fried and Vice Dean for Education Michael Joseph gave opening remarks. (The event video below features illustrations by Kelly Kingman.)
Organized by the Office of Diversity, Culture, and Inclusion, the speaker series is part of the FORWARD (Fighting Oppression, Racism and White Supremacy through Action, Research, and Discourse) initiative to accelerate the transformation of the School into an antiracist, multicultural, and fully inclusive institution in all aspects of its culture and operations, as well as into a global leader in dismantling toxic structures that support racism and health inequities. 
Colonialism and White Supremacy
The discussion opened with an examination of racism in the global context. In Africa, Abdool Karim said racism is intertwined with a history of colonialism: "The Black population is not a minority; it is not a group that is marginalized by a majority; it is a group that is marginalized by a very small minority. Often its roots come from colonialism," he said. Bassett added that white supremacy and dehumanization experienced by Black people in Africa and the United States are similar; this shared experience was manifest in protests worldwide against the murder of George Floyd in the summer of 2020. "Systemic racism isn't about making people feel bad. It's about extracting wealth from people. That happened in the United States and it happened all over the world," she said.  
How White Supremacy Perpetuates Itself
Speakers offered vivid examples of how white supremacy perpetuates itself institutionally. During Apartheid, Abdool Karim explained, the South African Medical Research Council maintained offices only in white medical schools. One of its top priorities was hyperlipidemia—a health condition largely seen in white people, not the malnutrition seen in many Black South Africans. "It's a reflection of the power of the day, using the levers of control to determine what state institutions were going to focus on," he said. Adding her own insights on the rot of white supremacy in nutrition research, Yi said she took part in a study that uncovered a Eurocentric bias in dietary recommendations. One glaring example: a study that called on communities in India to adopt a Mediterranean diet.
missing and flawed Data
How racial and ethnic data is collected (or not collected) can warp public health priorities to the detriment of communities of color, speakers said. "Poor quality race/ethnicity data is a form of systemic racism," said Li, pointing to huge gaps in race/ethnic data on COVID-19. Evidence shows that the people missing are more likely to be Asian-Americans and other minorities. "These flawed data are being used to drive funding decisions, policymaking, and resource allocation, but leaving all these communities behind," she said. Another flaw identified by Li: how the current data system groups together people with "different histories, cultures, and demographic patterns" who often have different health needs. Meanwhile, the growing population of multi-racial Americans and the option to identify as multi-racial on forms is challenging current categories. "Race/ethnicity is a moving target," Li added.
Self-Identification Doesn't Solve Racism
Racial and ethnic categories should not be understood to reflect meaningful biological differences, Bassett emphasized. However, they do have real meaning in society and are reflected in health disparities; for example, since the pandemic, life expectancy for Americans has declined much further for Black and Latinx Americans than for white Americans. Disparities like these can't be overcome by the option for people to identify themselves in new ways; what matters more is how they are perceived by those in power, she said. "We remain a society that is built on a racial hierarchy that is based on the concept of white supremacy. I don't think these divides are simply overcome by self-identification," said Bassett. Yi pointed to a rise in violence against all Asian-Americans during the pandemic, not just Chinese Americans, with health implications even for those who aren't direct victims of violence.
Hope for a Better Future
Despite the persistent challenges of white supremacy, each of the speakers described themselves as optimistic for the future. Abdool Karim pointed to the transition from Apartheid to democracy. "I have seen people who were previously racist change. I have seen how a whole country has changed," he said. Li was buoyed by cross-racial coalition-building such as recent efforts by Vietnamese-Americans to mobilize to support Afghani refugees. For her part, Bassett was heartened by a rising interest in conversations around race, including a "willingness to tackle structural issues and take it above the idea of individual prejudice to talking about the ways in which societal structures create and reproduce and reinforce these individual prejudices."