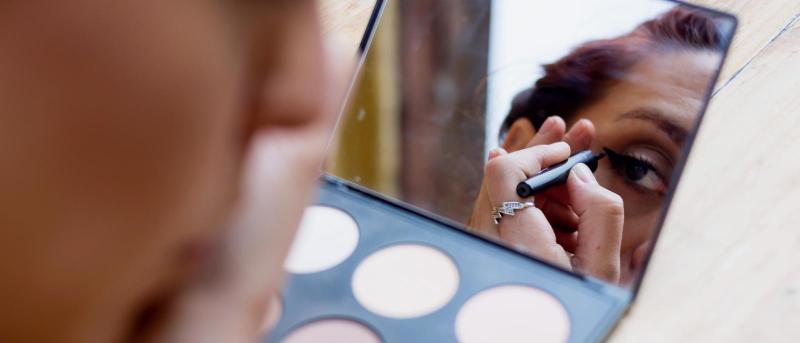 Expert Testimony Leads to Law on Toxic-Free Cosmetics
Last month, Ami Zota, associate professor of environmental health sciences and an expert on the health risks of certain chemicals used in cosmetics, testified before the Washington State Senate as they debated on the Toxic-Free Cosmetics Act. The bill, which passed the Senate in April soon after Zota's testimony, was signed into law by Governor Jay Inslee today, becoming the strictest regulation of its kind in the country.
In her testimony, Zota spoke about her research on beauty products and intimate care products, which uncovered high levels of endocrine-disrupting chemicals in the bodies of the women who use them—especially Black and Latinx women. "Minoritized women from underrepresented groups are disproportionately impacted by unregulated chemical use in cosmetics," she said. "And these differences are not explained by differences in income or socioeconomic status."
Zota's research published in the American Journal of Obstetrics & Gynecology in 2017 was referenced in testimony by a member of the advocacy group Toxic-Free Futures. This study found that people of color use more beauty products and are exposed to toxic chemicals at higher rates than white consumers. According to Daniel Parkhurst, organizing manager, Toxic-Free Future, her research "has truly been the bedrock of this effort," and was cited during the Senate floor debate.
The Washington Toxic-Free Cosmetics Act, which bans several ingredients from cosmetics, including formaldehyde and lead, follows a similar regulation passed by California in 2020. And just as she did in Washington, Zota testified to California lawmakers.
"It is very gratifying to see my research turn into policy that will help advance environmental justice and health equity," Zota says.
In 2022, the FDA passed the Modernization of Cosmetics Regulation Act, which includes some important improvements but does not go as far as restrict any specific chemicals from cosmetics.
Meanwhile, Columbia Mailman environmental health scientists continue to publish research on the health risks of beauty products and their disproportionate harms to minoritized groups.
A recent study by Zota and colleagues conducted in partnership with the environmental justice group WE ACT for Environmental Justice shed light on how racialized beauty norms that motivate the use of chemical hair straighteners and skin lighteners are linked to poor health outcomes. Related research by Adana Llanos, associate professor of epidemiology, found a relationship between hair dye use and breast cancer risk in both Black and white women and that longer-term and earlier use of hair dyes and relaxers is associated with more aggressive tumor features.