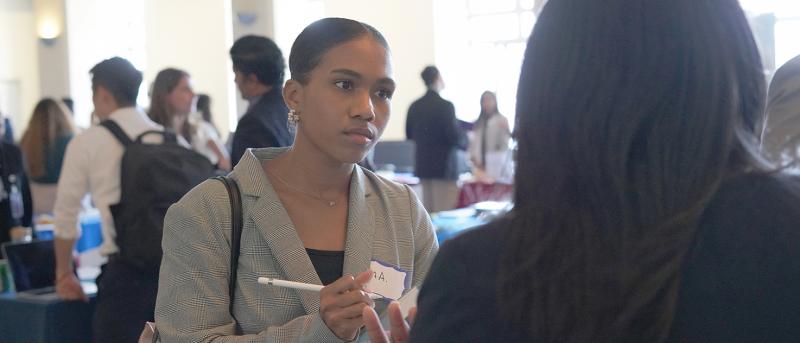 Employers Come to Campus Bringing Exciting Career Opportunities
Planned Parenthood. Becton Dickinson. The Centers for Disease Control and Prevention. The Carter Center. Ernst & Young. The Mayo Clinic. These are only a few of the marquee employers coming to Columbia Mailman School this fall to recruit students through events organized by the School's Career Services team.
Just last week, John Doyle, DrPH '05, a Columbia Mailman alum and adjunct professor of epidemiology, spoke to more than 80 students about opportunities at Exponent, a consulting firm. Doyle said his audience was both the "largest and most engaged group" he had presented to in 20 years of recruiting on campus. A few days earlier, several alumni who work at KPMG made their own pitch to another full house.
The week prior, on September 9, students interested in careers in hospitals and health systems had their pick of opportunities at the Mailman School's eighth-annual Northeast Administrative Fellowship Career Fair—the only fair of its kind on East Coast. In all, 20 health systems from across the country were on campus to recruit for prestigious and nationally-competitive post-graduate fellowships.
These fellowships are designed as a launching pad for a career in leadership in hospitals and health systems. They provide graduates with a unique opportunity to learn on the job from senior executives and gain experiences that put them on the inside track to a rewarding career.
Yannie Hoang, a first-year MPH student in the Department of Population and Family Health, was one of 85 public health and healthcare administration students to attend the fair. She said employers provided helpful information about their programs, and some "connected with me with the open option to contact them for an informational interview."
Eileen Dai of UC San Diego Health praised Columbia Mailman students for their "diverse backgrounds and professional experiences." Susan Castagna of Yale New Haven Health added that the fair was "a wonderful opportunity to meet such prepared, intelligent and capable students."
But recruiting season is far from over. At least 14 more employers are already scheduled to make their own presentations in coming weeks, and more are expected after that. Most prominently, the School is hosting two virtual career fairs on October 14 and 21 with 60+ employers participating.
"These events buzz with the excitement and possibility of diverse and rewarding careers in public health," said Heather Krasna, Associate Dean of Career and Professional Development. "Employers know our students are some of smartest and best trained in the field. Our students are ready to chart their course for the future."