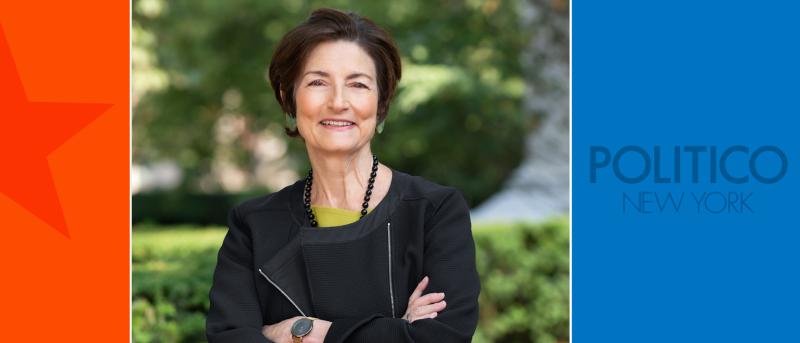 Dean Linda P. Fried Named 2022 Power Player in Health Care by PoliticsNY
Linda P. Fried, MD, MPH, Dean, Columbia University Mailman School of Public Health and director, Robert N. Butler Columbia Aging Center, was named to the list of 2022 Power Players in Health Care by PoliticsNY for her deep and enduring commitment to improving health outcomes for all New Yorkers and her dedication to the science of healthy aging and prevention of frailty, disability, and cardiovascular disease. Fried has led seminal work in defining frailty as a clinical syndrome and major population-based studies to determine the causes and consequences of chronic diseases, multimorbidity, loneliness, and disability in aging. 
As a geriatrician, she chose her career to focus on the systems of care for optimizing health and function for older adults and to create the bases at the community and population levels to prevent disease, cognitive decline, disability, and frailty in association with aging and to create healthy longevity for all.
In her responses to a Q&A with PoliticsNY, Fried notes that New York's health care system faces several challenges. "We need to move from a too-fragmented episodic system to a coordinated continuum of primary care for both treatment and prevention, for people at all ages and stages of health. This needs to include a strengthened public health system that can deliver the conditions that can create longer health futures for all New Yorkers.
"The evidence suggests that an age-friendly public health system throughout New York could significantly increase the health of the population with a high return on investment, and training and deployment of more geriatricians to care for our aging population should deliver more satisfactory care at lower cost.
She concludes, "Health care needs to include a redesigned public health system that can promote health and prevent disease in every community in New York. This approach should decrease health disparities but needs to be complemented by primary care available to all, with a focus on prevention of disease and disability at every age for individuals, as well as effective treatment."
Fried is the recipient of numerous awards including the Association of American Physicians' Kober Medal, one of the highest honors in academic medicine, for her impact on the many young scientists she trained. She has also been a guiding voice among public health deans and influencers. In spring 2022 she co-led a campaign to call on the Supreme Court to uphold Roe v. Wade. In 2021 and 2022, Fried led School celebrations of its centennial of educating generations of leaders, groundbreaking science, and delivering solutions to improve health, from understanding health effects of climate change to reducing health inequities everywhere.
The 2022 Power Players in Health Care by PoliticsNY was published on October 31. (Read more here.)