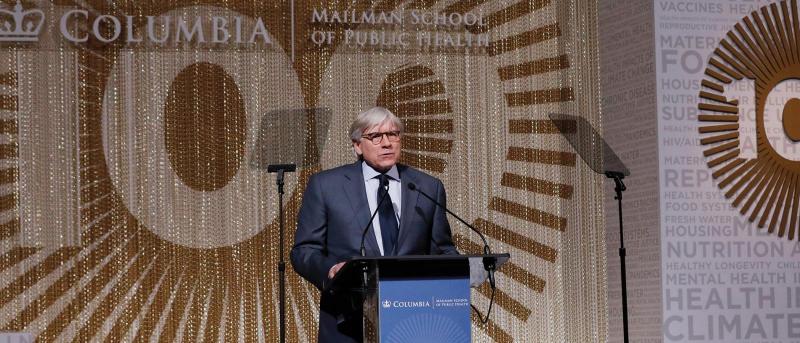 Columbia President Lee Bollinger, Public Health Champion
As he prepares to step down from his role at the end of June, Columbia University President Lee Bollinger has been widely celebrated for his two decades of leadership, positioning the University to advance knowledge, engage with the world, and make it a better place. He realized these goals across disciplines and schools—not least of all, the Columbia Mailman School of Public Health.
President Bollinger has brought public health to the center of the university's vision," says Dean Linda P. Fried. "He has endorsed the value of the public health model of science to create improvements for society, evident in his support for our research enterprise, translation of evidence to global impact, and educational model for training the next generation of public health leaders."
In 2016, Columbia Mailman School and the University-wide Robert N. Butler Columbia Aging Center, which is housed at Columbia Mailman, organized the Columbia-Fudan Global Summit on Aging and Health in Shanghai, in collaboration with Columbia's  Beijing Global Center, one of eleven Global Centers launched under President Bollinger's leadership. The Summit brought together an international roster of experts in Shanghai to address longevity and aging in China and around the world. "Great research universities are at their best when they are mindful of their role in the broader world and direct their unique capacities to the challenges of global society," President Bollinger said at the time.
Throughout his tenure, President Bollinger has supported public health education, including the initiation of undergraduate public health courses at Columbia College taught by Columbia Mailman faculty, the development of a core concentration in public health, and partnerships with multiple colleges and universities to create 4+1 programs for undergraduates.
President Bollinger appointed several Columbia Mailman faculty leaders to key positions within the University, notably Melissa Begg, Dean of the School of Social Work and member of the Biostatistics faculty; and Lisa Rosen-Metsch, Dean of the School of General Studies and a member of the Sociomedical Sciences faculty. Most recently, President Bollinger appointed Environmental Health Sciences faculty member Jeffrey Shaman as Interim Dean of the Climate School, which President Bollinger established to develop and inspire knowledge-based solutions and educate future leaders for just and prosperous societies on a healthy planet. Julie Kornfeld, a member of the Department of Epidemiology, also took the role of Vice Provost for Academic Affairs; and Terry McGovern, chair of the Heilbrunn Department of Population and Family Health, served on the Task Force to advance the University's "Fourth Purpose," President Bollinger's clarion call and commitment to enact meaningful change leverage Columbia's knowledge and research to create real-world impact and to serve the public good.
A Global Outlook
One of President Bollinger's many impactful contributions was the creation of the Columbia Global Centers in 2009 to promote and facilitate the collaborative and meaningful engagement of University faculty, students, and alumni in the creation of opportunities for shared learning, global dialogue, and partnerships. Today, the Global Centers' programs complement and extend the global reach of activities at Columbia Mailman School, whose faculty are active in more than 100 countries.
Recognizing the centrality of public health to global programming, in 2010, President Bollinger supported the launch of the Global Center in Paris's partnership with Columbia Mailman and the French school of public health, L'Ecole des Hautes Etudes en Santé Publique, through which Columba Mailman faculty from the Department of Health Policy and Management offered classes as part of France's first master's in public health. 
Elsewhere, in the context of the refugee crisis following the war in Syria, several Columbia Mailman faculty collaborated with the Global Center in Amman, Jordan, to offer training in epidemiology for humanitarian workers at UNICEF, and to conduct needs assessments with staff at the Global Center in Istanbul, Turkey. Rich partnerships have also been built by Columbia Mailman faculty with the Global Centers in Nairobi, Rio de Jannero, Santiago, Beijing, and Mumbai.
In 2021, President Bollinger appointed Wafaa El-Sadr, Columbia Mailman and Columbia University Professor and founder and director of ICAP at Columbia, as director of Columbia World Projects, an initiative aimed at bringing university capabilities to solve global problems. A year later, he appointed El-Sadr, who is also the Dr. Mathilde Krim-amfAR Chair of Global Health at Columbia Mailman, as Executive Vice President for Columbia Global, which President Bollinger created to bring together Columbia World Projects, the Columbia Global Centers, the Institute for Ideas and Imagination, and other global initiatives.
President Bollinger's close ties with El-Sadr extend back to 2003 and the creation, with then-Columbia Mailman School Dean Allan Rosenfield, of ICAP at Columbia, which under El-Sadr's leadership has led the global response to HIV/AIDS and other infectious diseases (read ICAP's salute to President Bollinger here). President Bollinger made several trips to visit ICAP-supported programs, including recently in 2019, in Kenya and Rwanda, where he saw firsthand the work of the Population-based HIV Impact Assessment (PHIA) project—an initiative funded by the President's Emergency Plan for AIDS Relief (PEPFAR) through the Centers for Disease Control and Prevention and implemented by ICAP in countries throughout the continent. 
Pandemic Leadership
From the beginning of the COVID-19 pandemic, President Bollinger championed the power of public health to address the crisis, through research on diagnostics, infectious disease modeling, vaccines, treatments, and assessing the impacts of the virus on vulnerable groups, which together helped shape policy at all levels of government.
In 2022, through a groundbreaking award from New York City Economic Development Corporation, Columbia University, through Columbia Mailman, and a consortium of academic, community, government, and corporate partners, launched New York City's first Pandemic Response Institute (PRI). Led by ICAP at Columbia, PRI supports New York City across the lifecycle of emergency preparedness, response, and recovery to increase resilience to the adverse consequences of public health emergencies and to maximize engagement and impact, particularly in disenfranchised communities. "Society's vulnerability to pandemics is painfully obvious," said President Bollinger. "Raising the efficacy and sophistication of our prevention and response efforts is essential to safeguarding our future."
At the University-level, Dean Fried and Wafaa El-Sadr were key members of the President's Advisory Task Force on COVID-19. In this role, the two public health leaders helped shape university policy around the pandemic, including University guidance around testing and masking. In 2022, President Bollinger awarded the Nicholas Murray Butler Gold Medal to its members, saying, saying, "The group's guiding principle was to maintain the mission of the University while preserving the health of our community. These colleagues worked and continue to work tirelessly with humility and steadfast commitment in support of Columbia's faculty, staff, and students."
School Centennial Milestones
President Bollinger's leadership and support were both critical as Columbia Mailman celebrated its Centennial. He recognized the School's decades of contributions and supported its goals for public health science, education, and impact in its second century.
Exemplifying the deep ties between the School of Public Health and the University that President Bollinger facilitated, the recent Columbia Mailman Centennial Gala was co-chaired by Jeannie and Jonathan Lavine. Jonathan Lavine, who also chairs the University Board of Trustees, spoke to how President Bollinger prioritized the health sciences and held up Columbia Public Health as an exemplar of the Fourth Purpose Mission of Columbia University—turning knowledge into action for the benefit of human welfare. "As President Lee Bollinger concludes his incredible tenure, we owe him a huge degree of thanks for his steadfast support of the School of Public Health," Lavine said.
Introducing President Bollinger at the Gala, Dean Fried offered her gratitude, saying, "Thank you for your partnership; thank you for your leadership; thank you for your support of Columbia Mailman School and public health, which has been critical to the success of our School. I am grateful to you for your focus on this school of public health as the model for the role the academy must have in bringing groundbreaking research to further our society and our collective wellbeing."
President Bollinger followed with a reference to one of public health's greatest accomplishments over the last century—the extension of average human life expectancy from age 47 by 30 years. "I did the math," he said with humor. "As someone who is about to turn 77, my recommendation is get to work."