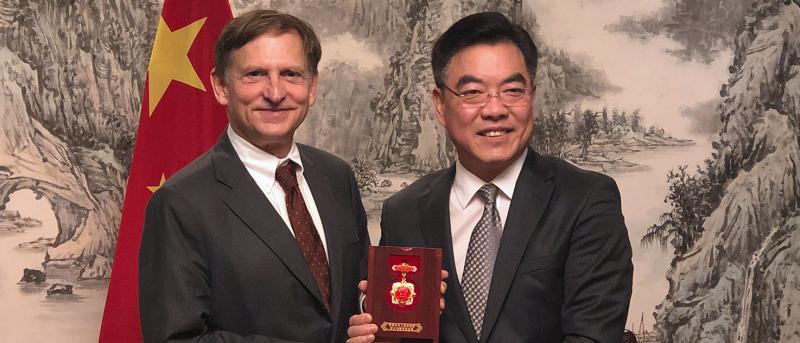 The government of China honored Ian Lipkin with a medal recognizing his profound impact on their country. For nearly 20 years, Lipkin, the John Snow Professor of Epidemiology and director of the Center for Infection and Immunity (CII) at Columbia University Mailman School of Public Health, has worked closely with scientists and officials in China to strengthen its public health system and protect its people from infectious disease outbreaks.
During the January 3 awards ceremony in the Chinese Consulate in New York, Counsel General Ping Huang presented Lipkin with the medal, which had extra significance because it marked the 70th anniversary year of the founding of the People's Republic of China. The medal reads in Chinese, "Celebrating 70th Anniversary," and was issued from the Central Government, Central Military Commission, and the State Council. Among attendees were Columbia Mailman School Dean Linda P. Fried and members of China's Counsel of Science and Technology.
"It is a great honor to receive this medal," said Lipkin. "I will cherish it as a reminder of my dear friends and colleagues in China and all we have accomplished together for the health of the Chinese people and all people around the world."
At the height of the SARS outbreak in 2003, Lipkin was invited by senior Chinese scientists and officials to assess the state of the epidemic, identify gaps in science, and develop a strategy for containing the virus and curtailing infections and deaths. Once the outbreak was contained, Lipkin helped develop the institutional infrastructure to ensure China would have the resources to detect and more rapidly respond to emerging infectious threats, in part through building the Institut Pasteur in Shanghai, new national Centers for Disease Control in Beijing, and the Guangzhou Institute of Biomedicine and Health. Today, he continues to consult with the Ministry of Science and Technology, the Chinese Academy of Science, and the Ministry of Health. He has also served as a consultant for a climate change program at Beijing Normal and as a visiting professor at Beijing University. Last year, the Chinese Academy of Sciences awarded funding for a collaborative project between CII and Sun Yat-Sen University in zoonotic diseases.
Since 2003, Lipkin has presented more than 20 lectures in China, notably including the inaugurations of the Institut Pasteur de Shanghai in 2004 and the Beijing Center for Infectious Diseases two years later. In 2016, he was honored with the China International Science and Technology Cooperation Award, presented in the Great Hall of the People in Beijing, presided by President Xi Jinping.