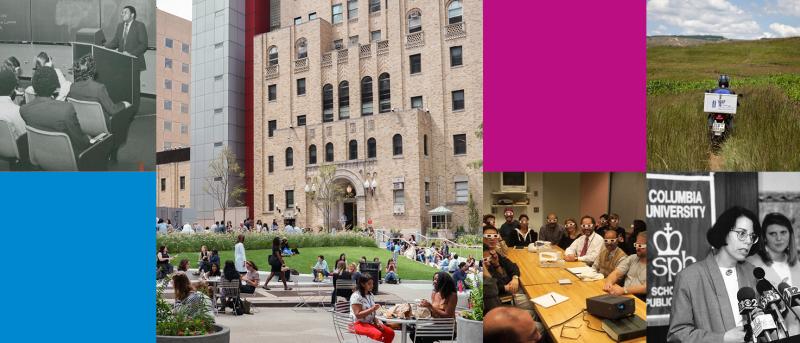 The world may have awakened to the power of public health research and education during the COVID-19 pandemic, but the Columbia Mailman School of Public Health has been a champion of public health—and the public good—since it helped create the discipline in 1922.
Today, the Columbia Mailman School of Public Health is a global leader in education and practice, with faculty and staff working in more than 100 countries.
So it might be hard to envision our humble beginnings on West 59th Street a century ago. An institution that began in a single room, with a single student, now has 16,000 alumni with state-of-the-art training working worldwide to build a healthier and more just society. The School today has 378 multidisciplinary faculty members; more than 1,300 graduate students from 55 nations are pursuing master's and doctoral degrees; and is home to world-renowned academic departments and research centers, including ICAP, the Center for Infection and Immunity, and the Robert N. Butler Columbia Aging Center. Our hallmark strengths—world-leading science, a singular curriculum, our distinctive Washington Heights home, and our inexhaustible commitment to our city and to building a healthy and just world—have equipped today's public health leaders and are nurturing the trailblazers of tomorrow.
Shortly before the First World War, the Rockefeller Foundation began exploring how to address the nation's increasing need for professionally trained public health workers and invited several research universities to the table. While Columbia's proposal was not funded, it gained new life when the University received a major gift from the estate of mining magnate Joseph DeLamar in 1918 amid the spread of a deadly "Spanish flu."
Columbia was now able to create one of the three original schools of public health in the United States. In 1922, Haven Emerson, MD (1899 P&S)—a former New York City health commissioner who later served as chief epidemiologist for U.S. forces in the first World War—was appointed head of a new Institute of Public Health under the College of Physicians and Surgeons. The Institute was situated in a single room with, as Emerson would later recall, "the smells from the cadaver room coming up through the floors." It formally became a school in 1945 and in 1998 became the Mailman School of Public Health as a result of a visionary endowment in honor of Joseph L. Mailman. 
The mission for schools of public health laid out by the Rockefeller Foundation is one embraced and accomplished over the School's first 100 years: to create the science to understand how to prevent disease, disability, and injury and improve health for all, working in partnership with policy and practice sectors to bring that knowledge to benefit the population and educate future leaders.
Defining and Refining the Scope of Public Health
Early on, the School pioneered the formal study of population health using methods from the social sciences. Its researchers were the first to employ on-site health examinations and sampling techniques as part of a population health study. In the late 1920s, Adelaide Ross Smith, the School's first female professor, studied occupational health issues, and published a study identifying silicosis as a serious health hazard affecting
the rock drillers, blasters, and excavators working to build the New York City subway. As early as 1946, the School launched a degree in biostatistics.
The School's faculty has also long been a leader of innovation in reproductive health and maternal and child health. Dean Allan Rosenfield, MD '59, led the development of a range of innovative programs to create healthy and safe motherhood at global scale, including family planning clinics and a continuum model for childhood and adolescent health that incorporated school-based clinics in New York City middle and high schools, and clinics for under-served young men and women. In 1985, Rosenfield and colleague Deborah Maine, DrPH, built the AMDD (Averting Maternal Death and Disability) program to improve maternal health globally, led by Lynn Freedman, JD, MPH '90.
In the 1940s, School of Public Health associate professor Norman Jolliffe, MD, recognized the growing public health problem of obesity. He founded one of the first public health clinics to study the causes of obesity and methods of prevention. Two decades later, the School evaluated the first methadone maintenance program and launched the first survey of teenagers' health problems. Professors Mervyn Susser, DPH, and Ernest Gruenberg, MD, DrPH, established the world's first Psychiatric Epidemiology Training Program in 1967 with funding from the National Institute of Mental Health. More recently, the School became home to the first academic program in climate and health in a public health school, established in 2011. A parade of firsts continued when in 2019 the School launched its Program in Food Systems and Public Health to catalyze research and learning at the intersection of public health and food access, policy, and advocacy.  
Pursuing Health for All
The School's expertise and global networks have led to major progress on significantly entrenched long-term health inequities. In New York City, research in collaboration with low-income, marginalized communities provided the basis for policies that promote health and equity, including low-emissions buses and speed cameras. The School's Harlem Health Promotion Center as well as clinics
the School helped launch in Northern Manhattan and the Bronx have brought health services to individuals living with or at risk for HIV and to marginalized young men and women of color in New York. 
Throughout the School's history, its researchers have studied and championed the health needs of at-risk populations. Founded in 1998, the Columbia Center for Children's Environmental Health works with community partners in New York City and internationally to study the health effects of prenatal and early postnatal exposures to common urban pollutants and to solve them. Across departments and decades and time zones, faculty have worked to provide cleaner air and water, and environments free of chemical pollutants. 
The New York City DOHMH has also been a critical partner over the School's hundred-year history. The School's evidence-based research has guided city services and its skilled graduates have bolstered the health department's workforce. The DOHMH, in turn, has given students and researchers opportunities to apply their work in a real-world setting with tangible impact.
Fostering scientific discoveries
The Columbia Mailman School of Public Health has, since its founding, pursued an agenda of innovative research to address the critical and complex public health issues affecting New Yorkers, the nation, and the world. In 1970, professor of Tropical Medicine John Frame, MD, was the first person to identify and characterize Lassa fever, a virus endemic to West Africa. In 2010, Quarraisha Abdool Karim, PhD, MS '88, and Salim Abdool Karim, MBChB, PhD, MS '88, published the CAPRISA 004 tenofovir gel trial, which provided proof of concept for the use of antiretroviral microbicides in the prevention of HIV and herpes simplex virus type 2 in women. CII scientists, led by W. Ian Lipkin, MD, developed methods to identify infectious disease threats, which have led to the discovery of more than 1,500 novel microbes and diagnostics for them. They orchestrated the response to SARS in 2003 and identified bats as the animal reservoir for the MERS coronavirus in 2013. In 2015, they reported robust evidence in immune biology that myalgic encephalomyelitis/chronic fatigue syndrome is a physical illness, not a psychological disorder. The Columbia Mailman School's work on infectious disease identification and modeling was key to helping the world understand the COVID-19 pandemic. Around the world, ICAP, which created the world's first multi-country HIV care and treatment program, has tested 33 million people for HIV and supported programs delivering HIV treatment to 1.5 million people. Founded and led by Wafaa El-Sadr, MD, MPH '91, MPA, it quickly broadened beyond its initial roots in HIV work to fight tuberculosis and malaria, improve maternal and child health, and strengthen health systems in more than 30 countries.
Distinguished epidemiologist and geriatrician Linda P. Fried, MD, MPH, an expert in aging and health in our longer lives, became the School's current dean in 2008 and is the first woman to lead the School. During her tenure thus far, the School has launched an innovative MPH Core Curriculum, which has become a model for schools of public health across the country and established a range of programs to address emerging issues. These include the Climate and Health Program and its Global Consortium for Climate Health Education; and the Program on Food, Food Systems, and Health; the Lerner Center for Public Health Promotion; the Robert N. Butler Columbia Aging Center; and the Center for Injury Epidemiology and Prevention, among others, while launching new educational programs and diversifying the talent pipeline for both students and faculty. As the Columbia Mailman School moves into its second century, we're more ready than ever to promote and protect public health.
"As we celebrate all we have accomplished, we must take stock of all there is left to do," said Dean Linda P. Fried. "The global catastrophe of the COVID-19 pandemic has shined a light on the significant health disparities that persist throughout the world and elucidated the consequences of an inadequate public health system. Human-created threats to health, such as climate change, continue to grow more alarming. The Columbia Mailman School is committed to taking these challenges on science-based, preventive approaches and solutions at scale to help people everywhere to flourish."
---
Article by Jesse Adams