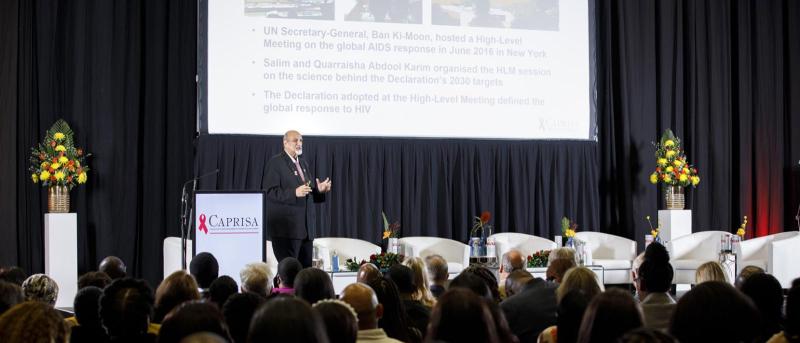 CAPRISA Celebrates 20 Years of Public Health Progress
Last week, public health leaders gathered in Durban, South Africa, to celebrate two decades of accomplishments by CAPRISA (Centre for the AIDS Programme of Research in South Africa). The multi-day symposium brought together South African leaders, representatives from the U.S. National Institutes of Health, UNAIDS, WHO, PEPFAR, scientists, and Columbia Mailman alumni. Columbia Mailman is one of five sponsoring institutions affiliated with CAPRISA.
The symposium celebrated and reviewed the impact CAPRISA has had on the HIV/AIDS and COVID-19 pandemics in southern Africa and how research programs spearheaded by CAPRISA continue to positively impact the health of South Africans.
CAPRISA is led by Salim "Slim" Abdool Karim, a Columbia Mailman professor and senior advisor to the World Health Organization; Quarraisha Abdool Karim, a Columbia Mailman professor who serves as CAPRISA's associate scientific director; and Kogie Naidoo, CAPRISA deputy director and head of the treatment research program. Under their leadership, CAPRISA has successfully built relationships with their communities, conducted rigorous research, and found solutions to lower HIV/AIDS risk and improve outcomes. They also helped lead the COVID-19 response in South Africa.
Dean Linda P. Fried, who spoke at the symposium and serves as a member of the CAPRISA Board of Control, said, "I am personally so proud of our continued partnership with CAPRISA. Metrics of our success can be seen in our alumni. Under the Fogarty training program, a 20-year training program at Columbia Mailman led by Drs. Zena Stein and Quarraisha Karim, we trained 600 alumni. Of those 600 alumni, 597 returned to southern Africa to work as public health scientists and practitioners. This statistic is profoundly important in itself and as a metric of how this school partners. The partnerships we build and the education we provide impact global health."
CAPRISA was born out of a collaboration between African and global scientists, in large part emerging out of the 1990 conference in Mozambique on the emerging threat of HIV/AIDS for southern Africa, co-led by the late Stein, a professor in Epidemiology at Columbia Mailman. In 2002, five universities (four South African universities and Columbia Mailman School) co-sponsored the creation of CAPRISA, to bring dedicated researchers to solve the urgent challenges of HIV and TB for southern Africa, and to design the research and solutions to improve outcomes in the region and for our world.
The symposium highlighted seminal research by CAPRISA scientists to address the two biggest AIDS challenges in Africa: reducing HIV/TB co-infection deaths and preventing new HIV infections in young women. CAPRISA scientists provided the first scientific evidence and proof-of-concept showing that antiretrovirals prevent sexual transmission of HIV and that integrated TB-HIV treatment halves co-infection deaths which is included in the WHO guidelines on HIV-TB co-infection treatment. CAPRISA's seminal research paved the way for pre-exposure prophylaxis (PrEP), which is widely used in HIV prevention today. During the COVID-19 pandemic, CAPRISA's scientists pivoted and provided scientific leadership at a national and global level, epidemiological analyses, and public education.
Currently, CAPRISA continues to pioneer multi-disciplinary work on broadly neutralizing antibodies (bnAbs) in HIV prevention. The discovery of the CAPRISA 256 bnAb provides the opportunity to evaluate passive immunization as a potential long-acting injectable HIV prevention strategy. 
The symposium in Durban coincided with the launch a new book by Salim Abdool Karim, Standing Up for Science: A Voice of Reason, a behind-the-scenes account of the first three years of the COVID-19 pandemic, shedding light on the difficulties in providing scientific advice, on the international co-operation that was integral to responding to the pandemic, as well as giving insight to some of the controversies in the science-to-policy process, and drawing lessons from COVID-19 to prepare for future pandemics. Later that week, Abdool Karim attended the WHO Science Council meeting in Geneva, Switzerland, where he presented his book to WHO Director-General Tedros Adhanom Ghebreyesus.