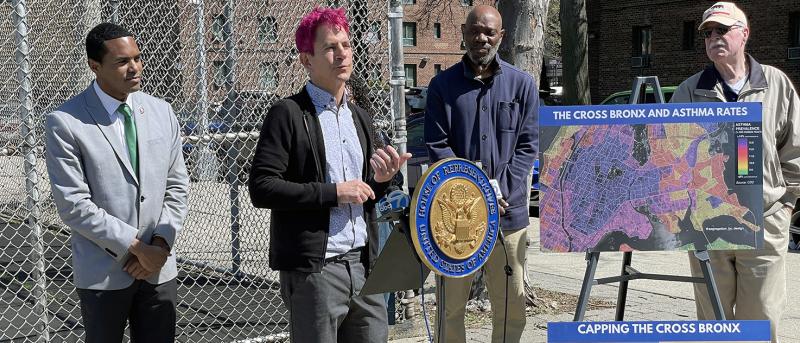 Bronx Gets Another Boost Toward a Clean Air Future
This Earth Day, Congressman Ritchie Torres pushed for policies to reduce air pollution in Bronx neighborhoods burdened with busy highways and commercial and industrial activities. Speaking at a press conference held across from the Cross Bronx Expressway, Rep. Torres cited research by Columbia Mailman faculty that has identified pollution sources and proposed solutions.
Rep. Torres represents New York's 15th Congressional District, which includes the South Bronx—an area with among the nation's highest rates of chronic disease, which research shows is linked to air pollution exposure. He is a co-sponsor of the Environmental Justice Air Monitoring Act, which would fund a network of air monitors to understand the health risks of air pollution block by block.
"We cannot solve a problem that we cannot see," Rep. Torres said. "Hyper-local air quality monitoring would enable communities like the Bronx to see air pollution more clearly to that we can solve the problem with a greater sense of urgency… Fighting air pollution is a matter of public health and public safety. It is a matter of life and death."
Columbia Mailman Professor Markus Hilpert and colleagues have demonstrated the power of traffic and air quality monitoring in the South Bronx neighborhoods of Mott Haven and Port Morris, two low-income communities of color. Their peer-reviewed studies provide a detailed analysis of local traffic patterns and pollution, as they relate to an uptick in commercial trucking in the area.
Mychal Johnson, a co-founder of the environmental justice group South Bronx Unite and a collaborator on the Columbia Mailman studies, added remarks at the April 22 press event: "You cannot bring in thousands of diesel trucks into an area already known to have terrible air quality and all the health consequences the congressman mentioned without causing adverse effects," he said. "The color of your skin and your economic status should not determine the quality of the air you breathe."
The recent conference was the third such event in the last twelve months. A year ago, on Earth Day, Rep. Torres joined with local elected officials and advocates to rally to support a cap over the highway and install filters to clean the air. In November, Senator Chuck Schumer announced that federal funds were lined up to fund the project.
Present at all three media events, Professor Peter Muennig has been an early and consistent voice in support of the highway mitigation project. His 2018 research found the benefits of capping below-grade sections of the expressway outweighed its costs. Since then, he has worked to bring the project to fruition with Nilka Martell, director of the community group Loving the Bronx, and others. He collaborated with students at Columbia's Graduate School of Architecture, Planning, and Preservation and Albert Einstein School of Medicine to envision what the result might look like, including opportunities for green space and community events.
Speaking at the latest Earth Day event, Muennig praised the legislative efforts of Rep. Torres, noting that the highway project should appeal to even the most fiscally prudent: "Capping the Cross Bronx Expressway and filtering the air, even though it is quite expensive to do so, would pay for itself by reducing health costs in this region."