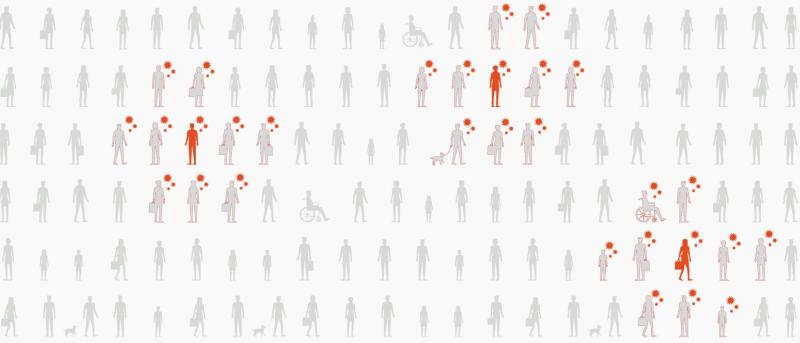 Active COVID Cases May Be Ten Times Official Count: Study
The number of active COVID-19 cases in the United States is roughly ten times higher than the number of confirmed cases on any given day, according to a computer model by Columbia University Mailman School of Public Health scientists. Since the start of the pandemic, an estimated one-third of the U.S. population has already been infected, with numbers five times that of the official count. 
Jeffrey Shaman, PhD, a professor of environmental health sciences known for his COVID-19 projections, led the research, based on case numbers and anonymized cellphone location data to estimate population mixing. The findings appear ahead of peer review in a report by NPR.
At the worst day of the pandemic so far, on January 2, 91 out of every 100,000 people in the U.S. tested positive. In fact, 998 per 100,000 people were actively shedding the virus on that day, according to the study's estimates. In some areas, this discrepancy was even more profound: In Los Angeles, at the peak of the winter surge, 3 percent of the county's population was infectious, or roughly 3,000 per 100,000.
While cases are in decline nationally, as recently as late January, 1.26 million people were still shedding the virus. "That's a very, very high level," Shaman told NPR. "That means there are a still lot of people out there who are actively infected, who are passing it on, and who could expose people at risk."
One-Third of U.S. May Have Been Infected
The new study estimates that more than 120 million people have been infected across the country as of the end of January, just over a third of the U.S. population. In some states, the numbers are even higher. In North Dakota, an estimated 52 percent of the population has been infected. In New York, that share is only slightly lower, at 46 percent. Vermont and Hawaii have seen the least infections, with estimates at 11 percent and 3 percent, respectively.
Even though significant portions of residents of some states have been infected, most have likely not achieved herd immunity, particularly as immunity gained by infections may have waned. It is also unclear to what extent immunity will carry over to the new, more virulent strains now circulating.
Need for Continued Vigilance
The research underscores the importance of a quick and orderly vaccine roll-out, as well as continued public health control measures like masking and limits on public gatherings. In study findings published in January in the New York Times, Shaman and his team estimated that 29 million additional infections will occur in the U.S. if current measures are lifted in February compared to a scenario in which they are maintained at least through July.
"If we let up now, given how much infection is out there, we're going to make it so that many, many more people are going to get the virus before they ever have the chance to get the vaccine," Shaman told NPR.