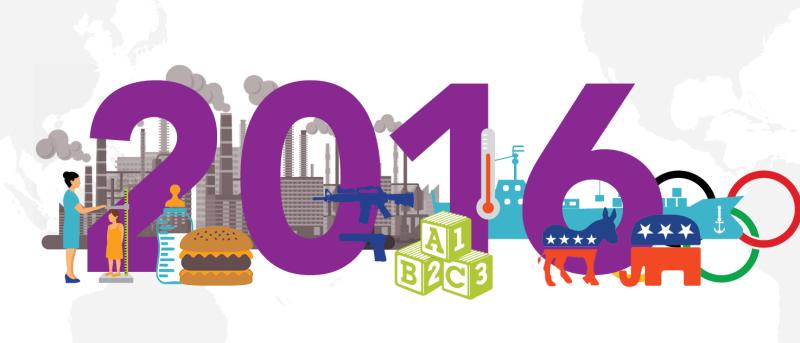 2016 Year in Preview, Part Two
Mailman School faculty share their predictions on public health issues we should look out for in the coming year.
As part of the Mailman School's ongoing look ahead at public health stories headed our way in 2016, we turn our attention this week to children. In many ways the most important beneficiaries of public health research, children will be front-and-center in considerations of obesity prevention, climate change, and efforts to eradicate persistent disparities in children's health due to insufficient investment in their well-being. Transmission went to some of the Mailman School's most outspoken faculty to identify the most important issues and ideas shaping health for our most vulnerable.
A Turning Point for Childhood Obesity?
According to a recent CDC report, childhood obesity, on the rise for years, may finally be leveling off. Will this trend continue? Could childhood obesity actually start to come down? Sally Findley, professor of Population and Family Health and Sociomedical Sciences, is hopeful. One good sign: in 2015, the government expanded funding for Head Start, giving tens of thousands of additional infants and toddlers access to healthy foods and physical activity programs. But fighting obesity is about more than calories, says Findley. Head Start and other pre-K programs teach children self-regulation and decision-making to give children the life skills to take a pass on unhealthy temptations.
Another powerful tool to shape childhood obesity is the federal nutrition program WIC, which reaches an astonishing half of all American children. Research by Findley showed that changes to WIC in 2009 to encourage breastfeeding and consumption of vegetables and whole grains were successful in New York state. Crucially, WIC kids who were breastfed and ate healthful diets were more likely to maintain a normal weight, a finding that suggests the nutrition program is an important part of moving the needle on childhood obesity.
According to Findley, there is growing bipartisan support for programs geared to young children. "This is the year of early childhood," she says. Political will is fueled in part by the good news on obesity. "People no longer have the attitude of 'we can't do it so why bother,'" says Findley. "They can start to see it's working."
Climate Change and Children
This past year marked what could be an important turning point for global policy efforts around climate change. At the December COP21 meeting, 195 nations pledged to cut greenhouse gas emissions and curb rising temperatures. But because the deal fell short of an enforceable treaty, advocates will need to push governments to honor their pledges. One powerful way to apply pressure is by calling attention to the effect of climate change on health.
No one's health is more at risk from climate change than children, says Frederica Perera, professor of Environmental Health Sciences and director of the Columbia Center for Children's Environmental Health. According to the World Health Organization, nearly 90 percent of climate-change-related illnesses and injuries occur in children under age five, even though children make up just one-tenth of the global population.
Fossil fuel combustion that drives climate change spews unhealthy pollutants into the air. Research by Perera and others have shown that prenatal exposure to these pollutants is harmful to childhood development, increasing risk for cognitive and behavioral problems, even obesity. Another byproduct of climate change, ozone, is known to exacerbate childhood asthma.
So far, too few people are aware of the connection between climate change and children's health, observes Perera. "We are failing to put children at the center of this discussion when their health and their future are at stake," she says. "We can do much better."
Investing in Young Children Globally
Over 200 million children in low and middle-income countries are failing to reach their development potential. Poverty, poor health and nutrition, and lack of quality care rob them of their potential, solidifying inequities from the beginning of a child's life. The impact can be devastating. Young children who fail to reach their full potential attend school for fewer years and learn less each year they are in school. As they grow older, they experience lower productivity and loss of wages, preventing movement out of adversity and perpetuating the cycle of poverty.
The average deficit in yearly income once these children become adults is noteworthy. For countries with high levels of disadvantaged children, this loss of productivity can negatively impact national economic growth and development, whereas, according to the Copenhagen Consensus, halving the proportion of kids not in preschool in sub-Saharan Africa alone would result in economic benefits of $33 for every dollar spent.
"The next President of the United Sates should prioritize investments in childhood as a means of reducing poverty and promoting sustainable development in low and middle income countries," says Neil Boothby, professor of Population and Family Health. "The foundation already exists within the U.S. government to increase support for early childhood development internationally." In 2012, Boothby took a leave of absence to serve as the Obama Administration's Special Adviser for Children in Adversity. Under his leadership, the U.S. Government Action Plan for Children in Adversity was developed and launched at the White House. 
"A new presidential initiative would build off of the historic U.S. commitment to children globally by ensuring children not only survive, but thrive," says Boothby.
Read Part One of the Transmission 2016 Year in Preview for faculty takes on the presidential election and the Affordable Care Act, the Summer Olympics in Rio de Janeiro, and the spread of Zika virus.