Class Notes
Columbia Mailman Alumni Board member, Yessica Diaz Roman DrPH '12 has been appointed by Mayor Todd Gloria of San Diego to serve on the City of San Diego's Human Relations Commission. Read more.
Todd Case MS '10 co-authored An Introduction to Creating Standardized Clinical Trial Data with SAS, a new book designed to give programmers a jump start into the regulatory requirements of the pharmaceutical industry. This book goes behind the scenes to better explain the mechanics of SDTMs and ADaMs. Read More.
Barri M. Blauvelt MPH'17 authored the article, "Upward Mobility: Optimizing your Pharma T-Profile", in the May issue of Pharmaceutical Executive. According to the author, the article was inspired by the question, "What advice would you give to women and diverse ethnicities as they strive to advance and be recognized in their organizations?" Read More.
Mini Virmani MPH'20, systems director at Atrium Health System, was interviewed for the Becker's Hospital Review Healthcare podcast. On the episode, she discusses her focus on health equity & the mental health of patients, how she believes all staff should be trained in performance improvement, and more. Listen Here.
Bree Akesson MPH'06, Canada Research Chair (Tier II) in Global Adversity and Wellbeing, Associate Director of the Centre for Research on Security Practices, and Associate Professor in the Faculty of Social Work at Wilfrid Laurier University in Canada, has authored a book about the impact of home demolition in the face of war. The book is called From Bureaucracy to Bullets: Extreme Domicide and the Right to Home, published by Rutgers University Press. Dr. Akesson also authored the op-ed, "Destruction of homes a war crime," which connects the book to the current war in Ukraine. Read More.
Cynthia Chen MPH'19 has been named to the 2022 Forbes Asia 30 Under 30 in Healthcare and Science. Cynthia Chen is chairman and president of Pulnovo Medical, which focuses on developing treatments for pulmonary hypertension. Read More.
Barri Blauvelt MPH'17 has authored a featured article in April's Pharmaceutical Executive magazine: "Women and Diversity in Industry C-Suites: New Scorecards Tell the Story". This is the first public release of findings from two of 10 sectors (Pharma and Biotech) from a landmark national study, Health Alert 2022: Women, Diversity and Leadership in the Businesses of Healthcare, conducted jointly by the Center for Women in Politics and Public Policy (the University of Massachusetts Boston) and Innovara, Inc.  Along with the quantitative report, two other interviews she conducted with top executives from leading Pharma and Biotech companies also appear in this issue.
Barri Blauvelt, CEO of Innovara, Inc., is co-principal investigator and founder of the study. Fellow Columbia Mailman alum, Alessia Casale '20MPH is a researcher working on the study. Read More.
The Virginia Apgar Academy of Medical Educators has recently accepted Anette Wu MPH'08, associate professor of medical science and pathology and cell biology, as its new member. Dr. Wu is being recognized for her innovative educational contributions, and joins a group of distinguished medical educators at VP&S. The Virginia Apgar Academy of Medical Educators is a community of educators at VP&S dedicated to promoting, supporting, and rewarding outstanding education of our medical students, residents, fellows, and faculty.
Dr. Wu has been a member of the teaching faculty in the Clinical Anatomy course since 2007. She is the founder and director of the "International Collaboration and Exchange program – Preparing Global Leaders for Healthcare(link is external and opens in a new window)" at VP&S - a unique international, interdisciplinary student exchange and networking program that is based in the anatomy course (globally), with content that incorporates global health, public health, and health law and ethics. In addition, Dr. Wu initiated and directs a novel 4th year elective for medical students at VP&S integrating cultural diversity, food, nutrition and planetary health. Read More.
Rosemarie P. Linton MPH'98 has been appointed to the Yonkers Board of Education. As trustee of the Yonkers Board of Education, Linton is part of a nine member Board, which is the official policy making body of the School District.  Working in healthcare for over 30 years, Linton currently serves as a Senior Data Scientist for Krasnoff Quality Management Institute at Northwell Health. Read More.
Dr. James Noble MS'08 joins Drs. Elan Louis MS'95 and Stephan A. Mayer as co-editor of the newest edition of Merritt's Neurology. Published in July 2021, the fourteenth edition reflects the state of today's practice, with fully updated content and timely new sections and chapters. Read More.
Joseth Howell MPH'12 published her first children's science book, Water Wonderful World: All Kinds Of Water Facts And Fun Activities To Spark A Child's Love for Science, Learning And Discovery, now available on Amazon.
For the past year, Susan Stellin MPH'19 and her husband, Graham MacIndoe, have been documenting the work of community-based health and social justice organizations supported by the Overdose Prevention Program at Vital Strategies in a project titled, Preventing Overdose Deaths: How to Save and Uplift Lives. Photos and quotes from that project are on view until Dec. 1 at Photoville, an outdoor photography festival in New York City. On Friday, Oct. 1 at 5:00 pm ET they will give an online presentation about Collaborative Storytelling in Art, Media and Advocacy, discussing their approach to working with participants and how that has evolved. Read More.
Ari J. Markenson, J.D., M.P.H.'19 and Adjunct Assistant Professor at Columbia Mailman recently joined Venable LLP in its New York Office as a partner in the health care and corporate groups. Read More.
The fifth edition of Linda Landesman's MPH'90 textbook Landesman's Public Health Management of Disasters: The Practice Guide was released on June 21, 2021. The 20th anniversary edition has been revised and updated. Every chapter now includes an expansive section on COVID-19 covering all of public health's responsibility as it relates to the Pandemic. This edition continues to serve as the only comprehensive work detailing public health's permanent role and responsibility in emergency management and disaster prevention, preparedness, response, recovery, and reconstruction. Read More. 
Dr. Millicent A. Comrie MPH'82, has been honored by the Carnegie Corporation of New York's "Great Immigrants, Great Americans" initiative. Dr. Comrie, Director of Maimonides Medical Center's Brooklyn Heights Women's Health Center, was nominated for being a "giant in women's healthcare," as well as for her work with the Red Hook Initiative.
Dr. Anne Beal MPH'93, has joined the Board of GlaxoSmithKline as a Non-Executive Director, and a member of the Corporate Responsibility Committee which provides important oversight of the Company's Trust agenda including policies towards access to medicines, global health, inclusion and diversity and environmental sustainability.
Dr. Adam Kassam MPH'13, was named President of the Ontario Medical Association (OMA), representing 35,000+ physicians in the most populous province in Canada. Dr. Kassam is currently be the youngest physician to assume the role, and the first physiatrist to as serve President of the OMA. "We know that you have better health outcomes when you have diverse physicians treating diverse populations. Our communities in Canada have to take a long, hard look in the mirror. Leading the OMA presents an opportunity to change the conversation.", writes Dr. Kassam.
Meghana Chalasani MHA'18 was named to the 40 under 40 Leaders in Health Awards by the National Minority Quality Forum. The National Minority Quality Forum is recognized as a thought leader in improving public health outcomes across the nation and making a critical difference in communities of color that disproportionally feel the sting of health inequity. Meghana was recognized for her role as Lead for Science Strategies in the Office of New Drugs within the Center for Drug Evaluation and Research at the U.S. Food and Drug Administration.
Ari J. Markenson MPH'98, Partner and Co-Chair of the Health Care and Life Sciences Industry Practice at Winston & Strawn LLP in its New York Office co-authored a book for the American Bar Association Health Law Section entitled "What is the Corporate Practice of Medicine and Fee Splitting?"
Gail Emrick MPH'87, '87SIPA serves as executive director of South East Arizona Health Education Center, a nonprofit on the US Mexico border that addresses issues of health equity and promote social justice. Her 2020 documentary, "A Story of Migration: My Tale of Two Cities," is about root causes of migration and the role that the US has historically played in shaping migration.
Ashley Perry MPH'09 named to Modern Healthcare's 2020 Top 25 Emerging Leaders for her work as Chief Solutions Officer at Socially Determined, a social risk analytics company for organizations committed to addressing the Social Determinants of Health (SDOH). Ashley's focus on scalable solutions was on full display in the early days of the COVID-19 pandemic, when she collaborated with data science and product development experts at Socially Determined to develop and deploy a community-level COVID-19 Social Susceptibility Index and an individual-level COVID-19 Vulnerability Score. These tools directly enabled decision-makers in state and local health departments, as well as health system and health plan leaders, to systematically assess risk of COVID-19 exposure and severe complications. These solutions empowered agencies and organizations to strategically deploy resources to mitigate these risks, based on actionable socio-clinical risk analytics.
Brian Anderson MPH'11 named to the City & State of New York 2020 NYC 40 Under 40 Rising Stars for his work as Director of Department of Emergency Management and Environmental Health and Safety at Pace University. Over the past eight months, Anderson planned for Pace University's fall reopening. Working to prevent the spread of the coronavirus among the university's students, Anderson implemented an extensive testing program to identify infected students, isolate them and stop the spread. "It's incredibly rewarding to see the work I put in at Columbia also be able to be utilized here now in the real world," Anderson says.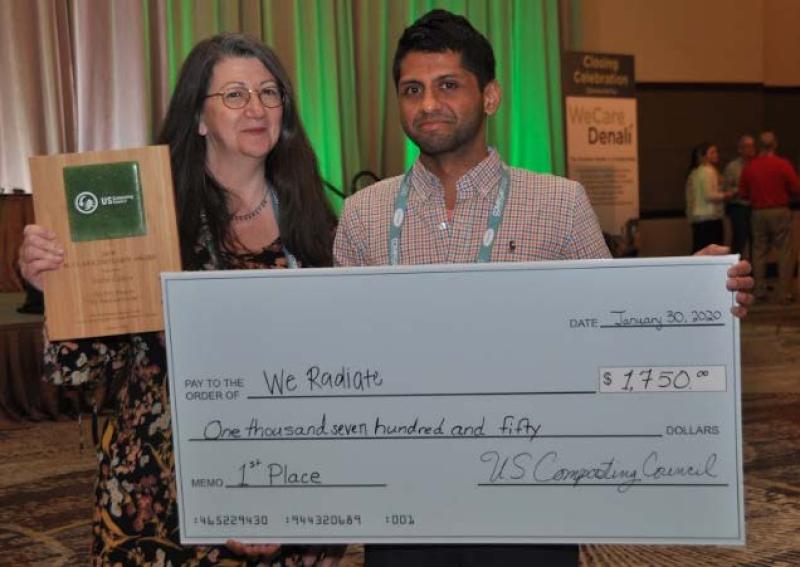 Sashti Balasundaram, MPH '08
Sashti Balasundaram, EHS 2008, (Founder, WeRadiate) won first place at the U.S. Composting
Council National Conference pitch competition for his climate-tech business which takes the
mystery out of the compost process by tracking key compost indicators ensuring health and
quality of the compost product by supporting city governments and compost facilities to reduce
odors, eliminate pathogens and comply with environmental regulations.
Patricia Ruppert, D.O., MPH '15
In addition to participating on our alumni Board, Dr. Patricia Ruppert is the health commissioner of Rockland County in New York. She leads the health department with 230 full and part-time employees and a $73 million budget. Most recently she has been leading the fight against the measles outbreak in Rockland County. In the first week of March, more than 275 cases were
confirmed in New York State, primarily in Rockland County and New York City's borough of Brooklyn. In order to combat the outbreak, Dr. Ruppert initially stopped 6,000 children from about 60 schools from attending schools or day care because of lack of vaccination. Alumni can read more about the measles outbreak and Dr. Ruppert's efforts in the Kaiser Health News Article Why Measles Hits So Hard Within NY Orthodox Jewish Community. Recently, Rockland County declared a state of emergency. Further education is needed around vaccination. Thank you, Patti, for your hard work and leadership!