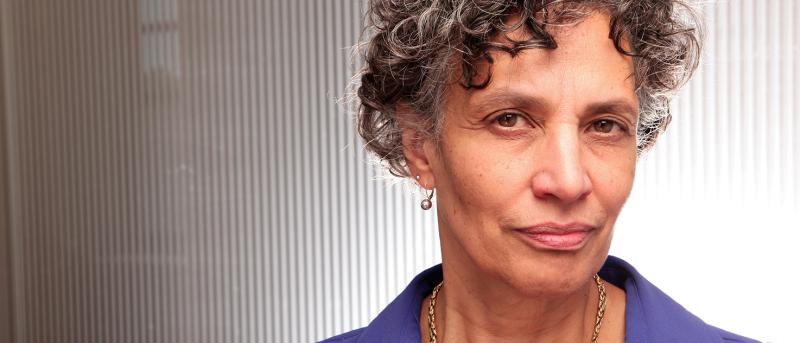 Mary Bassett: We Must Name Racism as a Cause of Poor Health
The 2016 winner of the Frank A. Calderone Prize in Public Health spoke about how public health must confront racism and other forms of oppression
In a stirring acceptance speech, Mary T. Bassett, New York City Commissioner of Health and Mental Hygiene and the 2016 Frank A. Calderone Prize in Public Health winner, exhorted colleagues in government and academia to "explicitly and unapologetically name racism in our work to protect and promote health."
Dean Linda P. Fried of the Mailman School of Public Health presented the award at an October 25 ceremony at the Paley Center for Media in Midtown, recognizing Commissioner Bassett's leadership in New York and internationally to provide "knowledge and solutions to achieve social justice through health."
Over the past 30 years, as an activist and a scholar, Bassett has bridged the divide between academic and applied public health, on disease prevention at Harlem Hospital and at the University of Zimbabwe, and in support of health equity with the Rockefeller Foundation in South Africa. In 2015, she wrote in the New England Journal of Medicine on the #BlackLivesMatter movement and the need for health professionals to join efforts to end discrimination.
At the Department of Health, she has confronted health crises like Ebola and Zika and fought chronic conditions such as obesity, tobacco, and food insecurity. She reopened long dormant District Public Health Offices, an example of which was founded and led by Frank Calderone, the prize's namesake, on the Lower East Side. Rebranded as Neighborhood Health Action Centers and situated in areas deprived of resources, these facilities will soon provide New Yorkers with a mix of health and social services.
Opening Pandora's Box
During her speech at the Paley Center, Bassett observed that many in public health stay on the sidelines of discussions of race and racism for fear of relinquishing their scientific objectivity or because they feel technical expertise is sufficient to overcome the challenges of poor health. A counterexample, she said, is the ongoing epidemic of opioid use, which was reframed from a criminal justice concern to a public health crisis only after it was seen as a problem affecting white populations.
Another misconception in public health is the notion that racial inequities can be reduced to economic terms. An anti-poverty lens, she said, might look at high rates of obesity in communities of color and conclude that the problem is the high cost of good food, yet a program like Health Bucks that subsidizes the purchase of fruits and vegetables at farmers markets is sometimes not enough: "Because of the legacy of redlining and neighborhood divestment, farmers markets (not to mention, full service grocery stores) are far less likely to open in low-income communities of color, and if they do, they tend to cater toward new residents who reflect a wave of gentrification."
Bassett explained that public health practitioners fear that naming racism opens a Pandora's Box of problems that they feel the field is ill-equipped to address comprehensively. Yet students of history know how dramatically the country was changed during Reconstruction and the War on Poverty. "The conditions of our society," she said, "are not the outcome of some vague social physics impenetrable to change, they're the product of decisions made at every level of power."
Those of us who work in public health have tremendous credibility, Bassett said. "The best use of that is to be a voice for the voiceless—and to amplify the voices of those who are speaking up. … racial justice is not just a value for public health work, but a necessary commitment if we are to do our jobs competently." People often forget the ending of the parable of Pandora's Box, she explained. "When Pandora opens the box, out flies all manner of evils into the world. But sitting there at the bottom of the box is its only remaining item, hope."