Linda P. Fried, MD MPH
Dean of the Mailman School of Public Health
DeLamar Professor of Public Health
Professor, Epidemiology and Medicine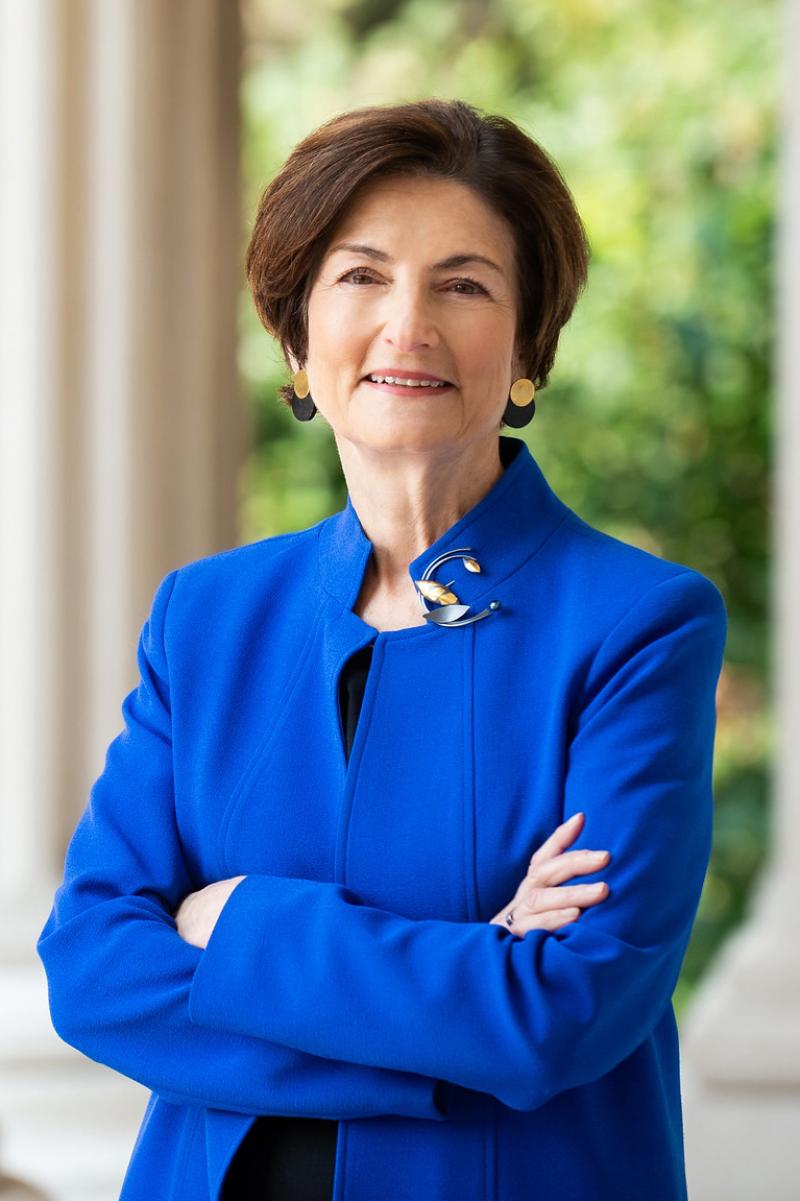 Overview
Linda P. Fried, MD, MPH, is Dean of Columbia University Mailman School of Public Health since 2008. She additionally serves as Senior Vice President of Columbia University Irving Medical Center, and Director of the Robert N. Butler Columbia Aging Center, a university-wide center housed in the Mailman School. Dean Fried leads one of the three original schools of public health in the U.S., having just marked its Centennial. Columbia Mailman is dedicated to conducting the science and creating knowledge as to how to prevent disease, disability and injury, and improve the health of populations, both around the corner and around the world, as well as educating students, professionals, and the public, and partnering with all sectors of society towards the goal of a healthy population. Under her leadership as Dean, Columbia Public Health is recognized as the leading innovator in public health education and has led the investment in next-century programs and leadership. Among the School's many ground-breaking initiatives are the interdisciplinary Center on Climate Change and Health, the Butler Columbia Aging Center, centers on child health and wellbeing, the injury center that is developing knowledge needed for preventing gun violence. The School's innovative programs address global mental health, define public health systems for the future, and create next-generation approaches to pandemic prevention, health in the context of forced migration, sexual and reproductive health, preventing maternal mortality, and data science for health are among the School's many ground-breaking programs. The Mailman School is providing essential knowledge for the second century of public health: how to most effectively prevent ill health, optimize health for all and extend all of our health spans across our now-longer lives, and protect human health in the face of climate change, food insecurity, rising rates of pandemics, and the challenges of environmental threats to our health.
Dr. Fried is a physician expert in geriatric medicine and an internationally renowned population scientist. She has dedicated her career to the science of healthy longevity, including defining frailty as a clinical syndrome and illuminating its causes, and defining the causes and consequences of cardiovascular disease and multimorbidity, loneliness and disability in aging. Her work has contributed to knowledge as to the bases for a world where greater longevity benefits people of all ages. To that end, she is the co-designer and co-founder of Experience Corps. This community-based senior volunteer program places older adults in public elementary schools in roles that support both the academic success of all children and the health and wellbeing of the volunteers, and it is an evidence-based public health program. Dr. Fried has proposed the concept that it is possible to create a Third Demographic Dividend that enables society and individuals of all ages to experience the benefits of our now-longer lives through a life-course approach to prevention—to extend health span and transform society's social infrastructure to enable meaningful and significant roles for older adults. She has served as a member of the global think tank, the 'Aging Society Network', since 2006. With the goal of creating and distilling the science base for successful societies of longer lives, she co-chaired the 2022 National Academy of Medicine report, Global Roadmap for Health Longevity.
Prior to becoming Dean, Dr. Fried was the Mason F. Lord Professor of Geriatric Medicine at the Johns Hopkins Medical Institutions, where she was the founding Director of the Center on Aging and Health, the center of excellence for aging research, and Director of the Division of Geriatric Medicine and Gerontology. She was the principal investigator of major longitudinal cohort studies, including the NIH-funded Cardiovascular Health Study and the Women's Health and Aging Studies I and II, of the Older Americans' Independence Center, and randomized controlled trials, including the Experience Corps Trial and the GEM trial of Gingko Biloba for prevention of cognitive decline. She was the founding Chair of the Johns Hopkins Department of Medicine Task Force on the Academic Careers of Women in Medicine (1989-95) and chaired the University President's Task Force on the Status of Women in Academic Careers (1998-2003).
Dr. Fried is the author of over 500 peer-reviewed articles. She is an elected member of the U.S. National Academy of Medicine since 2000, and currently serves as a re-elected member of its Executive Council. Elected to the Association of American Physicians in 2003, she served as its President from 2016-17. She was a member of the Council of the National Institute on Aging, served as a member of the World Economic Forum's Global Agenda Council on Aging (2006-18), its Council on Longevity, and co-chaired its Council on Human Enhancement. Dean Fried is an elected member of the Council on Foreign Relations. She was named among the top 1 percent "most influential scientific minds of the past decade" by Thomson-Reuters in 2014, and by The New York Times as "one of 15 world leaders in science" in 2012. She is the recipient of numerous honors and awards, including, most recently, the 2022 George M. Kober Medal of the Association of American Physicians; Nicholas Murray Butler Medal, Columbia University; Crain's New York Health Care Notable; Politics New York Power Players in Health Care; and 2023 Knight of the Legion of Honour, Government of France.
Academic Appointments
Dean of the Mailman School of Public Health
DeLamar Professor of Public Health
Professor, Epidemiology and Medicine
Administrative Titles
Senior Vice President, Columbia University Medical Center
Director, Robert N. Butler Columbia Aging Center
Credentials & Experience
Education & Training
BA, 1970 University of Wisconsin, Madison
MD, 1979 Rush Medical College
MPH, 1984 The Johns Hopkins Bloomberg School of Public Health
Committees, Societies, Councils
Aging Society Research Network
Age-Friendly New York City Commission (2009 - present)
Life Science NYC Advisory Council, New York City Economic Development Corporation (2022 - present)
National Academy of Medicine co-Chair of Commission to Create a Global Roadmap for Healthy Longevity
New York State Master Plan on Aging Advisory Board (2023 - present)
Board of Directors, Association of Schools and Programs of Public Health (2023 - present)
Board of Directors, Public Health Solutions, New York
Board of Directors, ReServe
Chair, International Loneliness and Isolation Research Network (I-Link)
U.S. National Academy of Medicine: elected member, 2000; Executive Council (2016-2023); Chair, Nominations Committee (2020-2022); member, NAM Study Group on the "State of the US Biomedical Research Enterprise". 
Honors & Awards
Alma Dea Morani Renaissance Woman Award, Women in Medicine Legacy Foundation, 2019
Crains' Notables in Health Care 2020; Crain's Notable Women in Health Care, 2018
INSERM International Prize in Medical Research, French National Institute of Health and Medical Research, 2016
Longevity Prize, Fondation IPSEN, 2012
Silver Scholar Award, American Federation for Aging Research, 2012
Research
Research Interests
Aging
Public Health Education
Urban Health Activities
Age-Friendly New York City Commission: Age-Friendly New York City Commission: To address a growing older population in NYC Mayor Michael Bloomberg and then Mayor DeBlasio convened leaders from the public and private sectors to serve on the commission charged with finding ways to help New Yorkers live healthy, vibrant lives as they age.