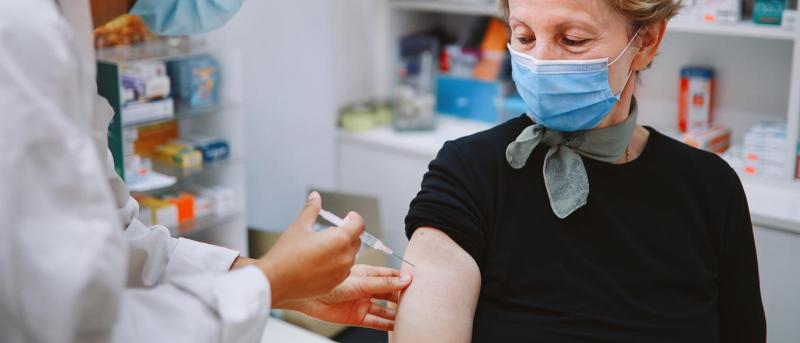 Your Fall COVID Outlook: New Variant, New Vaccine
Starting this week, Americans have a new way to protect themselves against COVID-19 in the form of an updated vaccine. While the COVID-19 emergency was declared over in May, more recently, cases and hospitalization,  while still relatively low, have trended higher in recent weeks. Meanwhile, the highly mutated BA.2.86 variant of SARS-CoV-2 virus has emerged but remains rare at this point.
According to new guidance from the U.S. Centers for Disease Control and Prevention, the updated vaccine, now available, is recommended for everyone 6 months and older. The shot is covered by insurance, including private insurance, Medicare, and Medicaid. Uninsured children and uninsured adults also have access through the Vaccine for Children Program and Bridge Access Program, respectively. The vaccine is available anywhere you would normally go to get your vaccines, including pharmacies, public health clinics, and hospitals.
"We have made tremendous progress against COVID-19, thanks in large part to vaccinations. Now is not the time to let our guard down. We should all roll up our sleeves to protect ourselves and those around us," says Wafaa El-Sadr, founder and director of ICAP, University Professor of Epidemiology, Columbia University Mailman School of Public Health. "And while you're at it, it is time to also get this year's influenza vaccine," added El-Sadr.
According to the CDC, the benefits of COVID-19 vaccination continue to outweigh any potential risks. Serious reactions after COVID-19 vaccination are rare. In one study, the risk of cardiac complications, including myocarditis, in males 12-17 years old was 1.8–5.6 times higher after COVID-19 infection than after COVID-19 vaccination.
"Vaccination is critically important for vulnerable groups, including older adults and people with weakened immune systems who are at greatest risk for hospitalization and death. At the same time, healthy children and adults can still experience severe disease," says Jessica Justman, associate professor of medicine in epidemiology and senior technical director at ICAP at Columbia, Columbia Mailman School. "For those who do develop COVID-19, there are antiviral agents such as Paxlovid available for treatment."
The updated vaccine was formulated to target the XBB.1.5 variant, which was dominant through most of 2023. Thankfully, according to the CDC, the new vaccine should also work well against BA.2.86, which was identified recently and is currently spreading. Of course, the vaccine is only effective if people take it; unfortunately, over the last year, the updated COVID vaccine made it into the arms of only about one in five Americans, despite the fact that COVID-19 remains one of the leading causes of death in the U.S.
While the new vaccine may be effective against BA.2.86, the emergence of the new variant is noteworthy. The variant includes 35 new mutations compared to XBB.1.5—a magnitude of mutations on par with those seen responsible for the massive Omicron wave in 2021 and 2022.
"The emergence of the BA.2.86 variant indicates that SARS-CoV2 is continuing to evolve and adapt," says W. Ian Lipkin, director of the Center for Infection and Immunity and John Snow Professor of Epidemiology at Columbia Mailman School. "While the variant appears to be more transmissible, there is no evidence yet that it causes more severe disease."
SARS-CoV2 isn't the only viral threat this fall. RSV (Respiratory Syncytial Virus) is getting more attention now, in part because there are new vaccines available, although only for adults for now.  There was much talk last winter and over the last year about a "tripledemic" of COVID-19, influenza, and RSV. The tripledemic likely did not happen in most places, according to Stephen S. Morse, professor of epidemiology. One reason why—and why the 2020-2021 flu season was the lightest in years—was that masking and other nonpharmaceutical precautions we were using for the prevention of SARS-CoV-2 transmission also worked well to prevent influenza and RSV infections.
"Continuing precautions such as avoiding poorly ventilated or crowded indoor spaces or wearing a well-fitting mask if you go there, handwashing, not touching your face unless your hands are clean—could help us stay healthier this winter, " Morse says. "But it's most important to keep your vaccinations up to date, including the COVID and flu vaccines, as well as RSV vaccine for those who are eligible for it."