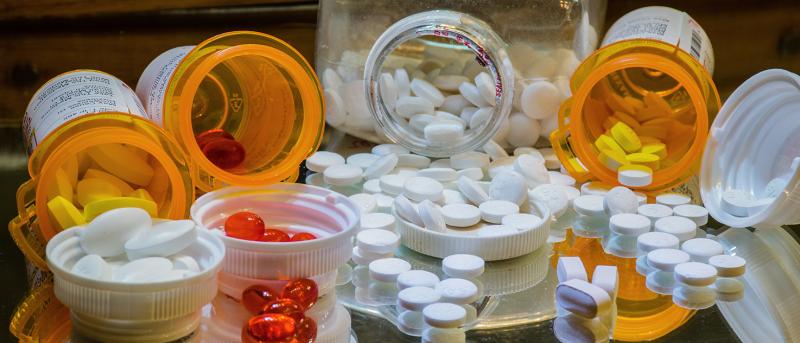 What's the Right Prescription to End the Opioid Epidemic?
Mailman professors take stock of government efforts to grapple with escalating rates of opioid use
Nearly 20,000 people died in the United States from prescription opiate overdoses in 2014—more than three times the number in 2001. In a March 29 speech at the National Rx Drug Abuse and Heroin Summit, President Obama compared the opiate epidemic with the threat of terrorism, and set aside $1.1 billion to combat the problem.
Earlier that month, the Centers for Disease Control and Prevention published a proposed a new guideline for prescription opioids. While it has yet to be adopted, the Guideline for Prescribing Opioids for Chronic Pain, United States, 2016 endorses the lowest dose for the shortest period of time, excepting patients undergoing cancer, palliative, and end-of-life care. Silvia Martins, associate professor of Epidemiology, notes that patients who take opioids for extended timeframes risk becoming addicted to the drugs.
"In this country, physicians have used prescription opioids as the first drug of choice before trying non-pharmacologic treatment for pain or other potential pain-relieving drugs," she says. And prescriptions are frequently stronger than necessary. "The biggest challenge is balancing the need to make available controlled prescription drugs to those truly in need while simultaneously curbing diversion and nonmedical use."
Martins believes it is important that clinicians and their staff, as well as medical students, have adequate training to recognize patients at risk of developing a dependency on nonmedical use of opiates, to consider potential alternative treatments, and also closely monitor the medications they dispense to these patients. As one step in this direction, starting this fall, more than 60 medical schools in the United States will require training in responsible opioid prescribing.
Letters and Legislation
Yet some in the medical community remain unmoved. A recently published study by Adam Sacarny, assistant professor of Health Policy and Management, looked at the effect of letters to doctors who prescribe opioids and other risky drugs at many times the rate of their peers. Sacarny and collaborators at the White House Social and Behavioral Sciences Team, the Massachusetts Institute of Technology, and the Centers for Medicare and Medicaid Services found the letters had no detectable effect on the number of the drugs prescribed.
As he plans to try again with prescribers of other drugs, Sacarny speculates that letters may need to do more than just tell doctors they are filling more prescriptions than their peers. Stronger language may also be needed: while the dangers of opioids have gotten a lot of attention in the media, "some doctors may not change unless they see that their prescribing could get them in trouble," he says. 
Guohua Li, interim chair of Epidemiology, applauds efforts to stem the flow of prescriptions as both sensible and necessary, but says, by themselves they aren't enough. "Relying on changing physician behavior through training programs and clinical practice guidelines is not enough to effectively control the opioid overdose epidemic," he says. More important in Li's view is legislation and enforcement to restrict the manufacturing, marketing, and sales of opioids and other controlled substances.
Along these lines, the Federal Trade Authority is pushing generic drug makers to develop abuse-deterrent opioids, formulated to make the pills harder to crush or dissolve into a form that can be sniffed or injected, although drug makers have countered saying reformulating their product would be prohibitively expensive.
Treatment and Prevention
Another approach to curbing the opioid epidemic emphasizes treatment for those already misusing the drugs. The worry is that as opioid prescriptions become harder to get, users will switch to an illegal alternative. "Several studies have shown that individuals with previous nonmedical use of prescription opioids may be at greater risk of heroin use and heroin dependence," notes Martins.
Opioid substitution, which took off in 2008, has recently taken a turn for the worse. Starting last year, Li says, a new trend has emerged: heroin users are increasingly switching to the much more potent synthetic opioid Fentanyl, a development he calls "a formidable challenge." His response: "We need to double our effort to restrict prescription opioids and shut down the underground market of illicit drugs."
Ironically, loosening the rules on dispensing one kind of drug could rein in dependence on its more dangerous cousins. In March, the Obama administration announced new rules for prescribing buprenorphine, a drug used to prevent opioid withdrawal symptoms. The plan allows individual doctors to prescribe buprenorphine to 200 patients each, twice as many as before (the drug itself has addictive properties, so access has been tightly limited).
Meanwhile, prevention efforts continue to play a crucial role. Compared to illegal drugs, there is much less stigma around prescription opioids—and an exaggerated understanding of their safety. Many people continue to be unaware of the consequences of sharing pain medications. According to Martins, education to correct these misconceptions is especially needed for young adults, since early use prescription opioids is associated with transition to heroin use.
While it is increasingly clear that there is no easy single solution to ending the opioid epidemic, Li and Martins are encouraged by policy momentum in Washington, including President Obama's March 29 announcement and Senate bill that passed earlier in the month which provides money to states for addiction treatment, prevention and education. In late April, a bipartisan panel in the House of Representatives followed suit with its own legislative package, which includes money for prescription drug monitoring programs.