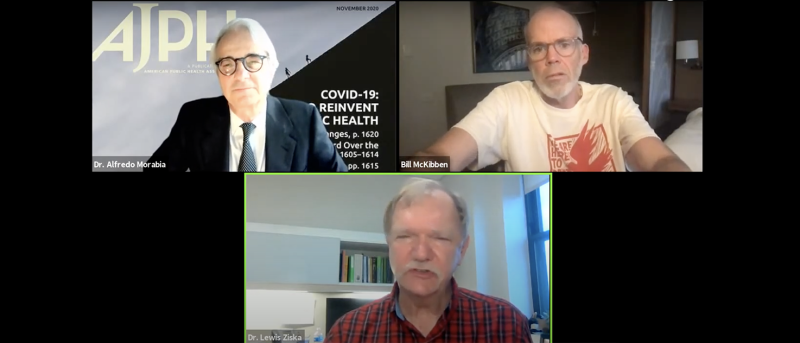 What Does the Changing Climate Mean for Food Security?
Best-selling author and climate activist Bill McKibben joined Columbia Mailman professor Lew Ziska for a conversation about the threat of climate change on global food security. The conversation was moderated by Alfredo Morabia, editor of the American Journal of Public Health and professor of epidemiology. (Watch a video below.)
The virtual conversation, the first in the School's Centennial Distinguished Speakers Series, took place ahead of World Food Day on October 16 and the COP26 global climate summit in Glasgow, which starts on October 31.
McKibben joined the discussion from a Washington D.C. hotel room only hours after getting arrested outside the White House in a protest with indigenous groups demanding bold action on climate change. He began by citing the many ways the climate crisis is a public health crisis, beginning with the millions of annual deaths linked to fossil fuel combustion. In early September, 200 journals around the world, including the New England Journal of Medicine and The Lancet, published an urgent joint editorial warning that global temperature rise and loss to biodiversity "risk catastrophic harm to health that will be impossible to reverse."
Turning to the risks to the food system, McKibben said climate-related disasters are already making it harder to grow food, contributing to an uptick in hunger around the world—a sharp reversal after decades of nutrition gains. "The most basic human question is 'what's for dinner?' or even more basically, 'is there going to be any?'" he said. "That's a question we thought we had begun to lick in the 20th Century. It's now a question that is being deeply reopened."
Ziska, a plant physiologist with expertise in climate change, said the changing climate was stressing food systems in many ways, from desertification to whip-sawing temperature changes, to the spread of insects and diseases. "Things are changing with a rapidity that hasn't been seen before. Farmers are having a hard time trying to adjust," he said. At the same time, climate change threatens food safety and nutrition. "Numerous studies show that recent and projected changes in carbon dioxide are going to have a negative effect on the quality of your food."
Changing the Food System
Even as climate change is leading to hunger and malnutrition, the industrial food system itself is contributing about 20 percent of greenhouse gas emissions if you count the fuel used to grow and fertilize crops and transport food, as well deforestation for pasture and methane produced by cattle. While changing our diets to eliminate beef or meat altogether is commendable, McKibben says these kinds of individual lifestyle changes are nowhere near sufficient to address the climate crisis.
"We're past the point where the climate math [cutting emissions in half by 2030] is going to be made work one vegan dinner at a time, one Tesla at a time, one anything at a time," McKibben stated. "The most important thing that individuals can do is be a little less individual and join together in the movements large enough to make changes in the basic political and economic ground rules." These needed changes include those to the agricultural system.
Ziska, whose book Agriculture, Climate Change, and Food Security in the 21st Century: Our Daily Bread comes out on October 1, said the current industrial food system where "everything has to be cheap; everything has to be fast; everything has to be uniform" only works so long as the climate is relatively stable. Now, as extreme weather becomes commonplace, he says farmers need to diversify the crops they grow. "Growing the same crop variety year after year is asking for trouble," he said.
To make these adaptations, food scientists have to answer urgent questions such as what crop varieties are best suited to respond to or adapt to climate change. Or how new agricultural techniques can make a difference. For example, switching to a less water-intensive way of growing rice would conserve water, cut methane emissions, and save farmers money. "Research is one of the cornerstones of moving this forward," Ziska noted.  
Deal or No Deal?
How the U.S. chooses or chooses not to address climate change now hangs in the balance in Congress. The $3.5 trillion Build Back Better bill would incentivize the transition to renewable energy with a goal of achieving net-zero by 2050. While climate activists worry that its climate goals are not nearly bold enough, two so-called moderate Democrats are successfully pushing to water down its strongest provisions. Nevertheless, McKibben said passing the bill has extra urgency given that the biggest global climate talks in six years are starting in Glasgow in less than two weeks.
"We need to send our envoy, John Kerry, there with something in his pocket," McKibben said. "[The bill] also has wonderful provisions about health, education, nutrition, and so forth. It's an effort to build a working society on all counts. But the bottom line for a working society it has to have a climate that we can actually adapt to and live in."