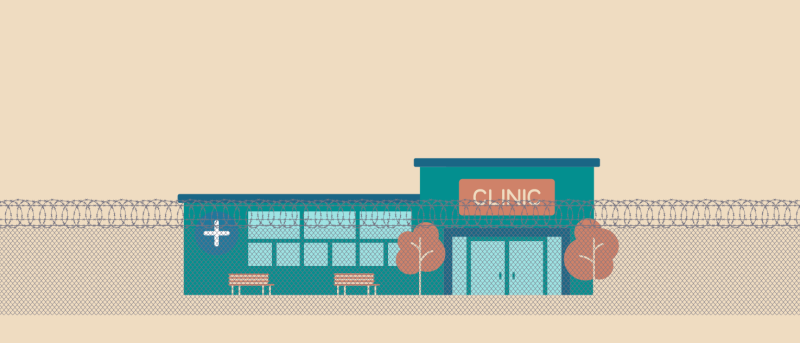 Undocumented But Not Undeserving of Better Health
Clocking out of work, Nhi heads to her makeshift bed in the basement of ABC Grocery, a small family-owned business in inner Houston. Since the pandemic, work has carried an unimaginable burden; with no home, Nhi must reside in the small confines of work where she is vulnerable to exposure. But, it is not just the pandemic that scares her. As an undocumented immigrant, it is the uncertainty of her health as this pandemic unfolds. Nhi often wonders that were she sick, what would she do?
Finding work and housing has been a force of nature on its own, but having to navigate an oppressive and complex healthcare system is a terrifying task.Nhi's story reveals the reality that undocumented immigrants in Texas must face. The quest for comprehensive healthcare comes with legal, linguistic, and social barriers that require Texan leaders and policymakers' attention, alike. Approaching this from a health and human rights perspective, Texan bureaucrats must reform the current healthcare system and ensure that all people, regardless of their citizenship, have access to adequate health care.  
These demands are not exorbitant. For years, New York has allocated funds to ensure that undocumented immigrants have access to coordinated and comprehensive care within Federally Qualified Health Centers (FQHCs)—community-based programs that provide primary care access to underserved communities. In 2016, the New York State Health Foundation awarded $16 million to FQHCs statewide, reaching an additional 57,892 patients. Within New York, these centers are accessible to all patients, regardless of citizenship.
Of the 69 FQHCs in Texas, only one center delivers primary care for uninsured and indigent patients, regardless of citizenship. These conditions stem from a lack of funding and outdated policies, most of which do not extend care to undocumented immigrants. Therefore, to reform the system, Texas bureaucrats must expand the number of facilities that can accommodate undocumented immigrants. Texas bureaucrats must permit all FQHCs to accommodate patients, regardless of their citizenship, thereby addressing accessibility and inclusivity. Following, bureaucrats must rewrite FQHCs policies, expanding the breadth of specialized care accessible to undocumented immigrants, allowing them to access services beyond primary care.  
To date, 14 percent of undocumented immigrants reside in Texas. Like Nhi, their immigration and occupational status impede their access to better health; they are especially in need of resources. As one can imagine, many difficulties will transpire when over a million people have access to only one primary healthcare facility. People must cross counties and face linguistic and financial barriers to receive unguaranteed primary health care.
As an undocumented immigrant, intersectional vulnerabilities, such as low-income status, unemployment, and lack of formal education, coexist and compound to worsen health outcomes.
Furthermore, there are profound stressors associated with undocumented status; as an undocumented immigrant, intersectional vulnerabilities, such as low-income status, unemployment, and lack of formal education, coexist and compound to worsen health outcomes. The healthcare systems that overlook these intersectionalities can perpetuate more significant harm through discriminatory policies that limit access, demonstrating the gross injustice within our communities. Moreover, they are indicative of the reasons we must demand inclusive healthcare. 
Some argue that with programs like FQHCs, undocumented immigrants would not need access to additional health coverage; it would be unnecessary, potentially burdening the health system. However, FQHCs do not provide elective specialty care. Even when undocumented immigrants finally have access to these centers, the issue is not acquiring primary care but getting referrals and access to specialty care ranging from psychiatric and prenatal care to pulmonary and cardiology checkups. In McAllen, Texas, undocumented immigrants voice the dangers of living with cancer. Without access to specialized treatments such as surgery or imaging, these patients must settle with non-profit hospitals where the costs are insurmountable; one local coalition mentioned that a needle biopsy to determine cancer status could cost anywhere between $1,500 to $2,000.
Often, lack of access to these services enables the worst health outcomes as patients reach an advanced stage of the disease due to lack of specialized treatment and early diagnosis. These factors elucidate the dangers and unethicality of noninclusive and inaccessible healthcare. People are unable to achieve better health outcomes for no other reason but their citizenship or lack thereof. Had these patients had access to specialty care and preventive services, they would have had a fair chance to make informed decisions and take precautionary measures. For Texan leaders to not act on this information at the expense of life constitutes a grave, human-rights injustice.
While Nhi's future feels uncertain, she calls upon voters to unite and engage in the pursuit of health equity for marginalized communities. To eradicate health inequity, we must continuously demand Texas bureaucrats to reform the current healthcare system and address the growing breadth of injustice. Our ethical duty is to eliminate the oppressive systems by calling our leaders to acknowledge the inequity, address the burden, and reform the system. Bureaucrats must expand access, ensuring everybody their fundamental right to health. 
Nikki Nguyen is an MPH student in the Department of Population and Family Health.