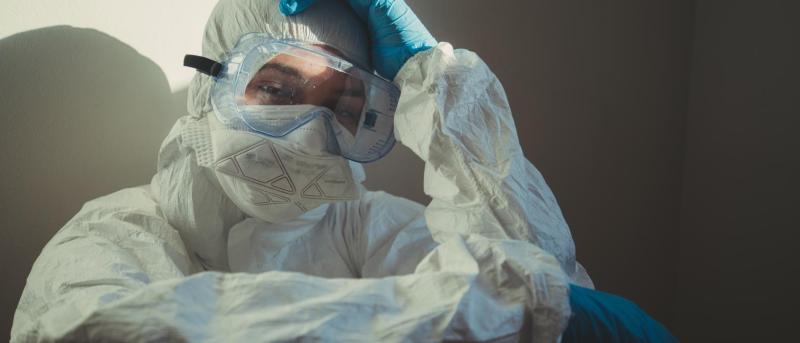 Re-thinking Menstruation: From Clinical to Humanitarian Settings
Dr. Denita Utami draws on her own experience to make the case for menstruation education and hygiene product availability on a global scale.
Prior to attending Mailman, I worked as a physician and medical interpreter for an international hospital accreditation survey in Indonesia. The goal of the accreditation was to ensure the quality of hospital services with regard to patient safety, which was a required credential indicator for the national health insurance agency. I was assigned to a hospital in North Sumatra, the fourth most-populous province in Indonesia. Being a medical interpreter is a rewarding experience, but it is also a highly demanding one; the hospital is under a lot of pressure and interpreters need to stay focused for long periods of time, especially during meetings when the surveyors and the hospital staff rely on the interpreter to manage the flow of the communication between them. 
One day in the middle of a meeting, I suddenly got my period, and I completely lost focus, worrying that I hadn't brought any pads with me. I had been certain that the period tracker on my phone indicated that I wouldn't get my period until the following week. I was distracted, fearing that my period would leak, and stain the chair that I was sitting on. After the session adjourned, I quickly rushed outside and asked the hospitals' chief resident if there were any pads available. She made a few calls and soon handed me one. "We residents always have pads on hand," she said.
As I thanked her for the generosity, my mind wandered to the availability of menstrual pads in the hospital. Menstrual pads are the most commonly used menstrual products in Indonesia. When I was in medical school, there was always a stockpile of menstrual pads in the on-call room and in the student lounge, or we could conveniently buy them from the kiosk or mini market inside the hospital. In other words, it was easy to access menstrual products within the hospital.
That was the first time I really began to think about the importance of meeting the menstrual needs of women and girls around the world, but it was certainly not the last. Fast forward to early 2020, when COVID-19 hit globally and we began to see all the ways that the pandemic negatively impacted various aspects of population health, including adolescent girls' and women's needs around menstrual hygiene management.  For example, in many countries, access to menstrual materials was disrupted due to stock-outs or price gauging as a result of buying in bulk and disruptions in the supply chain. As the pandemic intensified around the world, there were increasing numbers of reports from healthcare workers about the struggles they faced managing their menstruation cycles while caring for COVID patients.
According to the World Health Organization (WHO), globally women make up the majority of the healthcare workforce (70%). Healthcare workers who menstruate may face additional challenges in relation to their menstruation while working in stressful, intense settings, such as:
Time: It takes approximately 45 minutes to don and to doff personal protective equipment (PPE). Once the PPE is used, it cannot be reused and must be replaced. Because of the time it takes to get in and out of PPE, and shortages in this critical equipment, healthcare workers may not be able to change their menstrual materials in the middle of their shifts. In China, healthcare workers reported avoiding using the toilet to conserve their protective suits.
 
Stress: Menstrual pain may make it more challenging to work in a highly stressful environment. The pandemic has taken a toll on the mental health crisis marked by anxiety, depression, posttraumatic stress disorder, and even suicide. For healthcare workers, this may be the result of a chronic period of elevated stress due to concerns about infecting and caring for their loved ones, shortages of PPE, longer work hours, and involvement in emotionally and ethically distraught resource-allocation decisions.
 
Access: Healthcare workers may not have access to the menstrual materials that they need while at the hospital. For example, there was a shortage of sanitary pads in China, which were deemed non-essential items. Despite the fact that menstrual materials were donated for healthcare workers, some hospital officials failed to make them available, as they did not understand their importance.
I had the opportunity to explore the issue of menstrual hygiene management during an infectious disease outbreak during my practicum with the Gender, Adolescent, Transitions, and Environment (GATE) Program, an innovative research and practice program at Columbia Public Health dedicated to improving the lives of adolescents and women through addressing issues related to pubertal health transitions, menstrual hygiene management (MHM), and access to sanitation. There, I worked on a project investigating MHM during an Ebola outbreak. Each outbreak garnered a massive and complex national and international response. A number of key challenges related to menstruation, such as developing culturally appropriate messaging to prevent confusion about bleeding and providing adequate MHM support to the international and local response staff emerged during our research, but one challenge seemed particularly relevant to my past experience: how some healthcare workers struggled to manage their menstruation while working in the outbreak. For example, some had difficulty accessing menstrual materials, especially those stationed in remote locations.
As healthcare workers continue to put in their best efforts to save lives amid the pandemic, failure to meet their menstruation-related needs will subsequently undermine their health and well-being.
This will result in a disruption in work productivity, an even more stressful work environment, and absenteeism from duty. Creating a safe working space, providing supplies, along with the provision of PPE, are crucial to ensure healthcare workers have access to basic needs, which includes access to menstrual health management.
These examples, from my personal experience to learning about the experiences of other healthcare workers during the COVID-19 pandemic and Ebola outbreaks, elucidated the need to raise awareness about menstrual hygiene management for healthcare workers. To start, healthcare organizations need to be more aware of this issue and consider menstrual materials as essential supplies for their staff, providing them with sufficient quantities while working, especially during heightened times of stress and long hours. We should also be able to talk about the specific menstruation-related needs of healthcare workers without being ashamed. We have seen more people speak openly about this issue and we've seen organizations donating menstrual products for healthcare workers during the COVID-19 pandemic. This is a good start, but we must strive to incorporate this issue as a standard part of any outbreak response. Doing so will ensure that the basic necessities of healthcare workers are fulfilled and it will allow them to focus on their work.
---
Dr. Denita Utami is a 2021 MPH candidate in the Department of Sociomedical Sciences. She received a Bachelor of Medical Science degree from the University of Melbourne and an MD from Universitas Indonesia. Read her other Student Voices piece"Leading by Following in Public Health."